Hello everyone,
I am so excited to take part in Fierce Read's
Midnight Tales
blog tour to celebrate the release of
The Languague of Thorns
by
Leigh Bardugo
, which is now available at your favorite bookstore TODAY!!
Just in case you've been living under a rock...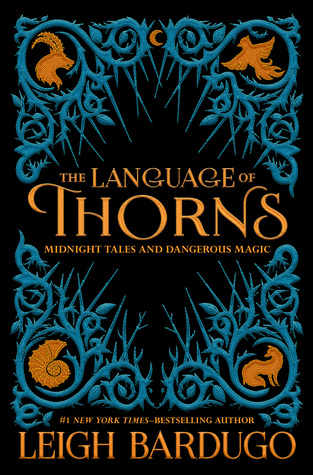 Love speaks in flowers. Truth requires thorns.
Travel to a world of dark bargains struck by moonlight, of haunted towns and hungry woods, of talking beasts and gingerbread golems, where a young mermaid's voice can summon deadly storms and where a river might do a lovestruck boy's bidding but only for a terrible price.
Inspired by myth, fairy tale, and folklore, #1
New York Times
–bestselling author Leigh Bardugo has crafted a deliciously atmospheric collection of short stories filled with betrayals, revenge, sacrifice, and love.
Perfect for new readers and dedicated fans, these tales will transport you to lands both familiar and strange—to a fully realized world of dangerous magic that millions have visited through the novels of the Grishaverse.
This collection of six stories includes three brand-new tales, all of them lavishly illustrated with art that changes with each turn of the page, culminating in six stunning full-spread illustrations as rich in detail as the stories themselves.
Unfortunately, since I live in the middle of the Pacific Ocean, my pre-ordered copy won't get to me until probably next week. So, to tide myself over I've just been reading the sampler and admiring the gorgeous art.
For today's post, since I'm obsessed with bookish candles, I thought I'd match some of the stories to a candle that I own. I'm sure, now that
The Language of Thorns
is out, some of my favorite bookish candle shops will soon come out with bookish candle to match some of the stories in the collection, but until then...
One of the stories is called
The Witch of Duva
and it sort of reminds me of Hansel and Gretel, but it's definitely it's own tale.
In the story, we have a girl named Nadya who had a brother, mother, and father. After her mother passed away, her father remarried this awful woman. While out in the woods one day, snow flurries came at dusk and Nadya found herself unable to find her way home. But, she was saved when she chance on smelling something sweet in the air and following the scent, she found herself outside the house of a witch named Magda who lives in the woods and who makes the most delicious deserts and savory dishes.
So, I am pairing
The Witch of Duva
with my
Cupcake Batter
candle, which smells like vanilla, icing, and cupcakes. The scent of this candle is what I imagine Magda's kitchen smells like when she's baking her cakes.
Unfortunately, I don't have any river and woods scented candles for
Little Knife
, but I do have a candle called
Sea Gypsy
(fresh air, sea salt, ocean mist and aquatic florals), which has a nice fresh aquatic scent.
Little Knife
tells the story of a man named Semyon, who was competing for the hand of the beautiful Yeva. He had three tasks to complete, but instead of doing it himself, he gets the river to do all the tasks for him.
I have the most perfect candle for
The Too-Clever Fox
! The candle is called
Morozova's Herd
by
Novelly Yours
(unfortunately, the scent is retired) and it's actually inspired by the Grisha Trilogy.
This candle was one of the very first candles I got when I first started collecting candles. The scent notes are winter flowers, peppermint, meadow, which is perfect pairing for any of the stories set in the woods like
The Too-Clever Fox
, which tells the story of a very smart fox named Koja who used his cleverness to escape death many times.
Happy book birthday to
The Language of Thorns
! Don't forget to pick up your copy today, if you haven't already. I think
The Language of Thorns
is the most beautiful YA release this year.
Happy reading,
Michelle