Hi everyone,
Several weeks ago I posted
an excerpt
of
Lost In Between
by
KL Kreig
. Today, I am posting my review of
Lost In Between
because as of yesterday it is now available for purchase from your favorite e-book retailer.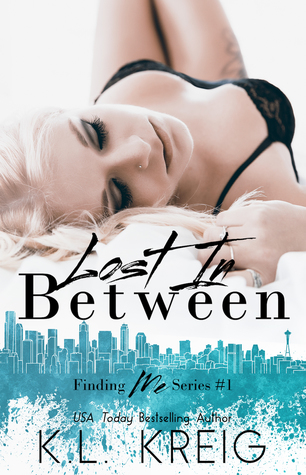 Release Date: January 9, 2017
Publisher: self-pubbed
Source of my e-copy: L. Woods PR
Series: Finding Me #1
Synopsis
We all have one.
A price.
That magic number that will get us to agree to do anything, be anything.
Don't sit on your gold-plated high horse and say you don't because you do. Everyone does. Each of us has something we covet enough that we'd sell ourselves to have it.
What's my tipping point, you ask? Apparently a cool quarter mil will do the trick.
What does one do for 250 large, you wonder? Anything the infamous, gorgeous playboy of Seattle wants. For the next four months I'll be Shaw Mercer's arm candy, his beck and call girl, his faux girlfriend. I'll be his to command, mold, push and pull in any direction he sees fit.
I'll fight falling into bed with him. I'll fight falling in love with him even harder. I'll fail at both. And when my past and present collide in the most unexpected of ways, I'll learn that while one man's love for me has never died, the only man's love I really want will never be mine.
*If dirty-talking, dominant alphas are not your thing, move along. Mature, 18+ only. Book 1 in a 2-part duet.
After reading and loving KL Kreig's
Black Swan Affair
, I was very much looking forward to reading
Lost In Between
. I'm always down for a romance with a
Pretty Woman
vibe so I went into
Lost In Between
with admittedly higher expectations than I usually would have. While I
liked
Lost In Between
it didn't quite live up to my expectations. It's still an okay read though, especially if you like your romances with a large side of alpha males.
Willow Blackwell is a romance audio book narrator by day, and a rich men's arm candy by night--she's sort of like a prostitute without the sex. She hates being an arm candy, but she needed the extra cash to take care of her mom who is suffering from Alzheimer's. One day she gets rear ended by this super cocky, arrogant guy, but they had an immediate sexual connection.
This super arrogant guy is Shaw Mercer. He is a rich businessman and playboy. He and his best friend/business partner Noah are in a habit of picking up women to have threesomes with (fyi, there were
zero
threesomes in this book). But, Shaw's dad is planning to run for city mayor and his campaign manager suggested that Shaw clean up his act and get a girlfriend. They are also hoping Shaw's love life will divert the media from looking into his younger siblings' personal lives, and because Shaw loves his family and will do anything for them, he agrees. Instead of choosing one of his marriage-minded ex-girlfriends to be his
fake
girlfriend during his dad's campaign, Noah suggested Shaw hire this girl he recently met, which will save Shaw from a messy break-up and the possibility of marriage in the end.
Shaw, although skeptical, agrees. The girl Noah had in mind to be Shaw's paid fake girlfriend, of course, was Willow. As soon as Shaw found out that the girl who gave him a permanent boner since he rear ended her will be playing his fake girlfriend he was determined to get her into his bed. Although Willow is permanently wet whenever Shaw was around, she wanted things strictly professional. She had a feeling that if she sleeps with Shaw and let's him get close, he'll break her. She can't afford to let anyone close because she's dealing with a lot of stuff in her personal life and had skeletons in her closet she does not want getting out.
Of course, despite Willow's determination to keep Shaw at arm's length and not end up in his bed, that's exactly where she ended up in. The author definitely knows how to turn up the steam factor because this book was a scorcher! The sexytimes are extremely HOT!
I also liked that
Lost In Between
is set in the city of Seattle, which was personally a refreshing change from all the NYC-set books I've been reading. Don't get me wrong, I love my NYC books, but it's also nice to "see" another city.
I found the writing to be very readable, and I liked that the story was told in first person dual perspective. I enjoyed knowing what Willow and Shaw were thinking--I didn't prefer one POV over the other. The beginning was a little slow, but necessary as Willow and Shaw's situations and backstories were established. After that, the pacing was pretty steady all the way to the revelation of the big twist in the end and then it ended kinda abruptly. I actually didn't mind the cliffhanger ending because I was ready for the book to finish already--this was a long book at 420 pages.
My biggest issue with this book were the two main characters--Shaw more than Willow. I never really connected with either of them. I sympathized a bit with Willow's situation, but I never felt for her or really rooted for her. She kind of reminded me of Bella Swan in that all of the other characters were drawn to her and fawned over her, but I never understood why. I guess she's supposed to be charismatic, but that never shown through on the page. Her character never felt special to me.
As for Shaw, my biggest issue with him was his irrational jealously. Every time Willow spoke to another man, he gets super jealous and, even though he acknowledges that he's being crazy jealous, violent threats toward these men still flash through his thoughts. Irrational jealously is
not
sexy. I never warmed to Shaw's character. The only thing I liked about him was how he'd do anything for his troubled youngest sister Annabelle, and how protective he was of her. But, besides that, I found the other men, like his best friend Noah and Willow's ex-boyfriend Reid, more interesting. I found myself wanting to read about them rather than Shaw.
Another thing that made me side-eye this book was the
looong
passages the author included in this book from her other books (and one from another author). Like I mentioned, Willow is an audiobook narrator so we had a few scenes where she was narrating a book, and included in these scenes are these unnecessary pages-long excerpts of what she was narrating, which I thought was a bit of a shameless self-promotion on the author's part of her other books. **
shrugs
**
So, while I didn't enjoy
Lost In Between
as much as I did the author's previous book
Black Swan Affair
, I did like it well enough. I'm definitely intrigued to read the second book in the series to see how Willow and Shaw work things out after the twist in the end. If you like the
Pretty Woman
trope, a whole lot of alpha in your book boyfriend, and enjoy some panty-melting sexytimes, I suggest looking into
Lost In Between
.
About the Author
Author KL Kreig
As a
USA Today
Bestselling author, I write stories that are deeply emotional with flawed characters, because humans ARE flawed and if we read about perfect characters living in their perfect world, first of all, snoozer, but secondly, we never experience the gratification of redemption.
Outside of writing, I'm just a regular ol' Midwest girl who likes
Game of Thrones
and am obsessed with
Modern Family
and
The Goldbergs
. I run, I eat, I run, I eat. It's a vicous cycle. I love carbs, but there's love-hate relationship with my ass and thighs. Mostly hate. I like a good cocktail (oh hell…who am I kidding? I love any cocktail). I'm a huge creature of habit, but I'll tell you I'm flexible. I read every single day and if I don't get a chance…watch the hell out. My iPad and me: BFFs. I'm direct and I make no apologies for it. I swear too much. I love alternative music and in my next life I want to be a bad-ass female rocker. I hate, hate, hate spiders, telemarketers, liver, acne, winter and loose hairs that fall down my shirt (don't ask, it's a thing).
Happy reading,
Michelle