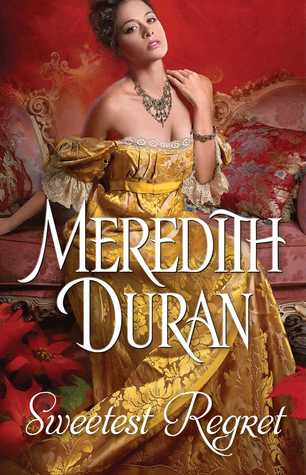 Publisher: Pocket Star
Release Date: November 28, 2016
Source of my copy: publisher
Series: n/a
Synopsis
At a house party in the countryside, the joyful spirit of the Christmas season threatens to sweep Georgiana Trent under the mistletoe—and back into the arms of the dashing rogue who broke her heart two years ago. Little does she know that Lucas Godwin has no intention of leaving until he has reclaimed her as his own.
Meredith Duran is one of my auto-buy authors because I can always count her books for an excellent historical romance read. Sweetest Regret, a novella, is no exception--even though it's a novella, you still get a full, satisfying story and a swoon-worthy HEA.
Georgiana "Georgie" Trent, the prime minister's daughter, and Lucas Godwin met and fell in love two years prior in Munich. But, Lucas left Munich without so much as a goodbye and broke Georgie's heart. After her father was suddenly called away on business during a Christmas house party, he invited Lucas to help her look for a missing letter of diplomatic importance that was reportedly stolen by one of the house party guests. Georgie was still very angry and wanted nothing to do with him, but, for some reason Georgie didn't understand, Lucas seemed angry with her as well.
As they're forced to reluctantly work together to find the missing letter, they find that they still have a strong attraction and feelings for each other. But, they have to first work out what actually happened in the past that caused Lucas's abrupt departure before they can hope for their happily ever after.
The events in the novella occurred days leading up to Christmas and days immediately after. The house party guests were foreign diplomats who wanted to experience a true English Christmas so there was a wonderful holiday season-y vibe to the story. The writing is as excellent as always--just as well-written as Ms. Duran full novels. The pacing was excellent--even though it's a novella it was a well-rounded story.
If you're missing the holiday season now that we're in dreary January, I highly recommend you pick up Sweetest Regret. Read it while drinking some peppermint flavored hot cocoa, and it will take you right back to Christmas.
(Currently $0.99 at your favorite e-book retailer.)