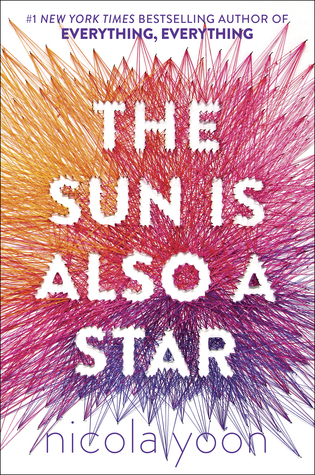 ARC: 349 pages
Publisher: Delacorte Press
Release Date: November 1, 2016
Source of my copy: publisher
Series: none
Synopsis
Natasha: I'm a girl who believes in science and facts. Not fate. Not destiny. Or dreams that will never come true. I'm definitely not the kind of girl who meets a cute boy on a crowded New York City street and falls in love with him. Not when my family is twelve hours away from being deported to Jamaica. Falling in love with him won't be my story.
Daniel: I've always been the good son, the good student, living up to my parents' high expectations. Never the poet. Or the dreamer. But when I see her, I forget about all that. Something about Natasha makes me think that fate has something much more extraordinary in store—for both of us.
The Universe: Every moment in our lives has brought us to this single moment. A million futures lie before us. Which one will come true?
After having really enjoyed Nicola Yoon's Everything, Everything, I was excited to pick-up her new book The Sun Is Also a Star. When I read its synopsis, I was intrigued by the starcrossed-love of two opposites premise, and I immediately dived in. Now that I've read it, I must admit that I had a couple of small issues with it, particularly with the heroine Natasha and the ending, but overall, I liked it for its swoon-worthy romance and its un-cliche plotline. I am giving it
Before I really get into my review, I'd like to say two things:
I am a hopeless romantic and an endless optimist, and the two main things that get me up in the morning are faith and dreams.
Hence, it goes without saying that, while reading The Sun Is Also a Star, I very much liked Daniel and very much disliked Natasha.
I was totally with the implication of the synopsis and couldn't for the life of me see how these two polar opposites could ever meet and actually fall for each other. There were many, many times I wanted to go in and argue uselessly with Natasha over her opinions against fantasy and poetry as well as reach in and shake Daniel's shoulders to ask him how in the world he can like her, let alone tolerate her. However, Yoon's magical writing powers then came into play, and despite all my frustrations over the possibility of Natasha and Daniel, at the end of the book, I very much happy and relieved for the two of them.
Yes, against all odds, I rooted for these two.
(Yoon: 2, Leslie: 0)
I absolutely loved watching Natasha and Daniel befriend each other and fall in love with each other. They had that love story that couldn't possibly end well when so much threatened it from not, yet you hoped and prayed that it will, and when it does, you burst out in a happy dance and feel that all that is good and right in the world is made true again. I swooned and giggled every time Daniel went out of his way to spend more time with Natasha and Natasha, against her better judgment, grew to like Daniel with every hour they spent together. I couldn't connect with Natasha and had a stubborn part of me believing that Daniel can do better, but I became convinced of their love when I read and saw the genuine admiration they had for each other and how well they did together. In the end, I wanted both of them to be happy and rooted for them throughout the novel. They made a lovely couple, and I'll remember them always.
As for the plot and the ending of The Sun Is Also a Star, I was actually really surprised. First of all, I really liked that the story was told from multiple perspectives, so not only Daniel's and Natasha's, but also their family members' and others' they saw and met and who have made their friendship possible. I thought the approach was clever and appropriate, and it made the story all the more exciting and enjoyable to read. However, with that aside, I believed the story was predictable, so the whole time I was reading, I thought, "Okay, I know how this is going to end. It's so very obvious," but when I reached the ending, or even as I was reaching it, my mind was going, "Wha...? What?! How can that be????" In hindsight, I should have expected that ending, but, alas, I didn't, and until now, I am amazed by it. It has made the book a more realist than an idealist approach to love, and I like it all the more for that. Although I wish its ending hadn't been so abrupt with its sudden big reveal and then last little dialogue, it was, all in all, well done, and I will surely be thinking about the book more deeply from here on out.
In short, The Sun Is Also a Star by Nicola Yoon is a contemporary YA that cannot be missed with its sweet romance, interesting plot, and surprising ending. I highly recommend it to anyone who enjoyed Yoon's Everything, Everything and/or love a good love story with a fair amount of cheese, chocolate, and veggies. A million futures lie before you; choose the one that makes this book a part of it.