Hello everyone,
I am so excited to be part of the This Adventure Ends blog tour to celebrate the release of Emma Mills's sophomore novel This Adventure Ends.
For the blog tour, a number of us participants were given a mini easel and we're supposed to decorate it according to the theme of our choosing. Mine is
This Adventure Inspires
and I went with "inspire" because it's one of my favorite words of all time. Inspire means (according to
Oxford Dictionary
) "to fill (someone) with the urge or ability to do or feel something, especially something creative." Such an amazing word!
Here's what I came up with.
This Adventure Inspires
My little creation is inspired by a quilt pattern that I love called "storm at sea"--google it and see how the pattern looks as a whole. My little easel is just a small portion of it. I used a combination of sharpies and watercolor pencils to make it.
I am inspired by patterns. I love looking at quilt patterns, tile, mosaic, wallpaper, needlepoint... I can spend hours poring over different patterns.
So, what does this have to do with
This Adventure Ends
?
Well, in the novel our main character Sloane is looking for a painting that was painted by her new friends' mom, who died two years ago.
Here's more information about
This Adventure Ends
.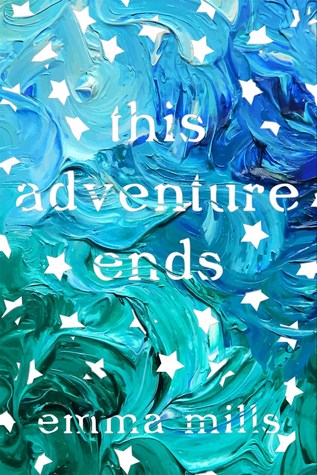 Sloane isn't expecting to fall in with a group of friends when she moves from New York to Florida—especially not a group of friends so intense, so in love, so all-consuming. Yet that's exactly what happens.

Sloane becomes closest to Vera, a social-media star who lights up any room, and Gabe, Vera's twin brother and the most serious person Sloane's ever met. When a beloved painting by the twins' late mother goes missing, Sloane takes on the responsibility of tracking it down, a journey that takes her across state lines—and ever deeper into the twins' lives.

Filled with intense and important friendships, a wonderful warts-and-all family, shiveringly good romantic developments, and sharp, witty dialogue, this story is about finding the people you never knew you needed.
I am currently reading
This Adventure Ends
and it's so good! I'm halfway done and have a feeling Emma Mills will be joining my list of favorite contemporary authors. I will be reviewing
This Adventure Ends
on a different day, so you can read my full thoughts about the novel then.
For more info about
This Adventure Ends
, you can stop by
Macmillan's page
or chat with the author
on Twitter
.
Happy reading,
Michelle