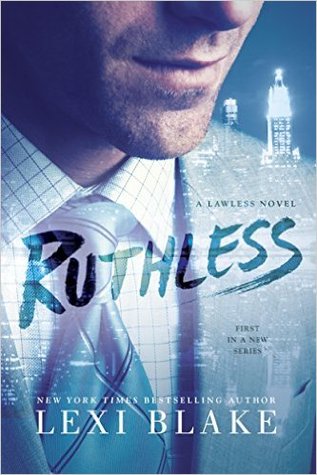 Paperback: 352 pages
Publisher: Berkley
Release Date: August 9, 2016
Source of my copy: publisher
Series: Lawless #1
Synopsis
The Lawless siblings are bound by vengeance. Riley, Drew, Brandon, and Mia believe the CEO of StratCast orchestrated their parents' murder twenty years ago to steal their father's software program. And there's only one way Riley can find some solid evidence...

Heir to the StratCast legacy, Ellie Stratton hires a new attorney to handle a delicate business matter—and she's shocked by her attraction to him. Over the course of a few weeks, Riley becomes her lover, her friend, her everything. But when her life is threatened, Ellie discovers that Riley is more obsessed with settling an old score than in the love she thought they were building. And Riley must choose between a revenge he's prepared for all his life and the woman he's sure he can't live without...
Lexi Blake isn't a new-to-me author. I love her Perfect Gentlemen series that co-writes with author Shayla Black, but Ruthless is my first book by Ms. Blake as a solo author. If you read the Perfect Gentlemen series, where a group of childhood friends try to solve their one of their own's murder and come to realize there's a bigger conspiracy behind his death, Ruthless has a similar feel to it.
When I heard about Ruthless by Lexi Blake I knew I had to read it. Siblings bent on revenge against their parents' murderers? One of the siblings falling in love with one of the murderer's daughter? Yes, please!
Ruthless focuses on Riley Lawless, the second oldest Lawless brother. After his parents' murder he and his siblings were separated and put into different foster homes. When Drew, the oldest brother, aged out of the system, he quickly took in other siblings (with the exception of their sister Mia, who was adopted by a nice couple) with the help of their father's former partner. This was when they started working on their plan for revenge. Ruthless began with Riley starting to put their plan into action. His target was Ellie Stratton, who was on the verge of buying out the company StratCast from her father's partner. Ellie was the daughter of one of the men who conspired to murder the Lawless sibling's parents. They couldn't get to Ellie's father since he recently passed away from illness, but they wanted to sabotage the buyout and keep it from happening. They thought Ellie was a spoiled princess who led a cushy life that was built on their parents ashes and she deserved to go down as should her father if he lived.
Riley infiltrated Ellie's company when he was hired as her lawyer to oversee the buyout. But, he soon came to learn the Ellie was the exact opposite of a spoiled princess. She didn't have an easy childhood herself, with her father being an unfeeling man. She married her college boyfriend, but after he cheated on Ellie with her half-sister, she got divorced. But, things were finally looking up for Ellie. After her father's death and the divorce, she decided that she needed a change and, with the help of her best friend, started taking more care of her appearance and herself.
Riley believes that best way to get to Ellie and learn all her secrets was to seduce her and become her lover. Even as Riley get closer to Ellie and they start a steamy affair, he knew he had to follow through his family's revenge, which was years in the making. But with Ellie, Riley finally found someone who felt like home and he wasn't about to give her up.
I really liked Ellie! She was under her father's thumb for so long, but she was finally taking charge of her life and the company. She's smart, she's resilient, and she cared about her employees in the company. She also didn't take Riley's shit even as she's falling in love with him. As for Riley, I liked him too, but I felt like his character was overshadowed by his other siblings Drew and Brandon who, truth be told, I found more interesting than him. I did like how he fought for Ellie and didn't give up on her and their relationship even when she found out the truth (of course she would!), couldn't trust him anymore, and tried to push him away.
All in all, Ruthless is a solid start to the Lawless series. Brandon's book is next and I can't wait, but I am most anticipating Drew's book. He's the oldest of the Lawless siblings and he's the mastermind of the revenge plans. Drew's whole existence seemed to be consumed in avenging their parents' deaths, and I'm eager to meet the heroine he'll fall for.
If you like the TV show Revenge, Ruthless basically has the same premise. The Lawless siblings have a list of targets they want to bring down and going after them one by one. Also, if you've read Lexi Blake's other series called Masters and Mercenaries, this series is a spin-off of that series. The Riley, Drew, and Bran's sister Mia is the heroine of Dominance Never Dies (book #11)--but if you're like me and haven't read that series, it's totally okay. But, if you did there were references to characters from Masters and Mercenaries that you'll probably appreciate. If you like a steamy romance with a lot of twists and turns, Ruthless is the book for you.