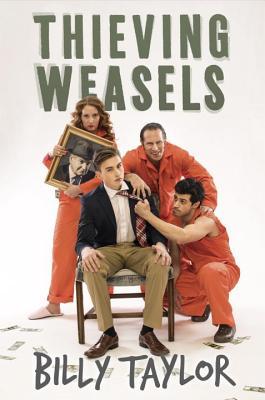 Hardcover: 320 pages
Publisher: Dial Books
Release Date: August 23, 2016
Source of my copy: publisher
Series: none
Synopsis
Skip O'Rourke is dragged into one last con . . . but he doesn't know the con's on him in this funny, page-turning debut YA for fans of Winger and Ocean's Eleven.
Cameron Smith attends an elite boarding school and has just been accepted to Princeton University alongside his beautiful girlfriend, Claire. Life for Cameron would be perfect, except that Cameron Smith is actually Skip O'Rourke, and Skip O'Rourke ran away from his grifter family four years ago…along with $100,000 of their "earnings" (because starting a new life is not cheap). But when his uncle Wonderful tracks him down, Skip's given an ultimatum: come back to the family for one last con, or say good-bye to life as Cameron. "One last con" is easier said than done when Skip's family is just as merciless (and just as manipulative) as they've always been, and everyone around him is lying. Skip may have given up on crime, but there's one lesson he hasn't forgotten: always know your mark. And if you don't know who your mark is . . . it's probably you. Witty and irresistibly readable, this standout debut will always keep you guessing.
Intrigued by the comical cover, title and synopsis, I picked up Thieving Weasels by Billy Taylor with the expectation of a quick, humorous read to color my weekend. However, when I finished it, a week had passed, and I was left feeling curious and perplexed, not because I didn't enjoy it, but because it left me wondering about all its complexity juxtaposed with all its humor. Now, as I reflect on it, I cannot exactly say it was one of my best reads this summer, but I can say I have much respect for it and am giving it
While the casual and comedic voice of the main character Cameron Smith charmed me in the beginning of Thieving Weasels, I grew more and more curious by it as I delved deeper and deeper into the story. From the very first page, I was taken by Cam as he introduced himself in the first several pages as a regular teenage boy who grew up with very little but has worked very hard to have the success he has today. In those several pages, I got no sense of a crooked past with a crooked family that the synopsis so greatly spoke of that, gullible as I am, I almost thought it had Cam, and evidently the entire book, completely wrong. Surely, I thought, this book is too lighthearted to have such drama in it. But as I turned page after page, learning more and more about Cam and his world through his eyes, I was proven very wrong. I saw that there was actually a lot to Cam, so much that not even the his own family, his sweet girlfriend or even his own self could fully comprehend and understand him, and that complexity totally perplexed as well as fascinated me because it was so unexpected just judging from the light tone and tickling humor of the book. As I was reading, I was constantly wondering about the juxtaposition of light humor and heavy topical themes in Thieving Weasels, and my wonderment was what kept me reading, even at times when I felt a little bored by and disconnected to the world of Cam. It was this kind of keep-at-arm's-length approach to the topical themes of dishonesty, betrayal, insecurity, and self-discovery--just to name a few--was what really made Thieving Weasels an interesting and enjoyable read.
However, on the other hand, the entire time I was reading, I honestly felt discomforted by the narration of Cam and his character overall. I mean, overall, I like Cam. He's smart, intuitive--especially with his family--caring, honest, and, of course, funny. Considering his upbringing, he could've turned out to be a terrible, awful, no-good person, and many times throughout the book, he could have lowered himself to that standard, but somehow he didn't, and I highly respect him for that. Yet, throughout Thieving Weasels, I was worried for him because he seemed to be constantly making light of things and events that were actually very serious. I guess that was the intention of the novel, but I kept waiting for his character to blossom or bloom with an epiphany of understanding and total clarity of who he is and who he wants to be, but at the end of the book, I didn't see or feel any of that; he still seemed unsure about himself and his future. Maybe I wasn't reading close enough and/or I was distracted by all the jokes in Thieving Weasels, not to mention its under-300 page count, but I wish I got more from Cam's character, more closure than what was given on that very last page. I grew to like Cam, and I hoped for the very best for him throughout Thieving Weasels, but his development as a character kept me wondering.
To anyone in the mood for a short yet thoughtful read, I recommend Thieving Weasels because its humorous and profound premise will keep you interested in the book from the very first page to the very last. It may not have been my favorite read of this summer, but it has the potential of being quite the gem for others. So don't pass up this novel when you see it out in your local bookstores. Its story is choke full of secrets--Cameron Smith--Skip O'Rourke?--will tell you as much.