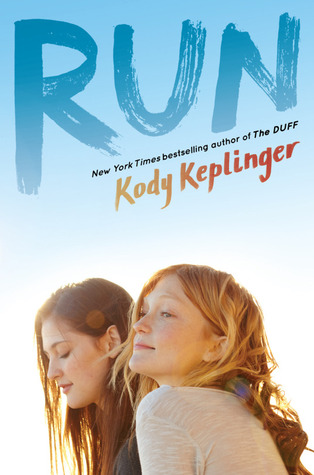 Hardcover: 288 pages
Publisher: Scholastic Press
Release Date: June 28, 2016
Source of my copy: publisher
Series: standalone
Synopsis
Bo Dickinson is a girl with a wild reputation, a deadbeat dad, and a mama who's not exactly sober most of the time. Everyone in town knows the Dickinsons are a bad lot, but Bo doesn't care what anyone thinks.

Agnes Atwood has never gone on a date, never even stayed out past ten, and never broken any of her parents' overbearing rules. Rules that are meant to protect their legally blind daughter -- protect her from what, Agnes isn't quite sure.

Despite everything, Bo and Agnes become best friends. And it's the sort of friendship that runs truer and deeper than anything else.

So when Bo shows up in the middle of the night, with police sirens wailing in the distance, desperate to get out of town, Agnes doesn't hesitate to take off with her. But running away and not getting caught will require stealing a car, tracking down Bo's dad, staying ahead of the authorities, and -- worst of all -- confronting some ugly secrets.
I have loved Kody Keplinger's books ever since The DUFF came out. I have read all of her books except for Lying Out Loud (but I own a copy) and The Swift Boys and Me (her middle grade title). The DUFF is my favorite by her, but after reading Run it may be right up there with The DUFF.
It actually took me a while to read Run because I was in the middle of a reading slump and I was distracted, but once I actually made myself sit down and focus, I got immersed in Bo and Agnes's story.
Run is told in dual narrative between Bo Dickinson, the town "bad girl" with a wild reputation thanks to her family's well-known dysfunction, and Agnes Atwood, the legally blind, sheltered "good girl." Within the girls' narrative, we also get alternating timelines. Bo's chapters are set in the present, of the girls actually running away and eventually the consequences of their actions. Agnes's chapters are set in the past, and we get to see how these two girls from opposite sides of the track came to form such an intense friendship, as well as the events leading up to their running away together.
Now, the whole dual perspective/alternating timeline thing could get messy and disjointed, but in Kody Keplinger's deft hands it was the opposite. The story and the pacing flowed very well and each girl's side of the story came together to tell a compelling and engaging coming-of-age story.
Run was sort of a departure for Kody Keplinger. Besides setting this novel in fictional Mursey, Kentucky (a poor, rural small town) rather than rich, suburban Hamilton (as with her other YA books), Run is friendship driven rather than romance driven (we still do get a bit of romance, but its secondary) as well as more serious and darker in tone than all her previous novels. But, like in all of Kody Keplinger's books we still get her signature complex female characters, and a multi-layered storyline that touched on important issues without being preachy.
My favorite thing about Run is definitely Bo and Agnes's friendship--if you're looking for a novel with a strong female friendship this is your book. Both girls were basically suffocating (for different reasons) in the town they're living in and they are each other's breath of air. I am in love with their [yes, platonic] friendship. But, I should mention that Bo is bisexual, and even though her sexuality is not a big part of the plot, it's awesome to see an LGBTQ character represented in this novel. I also love that Run is co-narrated by Agnes who is legally blind, since it's not very often that we come across a legally blind main character in YA fiction and observe things through her perspective as person with a disability.
Overall, Run was an excellent read. The only reason I didn't give it a full five stars--and it's very, very minor--is because nothing about the characters' circumstances and reasons for running away and how everything gets tied up in the end really stood out to me or surprised me. However, when you add in all the other elements--the exceptional dual narration, the multi-layered, diverse characters, how it dealt with the issues, strong female friendships, Kody Keplinger's excellent writing--Run does become a pretty unique, realistic, and emotional read that will stay with me. I very much loved it and I highly recommend it.
About Kody Keplinger
Kody Keplinger was born and raised in small town western Kentucky, where she began her writing career after penning the
New York Times
and
USA Today
bestseller,
The DUFF
, at age seventeen.
The DUFF
, now a major motion picture, was chosen as an YALSA Top Ten Quick Pick for Reluctant Young Readers and a Romantic Times Top Pick. Kody has since written other books for both young adult and middle grade readers. When she isn't writing, Kody is posting about fashion and body positivity on her Instagram, chatting about her favorite TV shows on Twitter, or making videos for her YouTube account. Kody is also the co-founder of
Disability in KidLit
and a teacher at the Gotham Writers Workshops in NYC.
Kody is active on social media, so feel free to reach out to her on
Twitter
,
Facebook
,
Instagram
or
YouTube
.
a Rafflecopter giveaway
Tour Schedule
Week 1
>>
6/10:
Undeniably Book Nerdy - Review
<<
Week 2