Hello everyone,
I am so happy to be part of this time capsule-themed blog tour for The Square Root of Summer.
First of all, the itself book is pretty great and Fierce Reads always puts together the best, most fun blog tours. Read on for my thoughts about the novel, and what item I added to the Fierce Read time capsule, as well as my past and present answers to the "This Is Who I am Now" questions.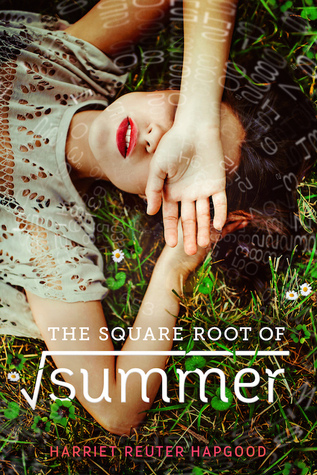 ARC: 304 pages
Publisher: Roaring Brook Press
Release Date: May 3, 2016
(today!)
Source of my copy: publisher
Synopsis
This is what it means to love someone. This is what it means to grieve someone. It's a little bit like a black hole. It's a little bit like infinity.
Gottie H. Oppenheimer is losing time. Literally. When the fabric of the universe around her seaside town begins to fray, she's hurtled through wormholes to her past:
To last summer, when her grandfather Grey died. To the afternoon she fell in love with Jason, who wouldn't even hold her hand at the funeral. To the day her best friend Thomas moved away and left her behind with a scar on her hand and a black hole in her memory.
Although Grey is still gone, Jason and Thomas are back, and Gottie's past, present, and future are about to collide—and someone's heart is about to be broken.
I fell in love with The Square Root of Summer after seeing the beautiful cover. It thought it looks like a fun book to kick-off summer vacation (which is in 18 days for me!!).
The story is told through Gottie's perspective and I enjoyed her voice. It had a kind of quirky, whimsy to it that I liked and I collected some really lovely quotes from this book. Her family is German so we got a bit of German words peppered in there, and that was fun because I learned some German words and phrases.
Gottie's favorite subject was physics, and the explanation for her time-traveling was based on spacetime and wormholes. My two biggest issues with this book were all the physics stuff, which I just kind of skimmed over because it was confusing to me, and the time travel aspect, which didn't quite work for me. At first I thought Gottie was just imagining herself being thrown in the past, like a TV flashback kind of thing but she's really going back in time through wormholes. The whole thing just didn't gel with me. I did appreciated that fact that Gottie's time traveling was based on science instead of magic--that was a nice change. And the author did try to explain the whole wormhole/time travel thing, but it just went over my head.
Good thing you don't need to understand all the science stuff to enjoy the emotional part of story, which I really enjoyed. Gottie is dealing with lost and guilt over her grandfather Grey's death, and having lost my own grandpa several years ago I can relate. Gottie also fell in love with her brother's best friend Jason and they had a secret summer romance that fell apart at the time of Grey's passing. Then, she also had to deal with her best friend Thomas (who moved away with his family to Canada when they were kids) coming back after zero communication from him. But the all physics stuff did get in the way and dragged the story down. I did enjoy the diagrams and drawings, though, because it reminded me of one of my favorite books, The Curious Incident of the Dog in the Night-Time.
I liked Gottie's character for the most part, but she can be too wrapped up in herself. Her mom died in when she was born, she lost her best friend Thomas when his family moved to Canada, her grandfather Grey died and she's still trying to come to terms with it, and even her secret boyfriend Jason didn't stick around. I know she suffered a lot of lost, but she's not an approachable character--I liked her but I couldn't quite connect with her 100%. I did enjoy some of the secondary characters, especially her dad and Thomas.
Okay, so The Square Root of Summer wasn't exactly the fun time-travel book I was expecting, but I found myself absorbed anyway at certain parts. I liked the writing, and the romance was sweet and cute. The sci-fi/time travel part didn't quite work with me, but others may enjoy the science and physics aspect a lot more than I did. If you're looking for a unique summer read with a science focus but doesn't skimp on the emotions, The Square Root of Summer will be a good one to pick up.
*****
The item I included in the time capsule is my apple necklace. I hardly wear it because it's faux gold and I get an itchy rash if I wear it for longer than an hour, but it's very significant to me anyway. Find out why on
Fierce Reads's Tumblr
, as well as other bloggers' time capsule items.
Another fun other thing is answering the This Is Who I Am Now questions, where I answered 6 questions back in February and my answers the the same questions today, in the present, May 3rd.
Author Harriet Reuter Hapgood
What brings you the most joy in life?
Feb. 29th
: Books, especially YA, NA and romance novels
May 3rd
: Books, especially YA, NA and romance novels
What are you reading?
Feb. 29th
: Rebel Belle by Rachel Hawkins
May 3rd
: none at the moment--I'm in a book slump
What is something you're really looking forward to?
Feb. 29th
: Spring Break (11 more days!)
May 3rd
: Summer Vacation (18 more days!)
What is one thing that's worrying you?
Feb. 29th
: My classroom observation this coming Friday.
May 3rd
: Getting all of my teacher effectiveness evaluation stuff together by Thursday
What is something that you always have with you?
Feb. 29th
: My phone and a book/my Kindle
May 3rd
: My phone and a book/my kindle
What is something that you wish you could change?
Feb. 29th
: I wish I didn't have seconds during dinner because now I feel slightly sick.
May 3rd
: I wish I didn't wait until the last minute to put together my teacher eval stuff
For more info about Harriet's books, visit her
website
,
Instagram
, and
Twitter
. Let me know if you already read
The Square Root of Summer
or planning to read it--I'd love to chat with you about it.
Happy reading,
Michelle