Hello everyone,
I am so excited to be part of the blog tour for
The Last Time We Were Us
by Leah Konen. Today, I am going to be sharing the eight songs that inspired Leah when writing
The Last Time We Were Us
.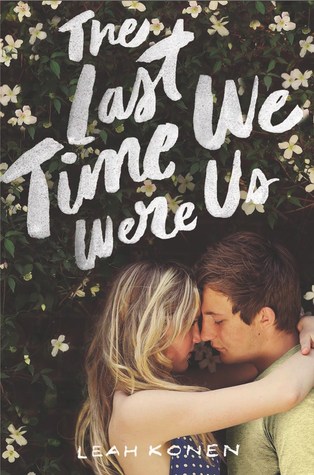 Liz Grant is about to have the summer of her life. She and her friend MacKenzie are getting invited to all the best parties, and with any luck, Innis Taylor, the most gorgeous guy in Bonneville, will be her boyfriend before the Fourth of July.

Local teen convict released early.

Jason Sullivan wasn't supposed to come back from juvie. A million years ago, he was her best friend, but that was before he ditched her for a different crowd. Before he attacked Innis's older brother, leaving Skip's face burned and their town in shock.

"Everything is not what you think."

Liz always found it hard to believe what they said about Jason, but all of Bonneville thinks he's dangerous. If word gets out she's seeing him, she could lose everything. But what if there's more to that horrible night than she knows? And how many more people will get hurt when the truth finally comes out?

"You're the one person who believes in me."

Leah Konen's southern romance swelters with passion as it explores the devastating crush of lies, the delicate balance of power and perception, and one girl's journey to find herself while uncovering the secrets of so many others.
I LOVE book playlists because listening to the song brings you back to all the feels you experienced in the novel and I love matching the songs to specific scenes in the novel. So, here ya go, for your listening pleasure...
Neighborhood #1 (Tunnels) by Arcade Fire
Heart Skipped a Beat by The xx
Katie Queen of Tennessee by The Apache Relay
Dreamy Bruises by Sylvan Esso
Forever by HAIM
I Will Wait by Mumford & Sons
When U Love Somebody by Fruit Bats
Home by Edward Sharpe & The Magnetic Zeros
Spotify playlist
ABOUT LEAH KONEN
Leah Konen grew up in a two-stoplight farming town in Washington State before moving to suburban North Carolina, where there were many more stoplights and lots of sweet tea. After studying journalism at the University of North Carolina, she headed to New York City to pursue her dream of becoming a writer. When she's not working on novels and articles or writing for fashion brands, she enjoys devouring new books, spoiling her dog, Farley, biking around Brooklyn, checking out live music, and binge-watching TV. Find her online at
www.leahkonen.com
.
a Rafflecopter giveaway
Follow the rest of the tour
Week 1:
5/10: Undeniably Book Nerdy - Playlist
Week 2:
Look for my review of
The Last Time We Were Us
next week!
Happy reading,
Michelle