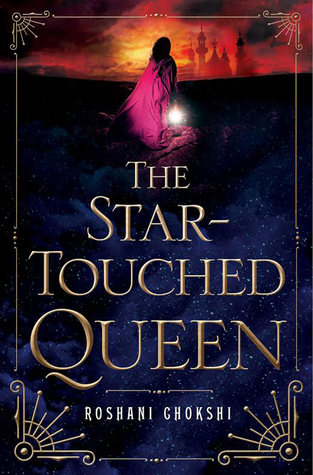 E-ARC: 352 pages
Publisher: St. Martin's Griffin
Release Date: April 26, 2016
(today!)
Source of my copy: publisher
Synopsis
Fate and fortune. Power and passion. What does it take to be the queen of a kingdom when you're only seventeen?

Maya is cursed. With a horoscope that promises a marriage of Death and Destruction, she has earned only the scorn and fear of her father's kingdom. Content to follow more scholarly pursuits, her whole world is torn apart when her father, the Raja, arranges a wedding of political convenience to quell outside rebellions. Soon Maya becomes the queen of Akaran and wife of Amar. Neither roles are what she expected: As Akaran's queen, she finds her voice and power. As Amar's wife, she finds something else entirely: Compassion. Protection. Desire...

But Akaran has its own secrets -- thousands of locked doors, gardens of glass, and a tree that bears memories instead of fruit. Soon, Maya suspects her life is in danger. Yet who, besides her husband, can she trust? With the fate of the human and Otherworldly realms hanging in the balance, Maya must unravel an ancient mystery that spans reincarnated lives to save those she loves the most. . .including herself.

A lush and vivid story that is steeped in Indian folklore and mythology.
The Star-Touched Queen
is a novel that no reader will soon forget.
As soon as I heard of The Star-Touched Queen I knew it was my kind of book and I was right. I absolutely LOVED it.
Right from the start I fell in love with the writing. It's beautiful and dreamy and poetic yet it's still very readable. I was admittedly worried about that going into The Star-Touched Queen because usually when a book's writing is described as "poetic" I immediately think "purple prose." But I had nothing to worry about. I found the writing to be very readable, and I was finding all of these beautiful quotes and highlighting like crazy on my Kindle. I know not everyone will gel with the writing, but I say give it a chance because it's very special--read the first couple of chapters to get a feel for it before deciding whether it's for you or not.
The Star-Touched Queen is based on the Persephone and Hades myth, mixed with Beauty and the Beast elements. Set in an Indian royal court, complete with harems and the conniving wives of the Raja, Princess Mayavati was shunned and feared by everyone because of her cursed horoscope that promised death. But, she's fine with people staying away from her because she got to do what she wanted. She spends her days giving her cowering tutors the slip and instead reading the books she wanted to read. She had the run of her father's court and found a way to secretly listen in on her father's meeting with his councilors. And most importantly, since her horoscope promised a cursed marriage, no one wanted to marry Maya and she's not forced to enter into a political marriage like her half-sisters. She thought she'd escape that fate until her father announced that she must choose a husband and sacrifice her life to save her country from war. But, on the night of her wedding, a mysterious suitor named Amar, whisked her off to his castle and Maya found herself in a different kind of life and adventure.
I loved Maya's character right away. She's an outsider at her father's court and had this stand-offish shell--but who wouldn't living with the vicious, conniving wives in the harem? I felt protective of her right from the beginning, because beneath her shell was a vulnerability and I just felt for her. One of my favorite things in the novel was Maya's relationship with her younger half-sister Gauri. I loved that they didn't lose their connection with each other despite everything. I also love Amar--he's mysterious and charming and he kept his distance but I fell for him along with Maya. They're both complex, flawed characters, and I adored them both. All of their scenes together were electric and I really, really wish this is not a standalone novel because I want to spend more time with them. I know the author is writing a companion novel so I can't wait for that--hopefully we'll be seeing them again!
I love this book to bits, but the reason why I didn't give it a full five stars is because of the romance. I admit that the main draw for me initially was that I was hoping to read another epic romance like Shazi and Khalid's in The Wrath and the Dawn. Ever since reading Wrath, I've been searching for another read-alike that will make me swoon and fall in love and The Star-Touched Queen didn't quite live up to my romantic expectations. I do love The Star-Touched Queen as it's own story, of course, and the romance between Maya and Amar was lovely in its own way. Just don't go expecting Wrath romance epic-ness like I did.
I recommend The Star-Touched Queen to everybody. Even though the romance didn't live up to my expectations, it's still an amazing [debut] novel and such a beautiful story. I can't wait for more from Ms. Chokshi. She's an author to watch.