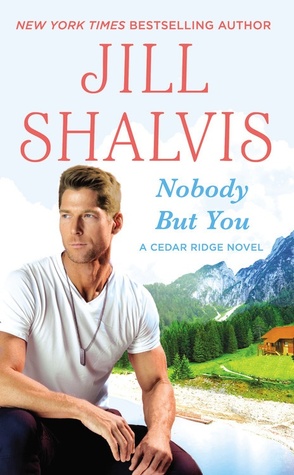 ARC: 339 pages
Publisher: Forever Romance
Release Date: March 29, 2016
Source of my copy: publisher
Series: Cedar Ridge #3
Synopsis
After an overseas mission goes wrong, Army Special Forces officer Jacob Kincaid knows where he must go to make things right: back home to the tiny town of Cedar Ridge, Colorado. All he needs to scrub away his painful past is fresh mountain air, a lakeside cabin, and quiet solitude. But what he discovers is a gorgeous woman living on a boat at his dock.

Sophie Marren has nowhere else to go. She's broke, intermittently seasick, and fighting a serious attraction to the brooding, dishy, I'm-too-sexy-for-myself guy who's now claiming her dock. Something about Jacob's dark intensity makes her want to tease—and tempt—him beyond measure. Neither one wants to give any ground . . . until they realize the only true home they have is with each other.
After reading
Second Chance Summer
(book 1) and
My Kind of Wonderful
(book 2) I was very curious about Jacob Kincaid, the missing Kincaid sibling and twin brother to Hudson (the hero in MKoW). We finally get to meet him in
Nobody But You
.
Jacob Kincaid is back in Cedar Ridge, but he didn't quite know how to face his half-siblings and especially his twin brother Hudson who he had a huge fight with before leaving town nine years ago. Sophie Marren is recently divorced and living in a boat that used to belong to her ex-husband. She was miserable, seasick, and broke. The last thing she needed was some hot, sexy alpha telling her that she couldn't park moor her boat on his dock.
There was insta-attraction between Jacob and Sophie, but neither were looking for a relationship. They decided that while Jacob was in town, they do a friends-with-benefits kind of thing. But Jacob found in Sophie someone light, funny, and saw the glass half-full--his opposite in a way because he's currently in a dark place. Sophie, who her family always saw as flighty, found in Jacob someone who believed in her and saw her strength and how hard she worked. I loved how well-matched Jacob and Sophie were and how they really complimented each other. They definitely had chemistry. One of my favorite scenes was when they were drinking scotch and playing three truths and a lie, and I wish we had a little more of those kind of playful yet intimate scenes early on because I felt that most of their scenes before the 60% mark felt a little too hurried, with Sophie often running off to one of her temp jobs or driving her boat elsewhere, with Jacob wondering where she moored her boat for the night.
Like in the first two Cedar Ridge novels, my favorite scenes involved the Kincaid clan, and we got to see the siblings in action here, bickering, giving each other a hard time, and loving and supporting each other. I love all of the scenes between them, especially all of the siblings were in the same room. I also loved Hudson and Jacob's scenes with their mom Carrie, who had dementia and thinks her fully grown sons were still young boys. Of course, there was tension between Jacob and Hudson--what Jacob did was not something easily forgiven and forgotten and after reading Hudson's book I saw where he was coming from. But, I felt sorry for Jacob, who felt like an outsider in his own family.
Jacob and Sophie had some issues to work out that added conflict to the plot but ultimately in terms of character and plot, Nobody But You was very predictable, but that's absolutely fine with me. I wanted an uncomplicated contemporary romance that is well-written, that I can read over the weekend, and that will leave me happy and satisfied and Jill Shalvis did not disappoint. Nobody But You was a comfort read--it had everything I love in a contemporary romance: a small town setting, a likable heroine, an alpha hero, family shenanigans, funny one-liners, and just the right amount smexyness. Sometimes you need that kind of easy, light, fun read, and that is exactly what I got with Nobody But You.
a Rafflecopter giveaway