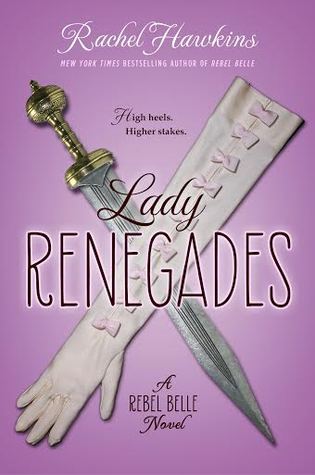 ARC: 264 pages
Publisher: Putnam
Release Date: April 5, 2016
Source of my copy: publisher
Series: Rebel Belle #3
Synopsis
From the
New York Times
bestselling author of
Hex Hall
comes the sparkling finale in the beloved Rebel Belle series.

Just as Harper Price starts coming to terms with her role as David Stark's battle-ready Paladin, protector, and
girlfriend
—her world goes crazy all over again.

Overwhelmed by his Oracle powers, David flees Pine Grove and starts turning teenaged girls into Paladins—and these young ladies seem to think that
Harper
is the enemy David needs protecting from. Ordinarily, Harper would be able to fight off any Paladin who comes her way, but her powers have been dwindling since David left town, which means her life is on the line yet again.
Now, it's a desperate race for Harper to find and rescue David before she backslides from superhero to your garden-variety type-A belle.
New York Times
bestselling author Rachel Hawkins brings the fun once again in the finale of this pitch-perfect romantic paranormal comedy series.
After the cliffhanger ending in Miss Mayhem, I was so happy to have Lady Renegades on hand. Immediately after finishing Miss Mayhem jumped right into it and overall Lady Renegades was a fun ride and a good conclusion to the series.
Lady Renegades opened with a prologue in David's perspective. He's somewhere in Mississippi now, he's suffering from terrible headaches and nightmares, and his powers were unstable. Two months have passed since David left town, and Harper was spending her summer vacation before their senior year as a lifeguard with Bee. With David gone, she finally had that normalcy she's wanted since all the craziness started in Rebel Belle, but she's bored and worried about David even though she's trying to push thoughts of him from her mind.
One night after work Harper was attacked by an unknown girl who said David sent her to kill Harper. The girl had Paladin powers and Harper realized that David must have turned this girl into a Paladin. But, during the fight Harper's Paladin powers suddenly stopped working and if it wasn't for Bee, she would've been killed.
So, yeah, all that happened by the second chapter. Lady Renegades was kind of a roller coaster read for the most part. There were some twists that I didn't quite expect and some that I was able to predict, but I was immersed in the action and all the craziness going on. There were some parts that dragged, like Paladin girls who kept coming after Harper got kind of annoying. Of course, we get Harper's trademark Southern belle sass, which I loved. There were some new characters introduced here, but an old character made a reappearance.
One of my favorite thing about the book was all of the girl power with Harper, Bee, and Blythe. Yes, Blythe from Rebel Belle is back and she played a major role in this book. She was the only one who knew to help David, so Harper and Bee had no choice but to work with her. I really like Blythe here, which was a complete turnaround from Rebel Belle where I disliked her because she messed things up for Harper and David. I really enjoyed the friendship that formed between Harper, Bee, and Blythe and how they were on this road trip together to find David. Road trip books are the BEST and it was really fun here.
And unlike the first two books in the series, the book switches to David's POV (in third person) several times, which was good because if it didn't he would hardly be in the story at all. But, the poor guy was just off and this meant that we didn't get much of Harper-and-David moments. This was a real bummer because they're my favorite couple in the series and we didn't nearly get enough scenes with just the two of them in Miss Mayhem. I was hoping we'd get that in this book, but alas. Heck, I'll even take them bickering with each other.
Overall, Lady Renegades was a fun read and the ending was... well, it would've been nice if we got a little bit more (maybe a one year later epilogue?), but it was fairly satisfying. I enjoyed the entire series overall--it was entertaining, action-packed, with the kind of snarky, sassy character I love in Harper and even in Blythe. I loved that it was set in the South--it was really fun reading some of the characters' dialogue aloud in a [very awful] Southern accent. Actually, having read this series and Ms. Hawkins's previous paranormal series Hex Hall, I find that I enjoyed this series a lot more. This series was less clunkier and more polished in terms of plot development in the overall story arc of the entire series, and we still got the author's signature humor and wit that I loved so much in the Hex Hall series.
Now that all the books in the Rebel Belle series are out, I suggest you get your hands on the entire series so you can marathon them. Each book reads really quickly and you can breeze through the entire series in a couple of days. If you enjoy light YA fantasy with lots of humor, light romance, and kick-ass girl power, I highly recommend the Rebel Belle series.