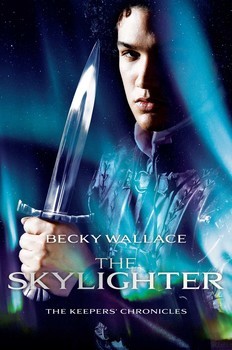 ARC: 320 pages
Publisher: Margaret K. McElderry Books
Release Date: March 22, 2016
Source of my copy: publisher
Series: The Keepers' Chronicles #2
Synopsis
Johanna and Rafi are in a race against time to save their country before a power-mad Keeper destroys everything they hold dear in the "enthralling magical world" (Cinda Williams Chima, author of The Heir Chronicles) introduced in
The Storyspinner
.

As the last of the royal line, Johanna is the only person who can heal a magical breach in the wall that separates her kingdom of Santarem from the land of the Keepers, legendary men and women who wield elemental magic. The barrier protects Santarem from those Keepers who might try to take power over mere humans… Keepers who are determined to stop Johanna and seize the wall's power for themselves.

And they're not the only ones. As the duchys of Santarem descend into war over the throne, Johanna relies more than ever on the advice of her handsome companion, Lord Rafael DeSilva. But Rafi is a duke too, and his people come first. As their friendship progresses into the beginnings of a tender relationship, Johanna must wonder: is Rafi looking out for her happiness, or does he want the throne for himself?

With war on the horizon, Johanna and Rafi dodge treacherous dukes and Keeper assassins as they race to through the countryside, determined to strengthen the wall before it's too late…even if it means sacrificing their happiness for the sake of their world.
The Skylighter was one of my most anticipated sequels of 2016 and I was lucky enough to receive an early copy back in December. I meant to read it sooner, but my job, life, and an unfortunate book slump all kept me from picking it up as soon as I got it in my hands. I finally started reading it a few days ago and I am so glad I had my spring break week to just read it slowly and savor it. It was so wonderful being back in Santarem with Johanna, Rafi, Pira, Leao, Dom and the others I've grown to love in The Storyspinner. The Skylighter was an excellent follow-up and conclusion to The Keepers' Chronicles duology and I give it
The Skylighter picked up right where The Storyspinner ended. After the big fight at the end of The Storyspinner, our two main groups of characters, the Keepers (magical) and the humans (non-magical) fractured and in The Skylighter we had three main plot lines that all came together in the end for the big, explosive battle.
First, we have Johanna and Rafi who were trying to get to Donovan's Wall in order to save it. They eventually meet up with Jacare. I loved Johanna and Rafi and I was shipping them hard in The Storyspinner and they were great here as well. They admitted their feelings for each other in the previous book, but there was tension here partly thanks to Jacare--not in the romantic sense, no worries, but to do with each of their responsibilities to their people. This made me dislike Jacare a bit, but he came through for them in the end. Oh you guys, my heart broke for Jacare--not going to say why, but it was so bittersweet.
Then, there's Pira who was captured by Vibora, who worked for the crazy, essensia-stealing Sapo. Sapo wanted to enslave all the humans and Keepers to take over Santarem. Leao eventually catches up to her to dire consequences. I was also shipping Pira and Leao in The Storyspinner. I felt so sorry for Pira with all the torture she went through under Vibora's control, but she's such a badass anyway. Leao was still his sweet self, and I wish we got more scenes with just him and Pira. But their story line was open enough that hopefully they will get their own book or novella in a spin-off series--there's a lot the author can do with these two in a spin-off.
And, finally, there was Dom who stayed in Santiago. With his older brother Rafi gone, Dom had to step up and take huge responsibilities he's unprepared for as the younger son and come up with a plan to defend Santiago against an attack from treacherous dukes who had their own agenda of taking over the entire Santarem. But, a spy for the other side kept leaking all of Dom's plans. He had to work together with Mirabelle, a daughter of one of the dukes and someone he's not 100% sure he can trust despite her assurances that she's on his side.
Dom's was actually my favorite story line. The other two were very interesting, but I couldn't wait to get back to Dom and what's going on in Santiago. I loved seeing Dom grow from a carefree second son to a leader. I also love his growing relationship with Mirabelle, who was hands-down the most interesting character in The Storylighter. She was smart, sly and clever, and, like Dom, I didn't fully trust her because while she tells Dom things, she doesn't reveal everything. I love her so much that I was shipping her with Dom, even though he had a sweet thing going on with Brynn, one of the maids who was also his childhood friend. Dom and Mirabelle didn't really like each other but she's his best bet in uncovering who the spy was. And like Pira and Leao, Dom and Mirabelle's story was left open in a way that begged for their own book so that we can explore their relationship a little bit more and tie a few loose ends with the conflict among the duchys of Santarem.
The Skylighter was everything I wanted in a sequel. It was exciting and fast-paced, with all of my favorite characters back in action, and set in a well-crafted world where magic exist. Now, the magic system isn't as intricate as in other fantasy novels, but it works and I do wish we got to explore more of it. The romantic tension between some of the characters was excellently done, but the romance didn't take over the story. The Skylighter was such a fun adventure and all three story lines were fully fleshed out and gripping in their own way, and even though Dom's was my favorite, I was never sad to leave one and jump into another. There were some twists, but they didn't really come as a surprise to me (except for the one that had to do with Brynn) but that didn't really take away my enjoyment of the story. The author did such an amazing job making sure the reader never lose sight of the characters' goals despite the multiple story lines and a large cast of characters. The Storyspinner and The Skylighter are must-reads for YA fantasy fans. I absolutely LOVED this duology.
And, okay, so while Rafi and Johanna's story came to a satisfying conclusion, I think the author left things open enough for Pira and Leao and Dom and Mirabelle. I am not ready to leave Santarem yet, so here's hoping there will be more books in the near future.
Bonus: The Skylighter includes a map of Santarem, which was really helpful in following all of the characters' adventures.