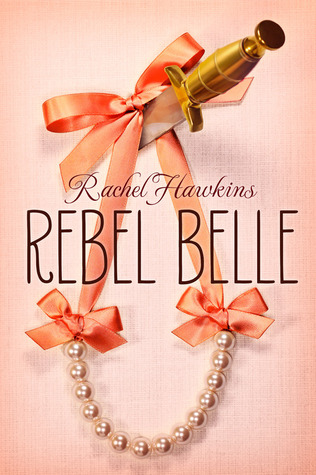 Paperback: 345 pages
Publisher: Speak
Release Date: April 8, 2014
Source of my copy: bought
Series: Rebel Belle #1
Synopsis
Harper Price, peerless Southern belle, was born ready for a Homecoming tiara. But after a strange run-in at the dance imbues her with incredible abilities, Harper's destiny takes a turn for the seriously weird. She becomes a Paladin, one of an ancient line of guardians with agility, super strength and lethal fighting instincts.

Just when life can't get any more disastrously crazy, Harper finds out who she's charged to protect: David Stark, school reporter, subject of a mysterious prophecy and possibly Harper's least favorite person. But things get complicated when Harper starts falling for him—and discovers that David's own fate could very well be to destroy Earth.

With snappy banter, cotillion dresses, non-stop action and a touch of magic, this new young adult series from bestseller Rachel Hawkins is going to make y'all beg for more.
I am so glad I finally picked up Rebel Belle, just in time for the upcoming release of the final book in the series too!
First of all, how awesome is the cover of Rebel Belle. It's basically the novel in a nutshell with the dagger, the pearls, and the peach-y pink color. Good job, Penguin!
I really, really enjoyed Rebel Belle, and I wish I had picked it up sooner. It was a really fun, entertaining read and it kind of plays out like a really good Disney Channel movie, but with better fleshed out characters and better dialogue (none of those annoying "sassy" one-liners that makes me roll my eyes).
Basically, Harper was her school's queen bee. She's not only the prettiest, most popular girl in school but she's also smart and she's made it her mission to make sure all the school activities in school were a success. But, during Homecoming she stubbled into a strange scene between her school's custodian and her history teacher, and be the end of the night she found herself with with some crazy ninja skills. She soon found out that she's been task to protect--to be a paladin to--her greatest rival, David Stark.
My most favorite part of Rebel Belle were Harper and David together. My absolute favorite romances are when the characters disliked each other at first and then eventually grow to like each other, and that was the kind of romance we got there. They've known each other pretty much their whole lives, and grew up together, but they've never gotten along. But, when Harper became David's paladin, they were forced to spend more time together and they slowly become friends, and then gradually their feelings for each other become more romantic. I loved the slow burn of their relationship. Of course, since Rebel Belle is only the first book in the series we didn't get the full arc of their relationship and I am very much looking forward to more Harper and David swoon-y moments in Miss Mayhem (book 2).
I also love that it's set in the South. I was picturing Harper and David's town as the town in that tv show Hart of Dixie (you know, that one with Rachel Bilson) and in my head Harper was (a lot less bitchy version of) Lemon Breeland with her Southern accent and pretty dresses, but can kick some major ass.
The plot was fast-paced, and it kept my interest, but there were moments when the scenes felt contrived and almost disjointed. It felt like the plot didn't flow as well as it should, and there was a cheesiness factor to the whole thing (hence, the Disney Channel movie comparison), but it's all part of its charm.
I am very much looking forward to Miss Mayhem and Lady Renegades. I can't wait to see how everything will turn out after the events at the end of Rebel Belle, because it turned the plot on its head and changes the game. Pick up Rebel Belle if you want a fun, entertaining, kick-ass, Southern good time!
a Rafflecopter giveaway