Publisher: Poppy
Pages: 246 pages
Release Date: September 1, 2015
Source of my copy: bought
Summary (for full synopsis visit
Goodreads
)
On the night before they leave for college, Clare and Aidan have only one thing left to do: figure out whether they should stay together or break up. Over the course of twelve hours, they retrace the steps of their relationship, trying to find something in their past that might help them decide what their future should be. The night leads them to family and friends, familiar landmarks and unexpected places, hard truths and surprising revelations. But as the clock winds down and morning approaches, so does their inevitable goodbye. The question is, will it be goodbye for now or goodbye forever?
Michelle's Thoughts

:
I wanted to like Hello, Goodbye, and Everything In Between so much. I have enjoyed three of Jennifer E. Smith's books in the past before picking up this one and I've rated them all between 3-4 stars. I rate Hello, Goodbye, and Everything In Between a disappointing 2 stars.

I picked this book up because I wanted a book that I can read in a day (trying to catch up with my Goodreads challenge). With only 246 pages, I did read it in one day but I did not swoon, sigh (okay, I did sigh but in frustration, not because of cutesy moments), nor root for Clare and Aidan.

I gave it 2 meh stars. I didn't hate it, but I didn't like it all that much either. I was mostly frustrated with Aidan and Clare (but mostly Clare) because they (she) just can't seem to make up their mind whether to break up or not. They kept having the same conversation over and over the entire novel. SO FRUSTRATING!! At one point, I was *this* close to chucking the book across the room and shouting "JUST FUCKING BREAK UP ALREADY!!"

This book promised to be "charming, bittersweet, and full of wisdom and heart, [and] irresistible" (via the full synopsis) and I didn't find it any of those things. Instead, I got a frustrating, annoying, and ultimately uninspired. Definitely, my least favorite novel by Jennifer E. Smith. Skip this one.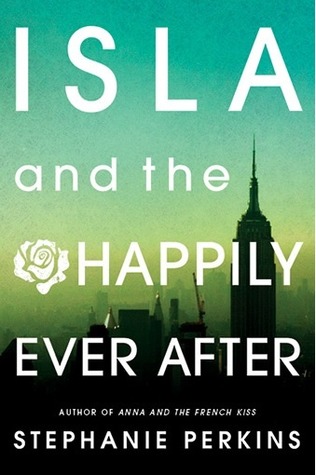 Publisher: Dutton
Pages: 339 pages
Release Date: August 14, 2014
Source of my copy: bought
Summary (for full synopsis visit
Goodreads
)
Hopeless romantic Isla has had a crush on introspective cartoonist Josh since their first year at the School of America in Paris. And after a chance encounter in Manhattan over the summer, romance might be closer than Isla imagined. But as they begin their senior year back in France, Isla and Josh are forced to confront the challenges every young couple must face, including family drama, uncertainty about their college futures, and the very real possibility of being apart.
Leslie's Thoughts

:
I finished Isla and the Happily Ever After on the plane on my way to college, which is kind of appropriate because Isla did a bit of traveling in the novel! I think it's my favorite one out of the three novels by Perkins because, out of the three heroines, I related to Isla the most. I actually teared up at some parts of the book, especially towards the end of the book.

I loved Isla! I related to her because when I was her age I was that insecure girl and, like her, I got excellent grades but I wasn't the most social girl. I didn't put myself out there, especially with boys, because I often feel shy and awkward in social situations. I really liked that instead of building up to the will-they-or-won't-they-get-together like in the other two books in the series (and like most contemporary romantic YA), we instead saw them as a couple for most of the novel and they had to work on their relationship. I found that refreshing.

Another thing I enjoyed was all the traveling Isla did. I hope to travel one day, and it was fun vicariously traveling to New York, then to France, then to Spain, and back again with Isla.

So, my order of favorites: Isla and the Happily Ever After, Lola and the Boy Next Door, and Anna and the French Kiss.

Lola is before Anna because of Cricket--I really liked him and Étienne not as much. Also, I felt like I couldn't relate to Anna at all (except for some of her insecurities). I actually saw more of myself in Meredith (although, I'd never get a nose ring like Meredith!). But, ohmigosh, I loved that proposal scene between one of the couples! **Swoon** That was soooooooo cute!! I mean, I knew about it was going to happen because I spoiled myself when looked up quotes from Isla on Goodreads before reading the book, but it was still great. I highly recommend this entire series! If you haven't read any of the books, you're missing out.