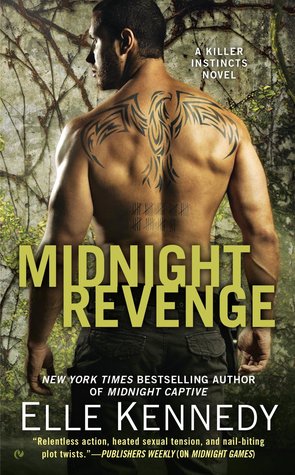 Mass Market: 384 pages
Publisher: Signet
Release Date: February 2, 2016
Source of my copy: publisher
Series: Killer Instincts #7
Synopsis
Out of all the stone-cold mercenaries in Jim Morgan's black ops organization, Derek "D" Pratt is the most intimidating. He is tight-lipped and covered in tattoos, and even the other guys on his team are afraid to ask him about his past. D's been off the grid for years, but after his teammate Sullivan is mistakenly captured in his place, D is forced to come out of hiding and face his demons.

When D lands in Mexico, he's ready to risk everything to save his friend. To complicate matters, Sofia Amaro, a feisty doctor whom D had a one-night stand with months ago, has tracked him down. And in an instant she's unintentionally caught up in his life-threatening rescue mission.

Now D must extract not one but two people from the most violent world he's ever encountered. And one of them is carrying his child...
Book #7 of the Killer Instinct Series
Do you need to read the previous books in the series before you jump into
Midnight Revenge
?
Yes, you do.
While the main plot line--Derek and Sofia's story--can stand alone, the secondary story line, which takes up a pretty big chunk of the novel, does not. It relies heavily on Sully and Liam's relationship, which was developed in the last few previous books. Besides, you'd want to start at the very beginning anyway because you don't want to miss out on any of the books in this AMAZING romantic suspense series.
My Ranking of the Books in the Series
I absolutely LOVE this series--I've rated all of the books either 5 or 4 stars--but of course I like some of the books more than the others. So, here's my ranking of the books from my favorite to my least favorite.
1. Midnight Action (#5; Noelle and Jim)
2. Midnight Captive (#6; Bailey and Sean)
3. Midnight Pursuits (#4; Juliet and Ethan)
4. Midnight Games (#3; Isabel and Trevor)
5. Midnight Alias (#2; Olivia and Luke)
6. Midnight Revenge (this book)
7. Midnight Rescue (#1; Abby and Kane)
As you can see,
Midnight Revenge
is kind of low on my favorites ranking and I'll explain why but first...
What I Loved
First and foremost, the writing was fantastic. You really can't go wrong with an Elle Kennedy novel. All the books I've read by her (the entire Killer Instinct series and books 1-2 of the Off-Campus series) are so readable, addicting, fast-paced, exciting, engaging--basically all the adjectives that describe an awesome read. In particular, her Killer Instinct series is riveting and action-packed, and
Midnight Revenge
is no exception. The mission here was a nail bitter.
Holy cow!
All the craziness thrown at Derek (whose past really came back to
haunt
hunt him down) and Sofia, you wonder how they'll ever get out of it alive. SO GOOD!!
Since meeting Derek Pratt in
Midnight Rescue
, I've wanted his book. He was the most mysterious and hardened of the soldiers in Jim Morgan's team. No one knew his background and he sets himself apart. Of course, I was dying to know what made him tick. We finally learn his background and it was so sad and horrible--more horrible than any of the others who also didn't have an easy childhood. It was hard reading that part, but it explained why he was the way he was.
We met Sofia Amaro in previous books--she was actually introduced in
Midnight Rescue
and I vaguely remember (correct me if I'm wrong--I read
Midnight Rescue
almost a year ago) that she kind of had a moment with Derek in that book. She runs a small clinic in a small village in Mexico. She basically works for Jim Morgan (who funds her clinic) because she's his men's go-to doctor. I love that while she's not a bad-ass mercenary or an assassin, she can stand her own among all the alpha men and women she treats.
I think Sofia and Derek were well-matched. Reading the other books in the series, I wondered if the author was going to match Derek with one of Noelle's chameleons, or even Noelle herself because they had a brief affair. But Noelle was too hardened, and Derek needed someone softer. Not that Sofia was soft or innocent, because she had her own issues to deal with, but she's a doctor who saves lives and while she's aware that there's a lot bad people in the world, she's not coming face to face with them on a regular basis. And Derek needs someone who is outside the assassin and mercenary circle. They need each other and balance the other out. And, of course, the chemistry between them is HOT!!
My Biggest Issue
The main reason I gave
Midnight Revenge
four stars instead of five was because I felt Sofia and Derek's relationship wasn't as developed as it could've been. It felt rushed. Okay, so they've known each other for years and there's a bit of attraction between them, but as readers we didn't really see a lot of that. They
together
were not part of any secondary story line (minor or not) in the previous books (unlike Isabel and Trevor, Jim and Noelle, and Bailey and Sean) and until their one-night stand they really weren't anything other than as patient-doctor. In the novel, their relationship really went from point A to point B in
three
days. Yes, they were in life-and-death situations and that brought out strong feelings, but there wasn't that gradual build up of trust and love as with the other couples, and that kind of disappointed me. I've waited for Derek's book for so long, and I was expecting something
more
and the romance between Derek and Sofia kind of fell short. Instead, the tortured, emotional, multiple-books in the making romance went to Liam and Sully. These two are getting their own book eventually, right?
I Want More!
I can't wait for book 8! Since everyone in Jim Morgan's A-team already found their HEA with the exception of Ash (I think he'll eventually be paired up with with Cate, but I think she's still too young yet), as well as Sully and Liam, but after what went down with Sully in this book I don't think they're ready yet either. Maybe the next one will be one of Noelle's operatives... maybe the mysterious Paige? I don't really care who.
I just want it in my hands already!
Final Thoughts
Midnight Revenge
might not be my favorite novel in the series, but it's still a fantastic read and an excellent addition to the series. There were a lot of twists and turns, and you don't quite know how everything will come together. Lots of edge-of-your-seat action that I just ate up! The Killer Instinct is one of the BEST romantic suspense series, and a must-read for any fan of romantic suspense. If you enjoy Elle Kennedy's new adult Off Campus series and are looking for other books by her, I suggest you pick up this series.
It's just as amazing!