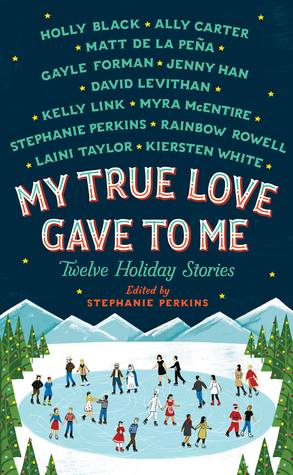 Hardcover: 336 pages
Publisher: St. Martin's Press
Release Date: October 14, 2014
Source of my copy: publisher
Series: none
Synopsis
If you love holiday stories, holiday movies, made-for-TV-holiday specials, holiday episodes of your favorite sitcoms and, especially, if you love holiday anthologies, you're going to fall in love with My True Love Gave To Me: Twelve Holiday Stories by twelve bestselling young adult writers, edited by international bestselling author Stephanie Perkins. Whether you enjoy celebrating Christmas or Hanukkah, Winter Solstice or New Year's there's something here for everyone. So curl up by the fireplace and get cozy. You have twelve reasons this season to stay indoors and fall in love.
Hi, everyone! Happy new year. I hope 2016 is going great for you all and you all are beginning the year with some amazing reads. For me, I began my year off nice and easy by reading some selections from the anthology
My True Love Gave To Me
that features some of my favorite authors, authors whose books I hope to read some time soon, and authors unfamiliar to me but whom I would like to check out. Coupled with my relief and comfort for finally being back home with my family and friends, I really enjoyed
My True Love Gave To Me
. Each story I read was so full of heart and warmth that I felt it was a great way to begin the year and a great book to cuddle with while wrapped up in my blanket during those cold winter nights. Hence, I'm giving the anthology an overall rating of:
However, to really express my enjoyment of this book, I listed and reviewed my top five favorite stories from it in the order of what I liked to what I loved. So here we go!
#5: "Your Temporary Santa" by David Levithan
David Levithan's "Your Temporary Santa" was the funniest story I read from My True Love Gave To Me. Filled with Levithan's signature humor and candidness, I was giggling and laughing with every page turn and was easily taken by the story's discussion of love and acceptance. Despite its limited length as a short story, "Your Temporary Santa" had good pacing and caused me little confusion as to how all the characters related to each other and perceived each other. My only complaint against it is that the ending didn't quite add up for me, making me feel a little confused as to how the story's final impact was suppose to be. Nonetheless, "Your Temporary Santa" by David Levithan was a funny and heartening read that had me beginning the new year with a good laugh and a happy smile.
#4: "Midnights" by Rainbow Rowell
"Midnights" by Rainbow Rowell is the opening story of
My True Love Gave To Me
, and I'm not too sure if the authors did that purposefully or if they placed their stories in a specific order, but I must say, I thought that her story was a good choice to begin the anthology. Cute and relatable, Rowell's story was like getting a taste of dessert before trying the entrees, the interest it sparked in me making me want more and more of its loveliness by looking to and reading the other stories. I really liked the development of the romance in "Midnights", which was unlike any of the stories in
My True Love Gave To Me
. It included flashbacks to previous New Year Eve nights when the main characters met and then grew closer, and that evidently long time frame of the story made the romance more real and relatable to me than any of the other romances of the other stories. I'll admit, though, the flashbacks made for an odd pacing that often made me feel as if I was missing a lot of details about the characters' relationship, but that lost feeling was easily overcome as the details slowly came together and the two main characters, the standoffish Mags and the extroverted Noel, were finally brought together in a way that made me go,
"Awwwwwww."
Rowell's "Midnights" was a sweet story that nicely began the anthology's collection of swoon-worthy love stories.
#3: "Welcome to Christmas, CA" by Kiersten White
Reading Kiersten White's "Welcome to Christmas, CA" in
My True Love Gave To Me
was a real treat for me because it was my first time reading anything by her. Now, I'm happy to say that I enjoyed her short holiday story, making me want to check out and read her books some time soon. "Welcome to Christmas, CA" was a very uplifting read that was full of love and warmth. I really liked its topical theme of home as it centered around a feisty heroine named Maria who is itching to get away from her small town home. Maria's personal conflict really spoke to me because I felt the same way when I was preparing to go to college and wanting to be someplace new and different, so as I rooted for Maria to understand what home really is--a place where the heart, not the person, resides--I easily got into the story and even felt a sense of relief after finishing it. Also, I can't talk about White's "Welcome to Christmas, CA" without mentioning Maria's love interest Ben. First of all, kudos to him for being an amazing chef. (
May I have some cookies specially made for me please, Ben?
) Positive, patient, bashful, and kind, Ben was a sweetheart who balanced out Maria's feistiness and stubbornness well. I loved watching the two of them get together and learn from each other. So, overall, what with Maria, her home, her revelation on home, and Ben, I enjoyed reading "Welcome to Christmas, CA" by Kiersten White. Does anybody have any book recommendations for me so I can read more by White? Please let me know!
#2: "What The Hell Have You Done, Sophie Roth?" by Gayle Forman
Gayle Forman is another author I haven't read anything by yet even though I've heard great things about her books, so I was glad to find that her "What The Hell Have You Done, Sophie Roth?" was anther holiday story in
My True Love Gave To Me
that I really enjoyed reading. The story made me laugh, smile, swoon, and reflect as I followed the main character Sophie on one of her last nights in her college's rural town before going back home in the big city. I totally sympathized with her as she spoke of how alienated she felt among her college peers and as she berated herself for her decision to go to her college. Her thoughts and feelings of not only missing her family and old friends but also her own self are what I think and feel often when I'm away at school, so I really rooted for her throughout the story in the hopes that she will find some resolve and strength within her as I try to find when I'm feeling lonely. Then, because I felt for Sophie so much, I really liked her love interest Russell. At first, I was apprehensive toward him because he kind of just popped up in the story and was a total stranger to Sophie, but as he proved to be a sincere, friendly, and open-minded guy with wit and charm that matched Sophie's, I warmed up to him and rooted for him and Sophie to be together. Then, when they finally did, it was... **le sigh** ...so swoon-worthy. Hence, finding it funny, relatable, and heartening, I really loved Forman's "What The Hell Have You Done, Sophie Roth?" and I hope to read more by her soon.
If I Stay
, I'll read you the next time I come home, I promise, but does anybody have any other book suggestions? I would love some.
#1: "It's A Yuletide Miracle, Charlie Brown" by Stephanie Perkins
I thoroughly enjoyed Stephanie Perkins's "It's A Yuletide Miracle, Charlie Brown". I enjoyed it as much as I enjoyed her novels--and yet, the holiday story was only a handful of pages long, and so, had limited space and time to develop itself. But, guys, this story had everything: cute, engaging, romantic, and moving, it made me wish I could meet my true love within the next twenty-four hours. I loved the pacing of the story, for it was easy to follow, and the development of the romance, for it made for a realistic whirlwind-kind-of-romance. I laughed at all the times the two main characters Marigold and North picked at each other and acted awkward around each other, and I swooned at all the other times they actually got along and showed they admired each other. Marigold and North together were great, and I rooted for them from the moment they met to the moment they departed from each other, and I root for them now, long after the story itself has ended and I am left to my own imagination as to how they'll stay together. As individuals, they were great as well: I loved Marigold and her persistent yet loving character and I loved North and his intelligent yet sweet personality. Their little quirks--Marigold's passion for making short, animated films and North's surprisingly extensive vocabulary--somehow made them both all the more likable to me, and even though on the surface they seemed like opposites, I rooted for them each in overcoming their shared personal conflict of wanting to pursue their dreams but not wanting to abandon their family. I wish Marigold and North had more than a handful of pages to dazzle the YA/NA fiction world because they are really a great duo whose story needs to be told beyond their single, first day together. It was a pleasure reading more by Stephanie Perkins after having finished her last published book almost a year ago, and her holiday story "It's A Yuletide Miracle, Charlie Brown" has got me hoping for a chance romance that may just last forever.
To conclude, My True Love Gave To Me is a great anthology with some great holiday stories that are going to make you want to cuddle up with it while curled up in a blanket and drinking a mug of hot chocolate. I highly recommend it to anyone in need of a pick-me-up from a reading slump and/or whoever is just in the mood for a little romance on a cold winter night--My True Love Gave To Me has more than enough love and warmth to offer to make anyone appreciate their life, their loved ones, and their selves.