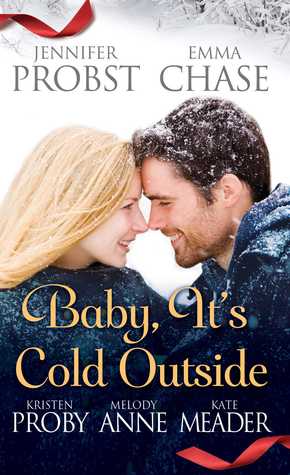 Mass Market: 544 pages
Publisher: Pocket Books
Release Date: October 28, 2015
Source of my copy: publisher
Synopsis
Searching for You
Can a determined woman executive and a playboy billionaire survive being stranded together in a snowstorm?
Jennifer Probst
depicts an encounter almost too hot to handle...
It's a Wonderful Tangled Christmas Carol
Drew and Kate play an encore to Tangled in this sexy take on a "Christmas Carol" by
Emma Chase
. When a Christmas Eve argument condemns Drew to a troubled night, three dream women teach him that no gift could be more tantalizing than Kate...
Saving Grace
With
Kristen Proby
, ski slopes are quite delightful. Grace Douglas is sure she'll never learn to ski, but instructor Jacob Baxter could teach her lessons of a different kind...
Safe in His Arms
Can a southern California transplant survive Montana's deep snows?
Melody Anne
, author of the bestselling Andersons series, melts the icy drifts completely away with the heat between sexy Hawk Winchester and brand-new teacher Natalie Duncan...
Rekindle the Flame
What could be hotter than a firefighter?
Kate Meader
shows how, as Beck Rivera and heiress-turned-tattoo-artist Lucy Cochrane discover, nothing ignites holiday flames like rekindling a lost love...
Initial Reaction
The initial draw for me in picking up this anthology was Emma Chase's novella It's a Wonderful Tangled Christmas Carol because I'm a huge fan of the Tangled series. But, I am glad I picked it up because the other novellas were very enjoyable and I had a great time reading all of the stories. With the exception of Emma Chase, the other authors were all new to me and it was awesome getting to try them out.
Like I said, all the novellas were overall wonderful but I've ranked them from my favorite to my least favorite.
It's a Wonderful Tangled Christmas Carol by Emma Chase
Of course my top favorite was
It's a Wonderful Tangled Christmas Carol
, which was told in Drew's first person POV. I really enjoyed being back in Drew's head. It was a really fun read and a retelling of Charles Dicken's
A Christmas Carol
but
Tangled
-style. Drew had to got to work to close a deal during Christmas Eve. Kate was understandably upset and she and Drew got into a huge fight. Drew left anyway, leaving Kate and their son James to go to a party alone. While at work he was visited by three ghosts of Christmas.
I love the
Tangled
series and this was an awesome addition to the series. It was wonderful getting an update on Drew, Kate and their son James (now 5 years old) and other "series regulars" also made a cameo. Absolutely loved this one!
Searching for You by Jennifer Probst
This one was about billionaire Dylan and businesswoman Riley who knew each other back in college and were basically oil and water. Dylan was always down for a party while serious Riley preferred to stay in and study. Now in their thirties, they both signed up for a matchmaking service Kinnections and were matched with each other. On the day of the date, there was a terrible snowstorm and Riley ended up snowed in with Dylan in his huge old mansion (think Beast's castle in Disney's
Beauty and the Beast
).
I was a bit unsure about this one when I first started reading it because I avoid matchmaking themed romance novels (not a fan of them), but besides the first chapter the focus was on Dylan and Riley and not Kinnections. I'm a sucker for second chance romances too, and this one was excellent. I enjoyed Dylan and Riley's characters, their backstory, and how they worked out their issues with each other. It was well-paced and never feel rushed, but I wished their story was longer because I enjoyed them so much.
Safe in His Arms by Melody Anne
Natalie Duncan arrived in Sterling, Montana unprepared for the cold and snow. She left sunny Los Angeles after she was hired for her first teaching position, but unbeknownst to her the meddling ladies of Sterling chose her not just for her stellar application but also in the hopes of matching her with local fire chief Hawk Winschester. Unfortunately, Natalie and Hawk got off on the wrong foot and there were some cute, funny moments between them.
Next to
It's a Wonderful Tangled Christmas Carol
,
Safe in His Arms
was the most Christmas-y of all the novellas. It was such a cute story. Natalie was a sweetheart--you feel for her because she grew up poor with just her mom and they had some bad times and then watching her being welcomed and embraced by people of Sterling just gives you the warm and fuzzies. As for Hawk, he was sexy, good and kind. He and Natalie were so cute and sweet together.
Rekindle the Flame by Kate Meader
This was another second chance romance, and of course I ate it up. Darcy and Beck were together in high school, but Darcy was from a wealthy family and Beck was a foster kid. Beck broke Darcy's heart when he broke up with her, but he did it because he thought if they stayed together he would just hold her back from pursuing her dreams. Eight years later, they meet again. However, Darcy was only in town for a couple of weeks to take care of her grandmother before she moved on to her next adventure. Beck didn't know it but since they broke up Darcy had lived a nomadic lifestyle and have since became a tattoo artist much to the disappointment of her estranged father. Can Beck convince her to stay and give their relationship a second chance?
Rekindle the Flame
was the least Christmas-y of the novellas. I didn't really get much holiday vibes from it, but I didn't really mind because Beck and Darcy were probably the most complex of all the characters in this anthology.
Note
: If you're only interested in reading
Rekindle the Flame
, it is
available by itself on e-book
.
Saving Grace by Kristen Proby
Grace Douglas's friends treated her to a weekend stay at a ski resort near their town where she's to take ski lessons so that she's ready for her friends' bachelorette weekend in Aspen. But Grace was convinced she'll never learn because she's the world's biggest accident prone. But with the promise of a spa and a hot ski instructor, she graciously accepted an all expenses paid weekend at a ski resort. There she met her sexy ski instructor Jacob Baxter and they have weekend fling. But Jacob was hiding a secret from Grace...
This was my least favorite of the novellas. It was still good, but I didn't love it as much as the others. Grace kind of annoyed me in the beginning. When her friends announced that they're having their bachelorette party in Aspen, Grace was all "
NO!! Why did you pick Aspen? You all know I
can't
ski! Pick another location!
" Really, Grace? Because your friends' decision
should
be based on your inability to ski and not on what makes them happy. I didn't find her klutziness cute. She also apparently didn't know how to flirt, but had no problems flirting with Jacob who everyone called Bax, but Grace insisted on calling Jacob. I also found myself rolling my eyes every time she spoke to Jacob when they first met. Grace just rubbed me the wrong way in the beginning. And because I couldn't see what was so appealing about Grace, I was just rolling my eyes at Jacob's ardor for her. By the halfway point, Grace was less annoying and the ending (Jacob going after Grace--I'm a sucker for heroes who go after the woman they love) was so sweet. I still enjoyed this novella overall, but my feelings towards Grace in the first half made this one my least favorite.
Excellent collection of holiday novellas. Definitely worth picking up!