Hello everyone,
Welcome to the last stop in the Reign of Shadows Blog Tour. Now that you've stopped by all the other blog stops, you're probably super excited to get your hands on and start reading Sophie Jordan's Reign of Shadows, right?
Well, to make your reading experience even better I am here to help. But, first the synopsis just in case this is the first time you're come across is awesome book.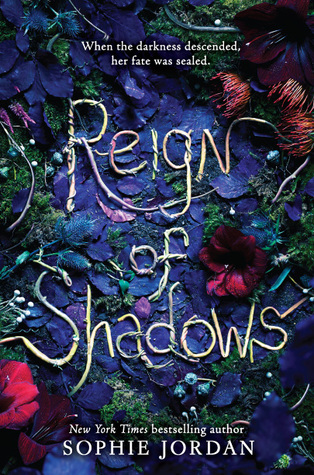 Seventeen years ago, an eclipse cloaked the kingdom of Relhok in perpetual darkness. In the chaos, an evil chancellor murdered the king and queen and seized their throne. Luna, Relhok's lost princess, has been hiding in a tower ever since. Luna's survival depends on the world believing she is dead.
But that doesn't stop Luna from wanting more. When she meets Fowler, a mysterious archer braving the woods outside her tower, Luna is drawn to him despite the risk. When the tower is attacked, Luna and Fowler escape together. But this world of darkness is more treacherous than Luna ever realized.
With every threat stacked against them, Luna and Fowler find solace in each other. But with secrets still unspoken between them, falling in love might be their most dangerous journey yet.
With lush writing and a star–crossed romance, Reign of Shadows is Sophie Jordan at her best.
Must-Haves for Reading Reign of Shadows
1.
Reign of Shadows
is a fantasy and, to me, fantasy books are the read-and-snuggle (aka a winter reads) type. So, you're going to want to wear comfy PJs. You also need a soft pillow and a chunky knit throw (the best kind of throws) to snuggle.
2. Reign of Shadows is set in a world where it's perpetually darkness and our heroine Luna lives in a tower in the middle of a mysterious forest. To help transport yourself into the setting of the story, I suggest burning any pine-scented or forest-scented candles. I personally burned Bath and Body Works's Swiss Alps candle, which is a blend of cypress sprigs, rich vanilla embers, and creamy tonka bean.
3. While you're reading Reign of Shadows, you're probably going to get hungry and/or thirsty. Trail mix is the best snack when reading a book because you can eat it easily all the while keeping your eyes on your book--trust me, you're not going to want to be distracted from Reign of Shadows. It's too good! To wash it all down, steep Stash's Moroccan Mint Green Tea for no other reason than it's the best tea in the world.
4. Isn't cover of Reign of Shadows gorgeous? I love the mix of dark blues, indigo, dark reds, maroon, and greens. When thinking of nail polish to match the cover, the Illamasqua Glitterati and the Sea Glass Starrily immediately came to mind.
With these few items, you're all set to read
Reign of Shadows
. I will be reviewing it later next week so that I can fully share my thoughts about it. But, I enjoyed it a lot overall. There were some twists and surprises I didn't expect and that ending really made me excited for the next book.
If you haven't already...
Reign of Shadows will be out on Feb. 9th.
About the Author
:
Sophie Jordan
Sophie Jordan
took her adolescent daydreaming one step further and penned her first historical romance in the back of her high school Spanish class. This passion led her to pursue a degree in English and History.
A brief stint in law school taught her that case law was not nearly as interesting as literature - teaching English seemed the natural recourse. After several years teaching high school students to love Antigone, Sophie resigned with the birth of her first child and decided it was time to pursue the long-held dream of writing.
In less than three years, her first book,
Once Upon A Wedding Night
, a 2006 Romantic Times Reviewers' Choice Nominee for Best First Historical, hit book shelves. Her second novel, Too
Wicked To Tame
, released in March 2007 with a bang, landing on the
USA Today
Bestseller's List.
Sophie's Tour Schedule
:
St. Louis, MO
February 9, 2016
Main Street Books, off-site at Spencer Road Library, 7 PM
Naperville, IL
February 10, 2016
Anderson's Bookshop, 7 PM
Washington, D.C.
February 11, 2016
Politics & Prose, off-site at the Bethesda Library, 7 PM
Fairfax, VA
February 12, 2016
Barnes & Noble, 7 PM
Bensalem, PA
February 13, 2016
Barnes & Noble, 1 PM
New York City
February 14, 2016
Books of Wonder, 4 PM
*Billed as "Epic Reads Presents: A Date with Royalty"
Blog Tour Schedule
:
1/24:
Ex Libris - Review
1/24:
No BS Book Reviews - Reign of Eyeshadows
1/25:
The Young Folks - Review
1/25:
Rebelle Reads - Rapunzel Hairstyles
1/26:
What Sarah Read - Review
1/26:
The Bookkeeper's Secrets - Graphics
1/27:
Books Buying Beauty - Review
1/27:
Lost In Lit - Bookish Impressions
1/28:
Mundie Moms - Review
1/28:
Swoony Boys Podcast - Dream Casting
1/29:
Bookmark Lit - Review
1/29:
The Irish Banana Review - Night Scapes
1/30:
YA Bibliophile - Review
1/30: Undeniably Book Nerdy - Must Haves for Reading RoS <--
you're here!
Have you read
Reign of Shadows
? What did you think of it?
Happy reading,
Michelle
a Rafflecopter giveaway