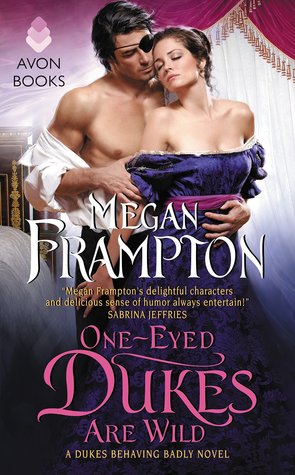 Paperback: 384 pages
Publisher: Avon
Release Date: December 29, 2015
Source of my copy: publisher
Series: Dukes Behaving Badly #3
Synopsis
When does proper behavior deserve a deliciously improper reward?

The scandalously unmarried Lady Margaret Sawford is looking for adventure—and is always up for a challenge. Her curiosity is aroused by a dangerous-looking stranger with an eye patch, an ideal companion for the life she longs for, no matter what Society might say. So when the piratical gentleman turns out to be a duke—and just as boringly proper as any other nobleman—she can't help but incite him to walk on the wild side.

Well-heeled, well-mannered, and well beyond any interest in society's expectations, the Duke of Lasham is tired of being perfect. Margaret's lush beauty and gently laughing eyes are an irresistible temptation to embrace the imperfect—and her. But if a little misbehavior is appealing, unleashing his wild side is completely seductive—as long as the lovely Margaret is the object of his passion.
Initial Reaction
A hero with an eye-patch?! Count me in!
Writing Style/Pacing
One-Eyed Dukes are Wild
was my first read by Megan Frampton and I found it to be charmingly and wittily written. It's been years since I read them, but her style sort of reminds me of Julia Quinn and Eloisa James. I thought the pacing was even throughout as Margaret and Lasham formed a friendship first before their relationship became something more.
I also enjoyed how each chapter began started with a "Georgiana and the Dragon" passage, which was the ongoing serial Margaret wrote for a magazine and an amusing story on its own. I liked how each passage gave us a little hint of what's to come in the chapter.
Main Characters
Lady Margaret Sawford was a fun character to read about. She's so independent, bold, and unafraid of societal conventions. Her parents disowned her after she turned down a duke her parents wanted her to marry. Since then she's had a "scandalous" reputation and supported herself and her causes (helping less fortunate women) by writing weekly serials for a magazine and playing cards (she has a talent for remembering cards that were in play).
"The cold truth of it was that she was invited to these events not because she was a good cardplayer, but because she was a scandal, but not too scandalous. So any hostess who invited her would be seen as daring, and she would add color to the festivities, simply because of who she was."
As for Vortigern, the Duke of Lasham, despite his piratical good looks complete with an eye-patch, was very proper, socially awkward, and dull by comparison. He preferred the quiet of his own company and disliked hobnobbing with society, but it was what was expected of him so he does it. What I appreciated most about him was that he wasn't arrogant about his title and wealth. Rather, he's resigned to it--his everyday life was dedicated to his duties and responsibilities as Duke. But after he met Margaret and started hanging out with her (and I LOVED how often they were together--some historical romance couples don't nearly spend enough time together), he started to gradually blossom and be
more
than the Duke.
"The three ladies gawked at him as though waiting for him to continue to speak, to display more of his wondrous dukeliness for their delight. As though he were more of an object than a person."
Plot
Basically, the plot was pretty straightforward as described in the synopsis. It's just two people who didn't plan on falling for each other but did, and realized that they are better together than not. It's an opposites attract plot, but Margaret and Lasham really complimented each other--the author did a good job developing their characters and both were complex in their own way. There were no big dramatic twists but
One-Eyed Dukes are Wild
was still an entertaining read. Margaret and Lasham were wonderful together and while their romance was slow-building there was charged sexual tension throughout and some very feverish kissing which kept things interesting.
Eye-Patch
The cover and the synopsis both highlighted Lasham's eye-patch, but surprisingly it wasn't really a big issue in the novel. Instead, the focus was more on societal rules and strictures rather than Lasham's disfigurement. Oh, and we do get to learn how he lost his eye but it wasn't in some dashing way you'd think.
I do tend to favor darker historical romances like books by Meredith Duran or Jennifer Ashley but I still enjoyed reading One-Eyed Dukes are Wild. I wanted a lighter read to end the year and it satisfied my book craving. If you enjoy historical romances that are more on the lighter side, but still want a thought-provoking story I suggest you pick up One-Eyed Dukes are Wild.