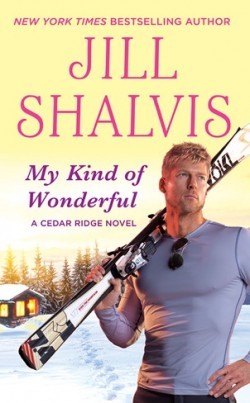 Paperback: 368 pages
Publisher: Forever
Release Date: December 22, 2015
Source of my copy: publisher
Series: Cedar Ridge #2
Synopsis
Bailey Moore has an agenda: skiing in the Rockies, exploring castles in Europe, ballroom dancing in Argentina. Now that she has a second lease on life, she's determined not to miss a thing. What she doesn't realize is that item #1 comes with a six-foot-one ski god hot enough to melt a polar ice cap. She doesn't want to miss out on him either, but Hudson Kincaid isn't the type of guy to love and let go. And as gorgeous as Cedar Ridge is, she's not planning to stick around.

As head of ski patrol at his family's resort, Hud thinks he's seen it all. But never has he run into someone like Bailey. She might look delicate, but her attitude is all firecracker. And her infectious joy touches something deep within him that he's been missing far too long. Now he'll just have to convince Bailey to take a chance on her biggest adventure yet . . . something rare and all kinds of wonderful.
Out of all the books I've read by Jill Shalvis,
My Kind of Wonderful
is the most somber.
I still liked it overall because it's by Jill and I'm convince she can't write a bad book, but there were just so many things in this book that the lightheartedness down despite Jill's signature humor and character shenanigans.
It doesn't say this in the synopsis, but I don't think it's a spoiler because you learn it early on. Bailey had non-Hodgkin lymphoma and just had the all-clear three months prior to the start of the novel. Now that she beat the disease, she wants to start living and experiencing life. One of the things on her list is to paint a mural and she was contacted by Hudson Kincaid's mom to just that at Cedar Ridge, the ski resort owned by the Kincaid siblings. At first Hud was reluctant to have the mural done for reasons, but his entire [crazy] family was all for it and reluctantly agreed.
Hud was a typical Jill Shalvis hero: a hardworking, responsible alpha with way too much on his plate. He's head of ski patrol, he's a town cop, he's worried about his mom who was losing touch of reality more and more, he's worried about his twin brother who he hasn't had contact with for almost a decade after their huge fight, and plus their ski resort was in financial trouble. He runs on 2-3 hours of sleep most nights and didn't have time for a serious relationship. Neither did Bailey, who was not planning to stay. She had a list of things she wants to do and places she wanted to visit now that she had a second chance at life. Of course, love always have other ideas...
Kudos to Jill Shalvis for featuring a heroine who dealt with cancer for ten years and her hard-won fight against the disease still evident on her body. "Beneath her ski cap, she'd nothing but short blond peach fuzz... the kind of short you got from being sick." I love Bailey. I love her strength, her need to stand on her own two feet after being sick for so long, and her enthusiasm for life. But at the same time I couldn't help but be pessimistic because from my personal experiences, that damn disease always comes back. So, because of my personal feelings, there was a layer of somberness to this book I couldn't quite shake.
As for Hud, he was a perfectly sexy, overworked hunk of man (see cover for said hunk). However, while he had his own set of unique problems and baggage he had to deal with, his character didn't really stand out for me. There was nothing wrong with his character, but I've also seen him before in previous Jill Shalvis heroes.
Like in Second Chance Summer (the first Cedar Ridge novel, which you don't have to read it to enjoy My Kind of Wonderful), my favorite part were the wacky, meddling Kincaid siblings and their significant others. Gray and Penny were back, still hooking up like bunnies all over the resort much to Hud's (and previously Aidan's, who had since joined the club now that he had Lily) consternation and burning eyes, but were always there to call him out on his pigheadedness and for advice and support. We also see Aidan and Lily, Kenna (who I hope will get her own book in the future), Mitch, and learn more about Hud's mom Carrie, who was mentioned in Second Chance Summer but we didn't really see her. Carrie was so sweet, but again there's that layer of sadness there too because she's quickly losing touch of reality. Then, because of this, I am angry at Hud's brother Jacob because he left his brother to deal with their mom on their own. I don't care how hurt he was after their teenaged fight or that he sends money to cover half of their mom's stay at the nursing home. It doesn't excuse him from abandoning his family without word for almost ten years. Jacob's book, Nobody But You, is next in the series and I'm looking forward to seeing how he'll redeem himself and fix his relationship with Hud and the rest of his family.
Overall, My Kind of Wonderful was still a very good read. I had some issues with it (most are personal), but like I mentioned in previous reviews, Jill Shalvis writes very addicting, very readable books. As long as she keeps writing, I'll keep reading them because I can count on her to keep delivering the best fun, humorous, swoon-worthy contemporary romances.
My Kind of Wonderful is already out in stores!
Read my review of the first Cedar Ridge novel
Second Chance Summer
here
.