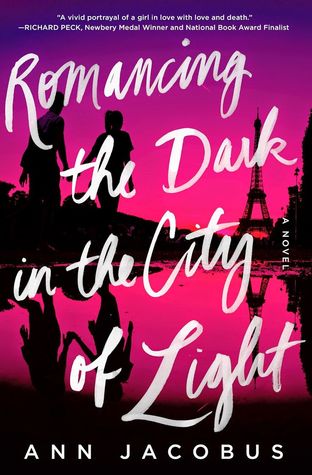 Hardcover: 288 pages
Publisher: St. Martin's Griffin
Release Date: October 6, 2015
Source of my copy: publisher
Series: none
Synopsis
A troubled teen, living in Paris, is torn between two boys, one of whom encourages her to embrace life, while the other—dark, dangerous, and attractive—urges her to embrace her fatal flaws.

Summer Barnes just moved to Paris to repeat her senior year of high school. After being kicked out of four boarding schools, she has to get on the right track or she risks losing her hefty inheritance. Summer is convinced that meeting the right guy will solve everything. She meets two. Moony, a classmate, is recovering against all odds from a serious car accident, and he encourages Summer to embrace life despite how hard it can be to make it through even one day. But when Summer meets Kurt, a hot, mysterious older man who she just can't shake, he leads her through the creepy underbelly of the city-and way out of her depth.

When Summer's behavior manage to alienate everyone, even Moony, she's forced to decide if a life so difficult is worth living. With an ending that'll surprise even the most seasoned reader,
Romancing the Dark in the City of Light
is an unputdownable and utterly compelling novel.
Do not let Romancing the Dark in the City of Light pass you by. It will surprise you in a very good way.
With the Eiffel Tower in the background and a couple holding hands, you're probably expecting a contemporary love story set in Paris. It is not. Instead, Romancing the Dark in the City of Light is a dark, realistic story about Summer Barnes who just moved to Paris to live her mom and attend a boarding school.
In the first chapter Summer is on the train and she's comparing how the tunnel and the brightness up ahead as a near-death experience--rushing through darkness toward the light ahead with her dad and grandma (who are dead) there to welcome her with open arms. Then, during the same train ride, when a woman jumped on the tracks and died, she thought about how "the lady is lucky to be out of here" and that it's a release and a deliverance rather than a horrible incident. It's because of these suicidal thoughts that she wants to find a boyfriend to care for and for him to care for her. She thought having a boyfriend will give her a purpose.
Summer meets two guys. Moony, from her school, and Kurt, a sexy older guy who's also new to Paris. She likes both of them for different reasons and the two guys are polar opposites of each other. Basically, Moony is the light and Kurt is darkness--they personify the ups and downs, the inner struggle of Summer's depression. I don't want to say anymore than that because the way the author crafted the story, there's a lot of deeper meaning behind certain words, metaphors and scenes that you as a reader need to interpret and reflect on your own. It's one of those books where it will be a different reading experience for everyone, and everyone will see the characters and their actions and what they represent a little differently based on their own life experiences.
Romancing the Dark in the City of Light
is a really good book club book for that reason, and it comes with ready discussion questions at the end of the novel. Actually, reading those questions made me think about the story a little deeper after I finished reading it.
Summer was a complicated character. She's battling depression, thoughts of suicide, and alcoholism. I felt for her, but she also frustrated me with all her poor decisions when it came to Kurt. I did feel that her struggles, her dark, jumbled thoughts, and her self-destructiveness were realistic. It wasn't easy to read as she spiraled to her lowest. I know there are people out there who are just like Summer and going through (or went through) the same.
I welcomed the darker side of Paris we saw in this novel. Paris, more often than not, is described as a romantic city of light with its famous landmarks, cute boutiques, art galleries, and hole-in-the-wall tearooms, bookshops, and restaurants. But in
Romancing the Dark in the City of Light
we glimpse a darker, grimy side of the city we don't often see.
I tend to avoid dark "issues" books like
Romancing the Dark in the City of Light
, preferring my happy, fluffy romantic contemporaries but I'm very glad I picked up this novel. It's not my usual read, but I appreciated it. It made me see things in a different perspective and it shed light on what someone with severe depression might be going through inside their head. This was a powerful debut novel by Ms. Jacobus and she's definitely an author to look out for.