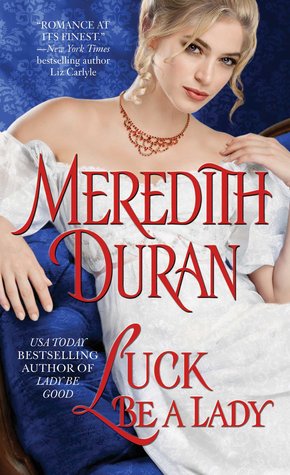 Mass Market: 368 pages
Publisher: Pocket Books
Release Date: August 25, 2015
Source of my copy: publisher
Series: Rules for the Reckless #4
(can be read as a standalone)
Synopsis
The Wallflower
They call her the "Ice Queen." Catherine Everleigh is London's loveliest heiress, but a bitter lesson in heartbreak has taught her to keep to herself. All she wants is her birthright—the auction house that was stolen from her. To win this war, she'll need a powerful ally. Who better than infamous and merciless crime lord Nicholas O'Shea? A marriage of convenience will no doubt serve them both.

The Crime Lord
Having conquered the city's underworld, Nick seeks a new challenge. Marrying Catherine will give him the appearance of legitimacy—and access to her world of the law-abiding elite. No one needs to know he's coveted Catherine for a year now—their arrangement is strictly business, free from the troubling weaknesses of love. Seduction, however, is a different matter—an enticing game he means to ensure she enjoys, whether she wishes to or not...
I really, really like
Lady Be Good
(book 3 in the Rules for the Reckless companion novels--
my review
) but I
love
Luck Be a Lady
.
I don't know how Meredith Duran does it, but she consistently pens amazing, excellently written historical romances and Luck Be a Lady is no exception.
Luck Be a Lady follows a marriage of convenience (one of my favorite romantic tropes!) between ice queen Catherine Everleigh and Irish crime lord Nicholas O'Shea. Catherine needed to marry in order to control half of the auction house she shared with her brother. She wasn't about to marry the man her brother was pushing her to marry, because once she does he'll insist she relinquish her half of the business and to just stay at home knitting doilies. Instead she turned to Nick O'Shea and they worked out a bargain and drew up a contract. Nick also profits because he needed her brother's vote in one of his endeavors, but unbeknownst to Catherine, Nick had his eye on beautiful Catherine for a while.
I met Nick and Catherine when I read Lady Be Good, and they were interesting characters and I was excited to read their story, but they weren't quite likable then. In Lilah's (the heroine of Lady Be Good) eyes Catherine was, for the most part, her beautiful but socially awkward and unfeeling boss, while Nick was the uncle who blackmailed her into thieving for him. In Luck Be a Lady we do still see Catherine the ice queen, but we also learn her backstory and why she's the way she was. I felt for her character--she did not have it easy. There was a scene a the end of the book when she was telling Nick why the auction house and being a businesswoman was so important to her and my heart broke for her because I could very much relate to what she was saying.
I also love Nick's character. He didn't have it easy growing up, but he clawed his way to becoming the most powerful man and beloved figure in Whitechapel. And he did it through hard work, perseverance, and savvy business acumen. Nick and Catherine were probably the most hardworking couple I've read in a historical romance. I loved how he treated Catherine as an equal from the very beginning and saw her as someone more than capable to running her own business--he let her be her own person.
I love how Catherine and Nick's relationship evolved in the novel. They disliked each other at first and each have their own negative opinion of each other (especially Catherine who saw Nick as this criminal thug). But soon saw that there was more to the other than meets the eye. They developed a friendship and mutual respect of each other. I love their chemistry throughout and they had some great banter between them. Their's was a slow burn romance at its best.
The plot in Luck Be a Lady was nothing new, but the magic of Ms. Duran is that she creates these interesting, complex characters with compelling backstories. She puts them in these familiar tropes, but how her characters respond to the situations really takes the story to a whole new level. Plus, Ms. Duran writing is always on point. I love her writing! It's seamless and refined, yet very readable.
I highly recommend Luck Be a Lady to everyone, but especially for fans of historical fiction and romance. It's fantastic and it can't be missed! I cannot say enough good things about it as well as Ms. Duran's other novels.
**Don't forget to read the excerpt of Luck Be a Lady that I posted a couple of weeks ago. It's Catherine and Nick's first face-to-face conversation and you'll get a bit of taste of their banter.**
ABOUT THE AUTHOR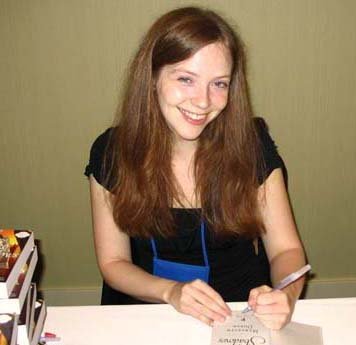 MEREDITH DURAN is the author of eight previous novels, including
The Duke of Shadows
(winner of the Gather.com First Chapters Romance Writing Competition);
Wicked Becomes You
(included on the Woman's World List of Best Beach Reads for Summer 2010), and the USA TODAY bestseller
Fool Me Twice
. She blames Anne Boleyn for sparking her lifelong obsession with British history, and for convincing her that princely love is no prize if it doesn't come with a happily-ever-after. She enjoys collecting old etiquette manuals, guidebooks to nineteenth-century London, and travelogues by intrepid Victorian women. Visit her at
MeredithDuran.com
, or catch up with her on Twitter: @meredithduran and Facebook: AuthorMeredithDuran.