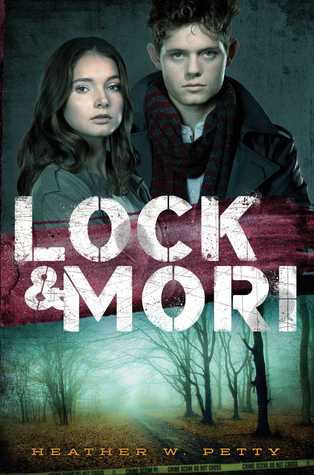 ARC: 256 pages
Publisher: Simon & Schuster for Young Readers
Release Date: September 15, 2015
Source of my copy: publisher
Synopsis
In modern-day London, two brilliant high school students, one Sherlock Holmes and a Miss James "Mori" Moriarty, meet. A murder will bring them together. The truth very well might drive them apart.

Before they were mortal enemies, they were much more.

FACT: Someone has been murdered in London's Regent's Park. The police have no leads.

FACT: Miss James "Mori"Moriarty and Sherlock "Lock" Holmes should be hitting the books on a school night. Instead, they are out crashing a crime scene.

FACT: Lock has challenged Mori to solve the case before he does. Challenge accepted.

FACT: Despite agreeing to Lock's one rule--they must share every clue with each other--Mori is keeping secrets.

OBSERVATION: Sometimes you can't trust the people closest to you with matters of the heart. And after this case, Mori may never trust Lock again.
Lock & Mori initially caught my interest because it paired Sherlock Holmes with his archenemy James Moriarty. When I read the original Arthur Conan Doyle's stories, Moriarty didn't really make an impression. It was only when I started watching BBC's Sherlock that his character stuck with me (thanks to Andrew Scott's electrifying performance). With than in mind, I didn't quite know what to expect from Ms. Petty's James Moriarty, who is, in fact, a female in this novel.
I knew Mori was the narrator, so I didn't think the author was going to make her a psychopath--it wasn't that kind of novel. What I soon came to learn was that while the author took many names from Arthur Conan Doyle's stories, Lock & Mori was it's own story. This was completely fine with me--while I enjoyed the author's nod to the original, I liked and welcome that she took it in her own direction--and gave us a compelling origin story for Sherlock and Moriarty.
Lock & Mori was told through Mori's first-person perspective, and we learned right away that she's quick-witted, out-spoken, perceptive, and had no patience for stupidity. She attends the same private high school in London as Lock, who was the school's eccentric. He had his own lab in the school's basement, and during a fire drill Mori was tasked to fetch Lock from his lab where they initially meet. Later that day, they happen to meet again at Regent Park where a recent murder had occurred. He challenged her to solve the crime before he does.
"How about we make this a bit of a game?"
I tried to roll my eyes and act like I wasn't completely intrigued, but I was a piss-poor actor on a good day, despite my years of drama. "Go on."
"First one to solve the crime, wins."
"Wins what?"
"Wins the game."
"And what will be the rules?"
"No rules," he said.
"All games have rules."
"Fine. The only rule is total transparency. We must both know what the other knows."
But Mori realized that the murder was connected with her deceased mom, and she couldn't share some of the things she learned with Lock. Also, she's developing feelings for her rival (and vice versa) despite their having very different viewpoints and ideas. Mori also made decisions that pushed her further away from Lock and trust became a big issue between them. I really liked how their relationship evolved throughout the novel, though. There was disagreement and friction between them, but I liked it. They are two highly intelligent individuals--and obviously, they are inspired by Sherlock and Moriarty, so they're going to clash.
But the quieter, more vulnerable moments between them were my favorite parts. They both have problems at home, especially Mori is dealing with an drunk abusive father and three younger brothers at home. A warning to those readers sensitive to physical abuse scenes: there were a couple of scenes that were very violent and graphic. I myself had a hard time reading those scenes. As for Lock, we got some background on him, but we didn't really get to know him as much as we did Mori. I really like him, though. He's socially awkward and moody, but so sweet and adorable. He's kind of the opposite to Mori, who had a more brash temperament and brushed aside ethics to serve her own agenda.
The mystery aspect was easy to figure out, but it kept me engaged anyway because it wasn't really about catching the murderer but more about how Mori and Lock respond or react to the events and the clues. This novel was really about how Mori's character evolved--how the events that happened changed her point of view and we see her step closer to the dark side. The last few chapters were crazy and I was at the edge of my seat. I'm really looking forward to seeing where the author will take Lock and Mori's story next and what will happen to their relationship after the events in this novel. Lock & Mori was a fast read that kept me engaged and entertained. I thoroughly enjoyed it overall! If you like young adult mysteries, definitely pick this one up.