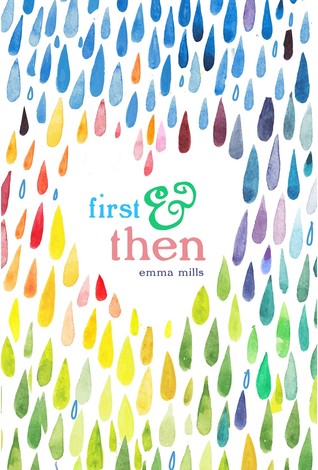 ARC: 266 pages
Publisher: Henry Holt and Company
Release Date: October 13, 2015
Source of my copy: publisher
Synopsis
Devon Tennyson wouldn't change a thing. She's happy watching Friday night games from the bleachers, silently crushing on best friend Cas, and blissfully ignoring the future after high school. But the universe has other plans. It delivers Devon's cousin Foster, an unrepentant social outlier with a surprising talent for football, and the obnoxiously superior and maddeningly attractive star running back, Ezra, right where she doesn't want them first into her P.E. class and then into every other aspect of her life.
Pride and Prejudice meets Friday Night Lights in this contemporary novel about falling in love with the unexpected boy, with a new brother, and with yourself.
What attracted me the most to First & Then was the cover. It's simple, colorful, bright and cute--just the kind of cover I'm attracted to. When I read the synopsis, I was sold because, I mean, come on, "Pride and Prejudice meets Friday Night Lights"? This had Leslie written all over it.
I'm happy to say that I absolutely enjoyed First & Then more than I even expected to when I initially picked it up. There was not a single moment while reading it that I felt bored, restless, or frustrated. The plot was unexpected and deep; the characters, particularly Devon, her cousin, and her love interest, were likable and relatable; and the writing flowed and was easy to consume and understand. As soon as I finished it, I knew I couldn't give it less than
Although its blurb says "Pride and Prejudice meets Friday Night Lights," First & Then isn't really a straight-on retelling of Pride and Prejudice with football helmets and screaming fans. To my initial confusion and then eventual surprise, it actually combines the two--so well that it is not obviously one or the other but rather an imagined story that branches from concepts featured in each of the two. I mean, yes, there was a prejudging and blunt heroine and seemingly equally prejudging and arrogant hero interacting in the cliche realm of high school football, but while I was reading First & Then, I didn't get the full impression of Pride and Prejudice nor of Friday Night Lights. Unlike in Jane Austen's well-known book, the hero and heroine in First & Then slowly and gradually develop feelings for each other with little to no contempt toward each other; they talked, laughed, joked, and acted as pretty good friends as the chemistry between them deepened. The drama that escalated as the couple's relationship changed was not as crazy and melodramatic as it was in the popular TV show, yet it still retained that that addicting quality.
The lack of Pride and Prejudice-esque romance and lack of Friday Night Lights-esque teenage angst melodrama made First & Then all the more enjoyable for me. It made the story less predictable and it gave more focus to the other elements of the novel, such as that of the dynamics of sibling relationships, the importance of sympathy and empathy, and the need to accept one's self and life. Each one of those elements really hit home for me as I read First & Then. A couple of times while reading the book, I had to stop and think about what was just said and reflect on how true it rang for me. Once, I was even moved to tears. The plot never, not once, bored me; I was riveted and excited by all the events and their meanings until the very end. I found First & Then interesting and thought-provoking and an overall engaging read for me.
First & Then was made even more interesting for me since I was able to relate to the main character Devon so well. I saw a lot of myself in Devon: totally ordinary with a loving family, a good school record, a few close friends, and no tragedy to write about for college app essays. I empathized with her as she silently and hopelessly crushed on her best friend Cas (a cliche but true experience), and I felt for her when she would compare herself to others--the talented, the intelligent, the weird, the comedic, the beautiful, and the popular--those who were obviously not just ordinary. Through every revelation that she had about her eccentric cousin Foster and her aloof acquaintance-friend Ezra, I was with her in learning about and understanding more people and the self. I definitely rooted for Devon in First & Then as she became a more content and grateful person. As I got to know her and watch her grow, I learned more about my own self.
Devon's cousin Foster was a character I also really liked getting to know in First & Then. Unabashed and unpredictable as he was, I absolutely loved him. He was enthusiastic, passionate, caring, and kind, yet, also complex as his complicated relations with his parents made him thoughtful, self-conscious, confused, and hopeful. His relationship with Devon was great. It was the typical weird little brother and annoyed older sister interaction, and it was fun and humorous to watch them grow closer and closer together. Their opposing personalities made for a different kind of conflict ensued by pride and prejudices to showcase, not a surprising romantic love, but a strong familial love. Foster was a character that moved me to his very last scene in First & Then.
Ezra, the Mr. Darcy of First & Then, was lovely, and his romance with Devon was wonderfully just so. As aloof, prideful, and taciturn as he was, Ezra was one of those people who impressed upon others a sense of harmlessness as well as a feeling of reserve. I had a hard time making him out in the beginning, unsure of whether or not he should be considered as a threat, a friend, or a possible book-boyfriend. Even with the hindsight I had from reading the blurb, for a while as I read, I could not anticipate what chemistry that was to take place between him and Devon. However, in his rare moments of kindness and downright swoonworthy-sweetness, I did not allow myself to write Ezra completely off for he did seem to have a heart, a broken and complex one at that. So, alas, ever so slowly and subtly, his and Devon's romance grew, and although Devon was often deluded by her feelings for Cas, I knew, with all my Pride and Prejudice fangirly-ness, that Ezra was the one pulling at her heartstrings; he was definitely pulling on mine. I loved how the couple's romance burgeoned and blossomed throughout the story, and I really liked seeing the character development of Ezra as he dealt with his own insecurities and issues by trying to get to know Devon. I'm a total sucker for uptight heroes who put down their guard for their heroines, and Ezra was one of those heroes. I rooted for him and him with Devon in First & Then.
On top of an interesting plot and likable characters, the writing of First & Then was great as it was easy to understand and flowed very nicely. There was nothing fancy or complicated about the writing style of Emma Mills, and for a debut novel, I believe there was little to no awkwardness either. The book is short, only over 200 pages, and it was just right for the pacing and escalation of the story. First & Then was an easy and quick read I enjoyed very much with every page turn.
First & Then has everything: an engaging plot, a set of likable and relatable characters, and a flowing writing style all within the familiar ideas and settings of Pride and Prejudice and Friday Night Lights. When I initially picked it up, I wanted a quick, fun, and easy read and it delivered that and so much more. I recommend it to anyone looking for that same kind of read. A reading slump will be deterred with this gem of a book that will remind you that whether or not you are the talented, the intelligent, the weird, the comedic, the beautiful, or the popular, we are all really just ordinary in our own crazy, flawed, extraordinary ways. Embrace it. Love it.
For more First & Then fun, check out our post for the First & Then blog tour here. It includes my favorite quotes from the novel, plus author Emma Mills shares her favorite YA lit quotes. Also, you can win a copy of First & Then there. Visit the other blog tour stops (see the graphic below for the schedule) for more content and giveaways.