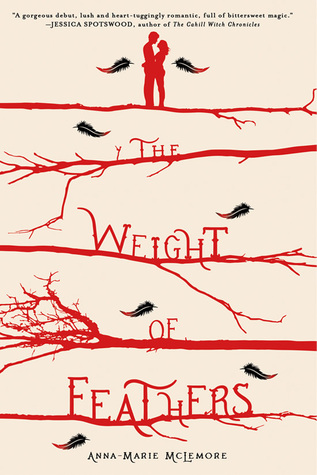 Hardcover: 320 pages
Publisher: Thomas Dunne Book for St. Martin's Griffin
Release Date: September 15, 2015
Source of my copy: publisher
Synopsis
For twenty years, the Palomas and the Corbeaus have been rivals and enemies, locked in an escalating feud for over a generation. Both families make their living as traveling performers in competing shows—the Palomas swimming in mermaid exhibitions, the Corbeaus, former tightrope walkers, performing in the tallest trees they can find.
Lace Paloma may be new to her family's show, but she knows as well as anyone that the Corbeaus are pure magia negra, black magic from the devil himself. Simply touching one could mean death, and she's been taught from birth to keep away. But when disaster strikes the small town where both families are performing, it's a Corbeau boy, Cluck, who saves Lace's life. And his touch immerses her in the world of the Corbeaus, where falling for him could turn his own family against him, and one misstep can be just as dangerous on the ground as it is in the trees.
Beautifully written, and richly imaginative,
The Weight of Feathers
is an utterly captivating young adult novel by a talented new voice.
The Weight of Feathers is hands-down the most beautifully written book I've read this year. Wow.
The title and the cover of this book initially caught my attention. A fantastical title like The Weight of Feathers plus a silhouette of a couple in an embrace? I couldn't resist. And I am so glad this book came into my life because reading it was an experience--a gorgeous and whimsical experience. Sabaa Tahir (who blurbed it) compared it to The Night Circus and I totally agree. It has the same magical feel. So, if you enjoyed The Night Circus like I did, I guarantee you'll enjoy The Weight of Feathers too.
First of all, I love the chapter headers. Each chapter begins with a quote--like the one below--in Italian, French or Spanish that kind of gives us hints of what's to come. They really added to the story and I loved that they were translated. The entire novel is actually interspersed with words and phrases in Spanish and French, which I loved and really added to the characters' differing culture. I happily made use of Google translation while reading this novel.
I love the characters Lace and Cluck. We get both of their perspective and it was great being able to see inside both of their heads. Lace struggled with her weight as she tried to stay thin to be play the beautiful mermaid with her cousins. Cluck works behind the scene making the wings his family wears for their performance. An old injury prevented him from performing a wild acrobatics with his family and he's constantly being bullied by his brother Dax. They're both outsiders within their respective families and there's abuse and hatred in both families and I just felt for Lace and Cluck. But them together I loved so much! I wouldn't call this a slow burn romance but it definitely wasn't insta-love. Lace and Cluck were just so great together. They're star-crossed lovers like Romeo and Juliet because their families are rivals and hate each other, but they're nothing like Romeo and Juliet who annoyed me to no end. Lace and Cluck were perfect--imperfectly perfect.
There are a lot of family secrets on both sides and the big mystery was what started the feud in the first place. The ending was unexpected and I don't know if I wasn't reading closely enough but I totally didn't see it coming! I won't say anymore because I don't want to ruin your reading experience. Suffice it to say, it's good!
The Weight of Feathers was an amazing read! Very beautifully written--I can't believe it's the author's debut novel, because wow! I am so excited to read future books by her. I highly recommend The Weight of Feathers to everybody. I love everything about it--the gorgeous writing, the swoon-worthy romance, the whimsy, the ending that I did not see coming. It's one of my favorite reads this year!
The feathers were Lace's first warning. They showed up between suitcases, in the trunk of her father's station wagon, on the handles of came-with-the-car first-aid kits so old the gauze had yellowed. They snagged on antennas, turning the local stations to static.

Lace's mother found a feather in with the family's costumes the day they crossed into Almendro, a town named for almond fields that once filled the air with the scent of sugary blossoms and bitter wood. But over the last few decades an adhesive plant had bought out the farms that could not survive the droughts, and the acres of almonds dwindled to a couple of orchards on the edge of town.

The wisp of that black feather caught on a cluster of sequins. Lace knew from the set to her mother's eyes that she'd throw the whole mermaid tail in a bucket and burn it, elastane and all.

Lace grabbed the tail and held on. If her mother burned it, it would take Lace and her great-aunt at least a week to remake it. Tía Lora's hands were growing stiff, and Lace's were new and slow.

Her mother tried to pull the tail from her grip, but Lace balled the fabric in her hands.

"Let go," her mother warned.

"It's one feather." Lace dug in her fingers. "It's not them." Lace knew the danger of touching a Corbeau. Her abuela said she'd be better off petting a rattlesnake. But these feathers were not the Corbeaus' skin. They didn't hold the same poison as a Corbeau's body.

"It's cursed," her mother said. One hard tug, and she won. She threw the costume tail into a bucket and lit it. The metal pail grew hot as a stove. The fumes off the melting sequins stung Lace's throat.

"Did you have to burn the whole thing?" she asked.

"Better safe, mija," her mother said, wetting down the undergrowth with day-old aguas frescas so the brush wouldn't catch.

They could have cleaned the tail, blessed it, stripped away the feather's touch. Burning it only gave the Corbeaus more power. Those feathers already had such weight. The fire in the pail was an admission that, against them, Lace's family had no guard.

Before Lace was born, the Palomas and the Corbeaus had just been competing acts, two of the only shows left that bothered with the Central Valley's smallest towns. Back then it was just business, not hate. Even now Lace's family sometimes ended up in the same town with a band of traveling singers or acrobats, and there were no fights, no blood. Only the wordless agreement that each of them were there to survive, and no grudges after. Every fall when the show season ended, Lace's aunts swapped hot-plate recipes with a trio of trapeze artists. Her father traded homeschooling lesson plans with a troupe of Georgian folk dancers.

The Corbeaus never traded anything with anyone. They shared nothing, took nothing. They kept to themselves, only straying from the cheapest motel in town to give one of Lace's cousins a black eye, or leave a dead fish at the riverbank. Lace and Martha found the last one, its eye shining like a wet marble.

Before Lace was born, these were bloodless threats, ways the Corbeaus tried to rattle her family before their shows. Now every Paloma knew there was nothing the Corbeaus wouldn't do.

Lace's mother watched the elastane threads curl inside a shell of flame. "They're coming," she said.

"Did you think they wouldn't?" Lace asked. Her mother smiled. "I can hope, can't I?"

She could hope all she wanted. The Corbeaus wouldn't give up the crowds that came with Almendro's annual festival. So many tourists, all so eager to fill their scrapbooks. That meant two weeks in Almendro. Two weeks when the younger Paloma men hardened their fists, and their mothers prayed they didn't come home with broken ribs.

Lace's grandmother set the schedule each year, and no one spoke up against Abuela. If they ever did, she'd pack their bags for them. Lace had watched Abuela cram her cousin Licha's things into a suitcase, clearing her perfumes and lipsticks off the motel dresser with one sweep of her arm. When Lace visited her in Visalia and they went swimming, Licha's two-piece showed that her escamas, the birthmarks that branded her a Paloma, had disappeared.

Lace's mother taught her that those birthmarks kept them safe from the Corbeaus' feathers. That family was el Diablo on earth, with dark wings strapped to their bodies, French on their tongues, a sprinkling of gypsy blood. When Lace slept, they went with her, living in nightmares made of a thousand wings.

Another black feather swirled on a downdraft. Lace watched it spin and fall. It settled in her hair, its slight weight like a moth's feet.

Her mother snatched it off Lace's head. "¡Madre mía!" she cried, and threw it into the flames.

Lace's cousins said the Corbeaus grew black feathers right out of their heads, like hair. She never believed it. It was another rumor that strengthened the Corbeaus' place in their nightmares. But the truth, that wind pulled feathers off the wings they wore as costumes, wasn't a strong enough warning to keep Paloma children from the woods.

"La magia negra," her mother said. She always called those feathers black magic.

The fire dimmed to embers. Lace's mother gave the pail a hard kick. It tumbled down the bank and into the river, the hot metal hissing and sinking.

"Let them drown," her mother said, and the last of the rim vanished.


The Weight of Feathers by Anna-Marie McLemore. Copyright © 2015 by the author and reprinted by permission of Thomas Dunne Books / St. Martin's Griffin.
ABOUT THE AUTHOR
Anna-Marie McLemore
was born in the foothills of the San Gabriel Mountains and grew up in a Mexican-American family. She attended University of Southern California on a Trustee Scholarship. A Lambda Literary Fellow, she has had work featured by the Huntington-USC Institute on California and the West, Crate Literary Magazine's cratelit,
Camera Obscura
's Bridge the Gap Series, and
The Portland Review
.
The Weight of Feathers
is her first novel.