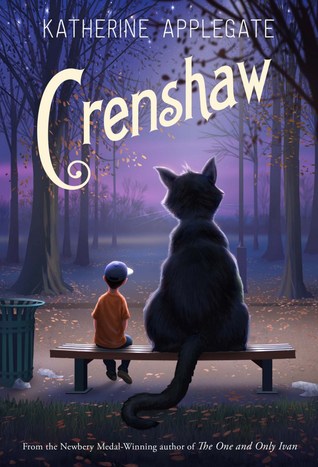 Hardcover: 256 pages
Publisher: Feiwel & Friends
Release Date: September 22, 2015
Source of my copy: publisher
Synopsis
In her first novel since winning the Newbery Medal, Katherine Applegate delivers an unforgettable and magical story about family, friendship, and resilience.

Jackson and his family have fallen on hard times. There's no more money for rent. And not much for food, either. His parents, his little sister, and their dog may have to live in their minivan. Again.

Crenshaw is a cat. He's large, he's outspoken, and he's imaginary. He has come back into Jackson's life to help him. But is an imaginary friend enough to save this family from losing everything?

Beloved author Katherine Applegate proves in unexpected ways that friends matter, whether real or imaginary.
Crenshaw broke my heart.
Crenshaw is about a boy named Jackson, whose family has fallen into hard times. His mom lost her job as a music teacher and his dad has multiple sclerosis. His parents are barely making enough money to buy food for the family and they're in danger of losing their apartment and becoming homeless. Again.
The first time Jackson and his family had to live their mini-van was when Jackson was in first grade. It was also around this time that Crenshaw, a large, outspoken imaginary cat, showed up in Jackson's life. Now, just as his family is on the verge of becoming homeless for a second time, Crenshaw comes back. Jackson, who prefers to deal with facts and hopes to become some kind of animal scientist when he grows up, has a hard time accepting Crenshaw back in his life. He's too old for an imaginary friend, but Crenshaw insists that he's back to help Jackson and Crenshaw brings with him comfort as Jackson deals with a grumbling stomach, his parents' arguments, and the uncertainty of tomorrow.
I felt for Jackson and my heart broke for him and his little sister. I know these children because I see them everyday at the school where I teach. But, like Jackson, a lot of the children also do a good job of hiding it from their friends and teachers. I felt the frustration of his parents, not being able to provide enough food for their children. This is the reality of many families in our school district, where over half of the students are free and reduced lunch.
Reading this novel, I also couldn't help but think that my own family could easily have been Jackson's family, especially after we immigrated from the Philippines to Hawaii. My parents, having spent all their savings on our plane tickets when we moved, came to Hawaii with basically nothing in their pockets, with my little brother and myself in tow, and just the hope of finding jobs right away. Thankfully, our relatives helped us and we stayed with them for a while until my parents had enough money saved to rent our own place. Also, thankfully, both of my parents were healthy and both were able to quickly secure jobs (albeit backbreaking field labor jobs).
The whole time I was reading Crenshaw I was frustrated with Jackson's dad. His mom wanted to ask their relatives for help, but he refused. Jackson's parents were nice people, and they love their children. That was evident. But his dad! His children were starving, they were already homeless once, his wife was working three part-time jobs and there's barely enough money. Plus, he has MS. He needed to swallow his pride and ask for help from his family. Pride is not going to keep his family fed.
There is no easy answer or no easy way to solve Jackson's family's problem and I'm glad the author penned a realistic, happy-for-now, hopeful ending. I'd like to believe that down the road Jackson's dad would shallow his pride and ask for help from his family and they'd have a more secure future.
The writing was succinct and clear to the point, and although it's not a happy book, the addition of Crenshaw, Jackson's imaginary friend, added some color and a bit of fun to the story. Crenshaw is a compelling, necessary read. It's a realistic look at child hunger and poverty, and brings home the message that we don't have to look far--they are in our communities, in our neighborhoods and maybe our friends. I recommend it for students from upper elementary students and older, as well as adults--it's a book everyone needs to read.
Join the Crenshaw Food Drive
This October, Macmillan Children's Publishing Group is partnering with independent bookstores to host a nationwide food drive to raise awareness of childhood hunger. For more info, visit the
Fight Hunger with Crenshaw
website.