Hello everyone,
I am so excited to share with you all my interview with author
Heather W. Petty
. She wrote one of my most anticipated fall books,
Lock & Mori
--a modern re-imagining of Sherlock Holmes and James Moriarty.
Intrigued? Here's the synopsis.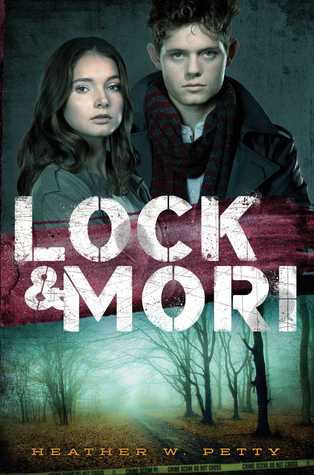 In modern-day London, two brilliant high school students, one Sherlock Holmes and a Miss James "Mori" Moriarty, meet. A murder will bring them together. The truth very well might drive them apart.

Before they were mortal enemies, they were much more.

FACT: Someone has been murdered in London's Regent's Park. The police have no leads.

FACT: Miss James "Mori"Moriarty and Sherlock "Lock" Holmes should be hitting the books on a school night. Instead, they are out crashing a crime scene.

FACT: Lock has challenged Mori to solve the case before he does. Challenge accepted.

FACT: Despite agreeing to Lock's one rule--they must share every clue with each other--Mori is keeping secrets.

OBSERVATION: Sometimes you can't trust the people closest to you with matters of the heart. And after this case, Mori may never trust Lock again.
Author Heather W. Petty
Inquiring minds want to know... among the three, who's your favorite actor to play Sherlock Holmes: Benedict Cumberbatch, Jonny Lee Miller, or Robert Downey, Jr.?
I refuse to answer this on the grounds that I love them all the same. (I will play the role of Switzerland in this fanwar.) But Jeremy Brett will always be *my* Sherlock. I used to come home from school and watch reruns of the old ITV Sherlock Holmes series from the 80s & 90s on A&E like it was my religion.
I love the cover of LOCK & MORI! What was your reaction when you first saw it? Were the models used a good representation of the Lock and Mori in your head when you were writing them?
I love it too! Which actually surprised me, as I'm not usually drawn to covers with people on them. But this really fit the book so well. When I write I don't really see faces, so I wasn't much help when they asked me who the characters resembled. S&S did an amazing job of finding the cover models, though. In fact, almost everyone who had read the book before the cover came out said that the cover model for Mori was exactly how they'd pictured her while reading.
What is Lock and Mori's theme song?
Broken
by Lauren Hoffman is probably closest.
If you get to hang with Lock and Mori for a whole day in your hometown (or state), where would you all go and what will you do?
I think I'd rather go to their hometown, if I'm being honest. There is way more to do in London than in Reno, especially for someone still in high school. But really, it's so weird to think about hanging out with them for a whole day. It would probably be the most awkward day that has ever been. I'd be like, "Sorry about all the trauma, guys." But that would be a total lie. Authors are mostly evil—especially to their characters.
What was your favorite scene in LOCK & MORI and why?
This is actually harder to answer than I thought it would be, because there are scenes that were super fun to write and those that I really loved after the fact, even if they were hell to write at the time. But... if I have to pick one, I'll go with the scene where they are out on the lake in Regent's Park and Mori is explaining her views on Feminism.
*****
A big thank you to Heather for answering my questions, and for Simon & Schuster and Audrey for the opportunity to interview Heather. Bookish friends, Lock & Mori will be released tomorrow Tuesday, September 15.


For more info about Heather and her upcoming books, stop by her
website
,
Twitter
and
Facebook
. I'll be posting my review of
Lock & Mori
on Wednesday.
Happy reading,
Michelle
**We are not affiliated with any of the retailers listed and will not earn any referral fees if you click on the links.