Paperback: 400 pages
Publisher: Pocket Books
Release Date: July 28, 2015
Source of my copy: publisher
Series: Rules for the Reckless #3
Synopsis
Catching the Lady Red-Handed
Born to a family of infamous criminals, Lilah Marshall has left behind her past and made herself into the perfect lady. Working as a hostess at Eveleigh's, London's premier auction house, she leads a life full of art, culture, and virtue. All her dreams are within reach—until a gorgeous and enigmatic viscount catches her in the act of one last, very reluctant theft.

Chasing One Red-Hot Passion
Christian "Kit" Stratton, Viscount Palmer, is society's most dashing war hero. But Kit's easy smiles hide a dark secret: he is haunted by a madman's vow to destroy anyone he loves. When his hunt for the enemy leads to Everleigh's Auction Rooms, he compels Lilah to help him. But one tempting touch may be their undoing—for what Kit needs threatens all Lilah holds dear, and losing her may destroy Kit.
A couple of weeks ago I found Lady Be Good waiting for me at my door and I immediately picked it. I don't really know why, because these days I prefer contemporary romance. Lady Be Good was actually my first [non-paranormal] historical romance read this year! But maybe it had to do with the fact that it's by Meredith Duran. I knew I couldn't go wrong picking up a book by her.
Meredith Duran is one of the best writers (romance or otherwise) out there in my opinion. I've read four books by her so far (including Lady Be Good) and she continues to impress me with her prose, characters and intricate plot line. I am so glad I picked this book up, because it served to remind me how much I do enjoy a good historical romance and how much I miss reading them.
The plot revolved around Christian "Kit" Stratton, Viscount Palmer, who was a celebrated war hero. An old enemy, Bolkhov, followed him back to England because he wanted revenge against Kit by going after Kit's family members. Kit suspected that Bolkhov was behind his brother's sudden death, so he needed to find Bolkhov and stop him once and for all. Enter Lilah Marshall. She worked as a hostess at Everleigh, an auction house, and Kit sort of blackmailed her (after he caught her stealing from her employer) into helping him with her employer's sister Catherine Everleigh, who recently had contact with Bolkhov.
Lilah left behind her criminal past to become a perfect lady. She worked as a hostess at Everleigh. But her uncle threatened to expose her if she didn't help him steal a few letters from her employer. When Kit caught her stealing, she had not choice but to do what he demanded, which was to spy on Catherine. But as Kit and Lilah spend more time together, they couldn't ignore their undeniable attraction for each other...
Admittedly, it did take me about a third of the novel to really get into the story and for me to really care for Kit and Lilah. The beginning was slow and nothing really happened. But the writing was really good so I kept reading. By the time I hit the midpoint, I was so totally engrossed in the story that I didn't want to stop reading. Kit and Lilah's characters grew on me and I rooted for them until the end. By the time I finished reading the last page I was sad to see them go.
As with the three other books I've read by Ms. Duran, Lady Be Good was pretty dark. Not only because the plot revolved around finding a man (albeit a bad one) in order to kill him, but it had this dark, atmospheric feel to it. I pictured dim, cobbled alley ways when the characters were in London and an old estate filled with shadowy corners lit only by candlelight inside and outside was a perpetually overcast sky. That is what I see in my head whenever I read a book by Ms. Duran--not the glittering ballrooms of the ton of the typical historical romance--and I love that she's able to take me there. It adds a freshness or uniqueness that I am only able to find in her books.
Another thing I really enjoyed about Lady Be Good was how fully fleshed out Lilah and Kit's characters were, as well as the secondary characters. Lilah and Kit were both likable but they felt human. They both have their faults and and weaknesses, but they are also strong and capable in their own way. I understood why they made the choices that they did. I especially enjoyed Lilah's character arc (she started the novel hiding who she was and single-mindedly trying to became a perfect lady) and how she grew by the end of the story.
I am really hoping to get my hands on Luck Be a Lady, the companion novel to Lady Be Good and features "ice queen" Catherine Everleigh and Lilah's uncle Nick O'Shea, a crime lord. They played important roles in this book so we got to know them quite a bit, but I really want to know more. They'll be an interesting pairing.
Lady Be Good is not going to be for everybody. Although there were flashes of humor in this novel, if you prefer lighter, fluffier historical romance like Julia Quinn's novels then look elsewhere. But if you like darker historicals kind of like Elizabeth Hoyt or Jennifer Ashley with intricate plots with a darker tone, then I recommend you also pick up Lady Be Good or other books by Meredith Duran.
ABOUT THE AUTHOR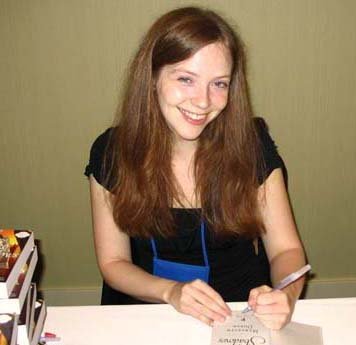 MEREDITH DURAN is the author of eight previous novels, including
The Duke of Shadows
(winner of the Gather.com First Chapters Romance Writing Competition);
Wicked Becomes You
(included on the Woman's World List of Best Beach Reads for Summer 2010), and the USA TODAY bestseller
Fool Me Twice
. She blames Anne Boleyn for sparking her lifelong obsession with British history, and for convincing her that princely love is no prize if it doesn't come with a happily-ever-after. She enjoys collecting old etiquette manuals, guidebooks to nineteenth-century London, and travelogues by intrepid Victorian women. Visit her at MeredithDuran.com, or catch up with her on Twitter: @meredithduran and Facebook: AuthorMeredithDuran.