Hello everyone,
If you had a chance to read
my review of Lady Be Good
earlier this month you know how much I really enjoyed it. It was my first historical romance read this year and it kind of made want to read more historical romances (which was my favorite genre before I fell in love with contemporary romance). Well, Meredith next book is
Luck Be a Lady
(already out in stores!) and it's a companion to
Lady Be Good
. Actually, it's the fourth book in the Rules for the Reckless series, but it can be read as a standalone.
The hero and heroine in
Luck Be a Lady
were important secondary characters in
Lady Be Good
and I am so excited to see how their story will turn out because the heroine was a rich "ice queen" and the hero is a powerful crime lord and they're in a marriage-of-convenience situation.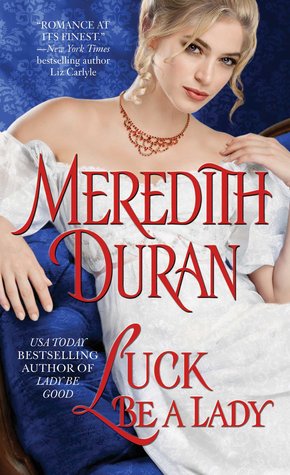 Romance sizzles between a famous heiress and an infamous crime lord in this fourth sexy novel in the Rules for the Reckless series from the
USA Today
bestselling author of
Fool Me Twice
.
The Wallflower
They call her the "Ice Queen." Catherine Everleigh is London's loveliest heiress, but a bitter lesson in heartbreak has taught her to keep to herself. All she wants is her birthright—the auction house that was stolen from her. To win this war, she'll need a powerful ally. Who better than infamous and merciless crime lord Nicholas O'Shea? A marriage of convenience will no doubt serve them both.
The Crime Lord
Having conquered the city's underworld, Nick seeks a new challenge. Marrying Catherine will give him the appearance of legitimacy—and access to her world of the law-abiding elite. No one needs to know he's coveted Catherine for a year now—their arrangement is strictly business, free from the troubling weaknesses of love. Seduction, however, is a different matter—an enticing game he means to ensure she enjoys, whether she wishes to or not...
"Hiding from somebody?"

She jumped. Around the corner stepped a familiar figure. Astonishment briefly caught her tongue.

She was not good with faces, but it would take a blind woman to forget Lilah's uncle. He was nature's cruel trick on the fairer sex, the perfect picture of dark, charming, masculine wickedness. Shining black hair, high cheekbones, lips as full as a woman's... That was surely a flaw. But then, he had that brutal jaw and chin to make up for it... and the slight bump to his high-bridged nose, suggestive of some violent fracture in his past.

"Mr. O'Shea." She spoke very stiffly, for she had never liked his effect on her. She herself was counted beautiful, and she had seen what power she could wield when she cared to try. She refused to fall prey to a similar spell.

But what a miserable coincidence to meet him here!

He propped his shoulder on the brick wall and looked her over. "Dressed for prowling, I see. Did you steal that cloak from one of your maids?"

She took a strangling hold on her collar. "It is mine, in fact. But thank you for the insult."

His black brows arched. "Don't think much of your maids, do you?"

She opened her mouth, then thought better of it, and settled instead on a scowl. She had only met him twice, and both times he had looked at her in this smug, infuriating way, as though she were a joke designed for his private amusement. He made her feel... judged and ridiculed, found wanting as a woman.

As though he were in any position to judge her! He was impertinent, boorish, ill-bred, and criminal. She must never forget that, even if at present he wore a black tailcoat fit for a ball.

She frowned at him. He was in fact dressed with ludicrous elegance, with a diamond stickpin at his neck. "I was unaware that Whitechapel required evening dress of his strollers," she said tartly. "Next time I come, I'll be sure to wear a ball gown."
ABOUT THE AUTHOR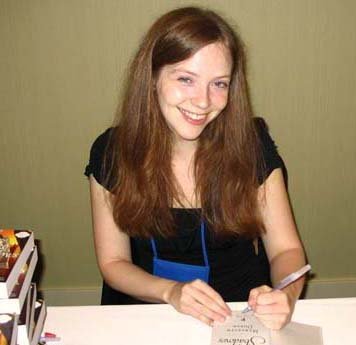 Meredith Duran
is the author of eight previous novels, including
The Duke of Shadows
(winner of the Gather.com First Chapters Romance Writing Competition);
Wicked Becomes You
(included on the Woman's World List of Best Beach Reads for Summer 2010), and the USA TODAY bestseller
Fool Me Twice
. She blames Anne Boleyn for sparking her lifelong obsession with British history, and for convincing her that princely love is no prize if it doesn't come with a happily-ever-after. She enjoys collecting old etiquette manuals, guidebooks to nineteenth-century London, and travelogues by intrepid Victorian women. Visit her at
MeredithDuran.com
, or catch up with her on Twitter:
@meredithduran
and Facebook:
AuthorMeredithDuran
.
Have you read a book by Meredith Duran? I've read 4 books by her so far (including
The Duke of Shadows
,
A Lady's Lesson in Scandal
, and
Wicked Becomes You
, all of which I rated five stars) and they are all excellent--phenomenal writing and she takes familiar tropes and makes it her own in such a refreshing way. She's one of the best historical romance writers out there in my opinion.
I'll be posting my review
Luck Be a Lady
on September 9th with a really awesome book giveaway of Meredith's books you don't want to miss.
Happy reading,
Michelle