Hello everyone,
Welcome to the last leg of the Tessa Ever After Blog Tour. I am so excited to be part of this really awesome blog tour. I really enjoyed Tessa Ever After. Read on for my thoughts about Tessa and a fun Kiss, Marry, Kill Q&A with author Brighton Walsh.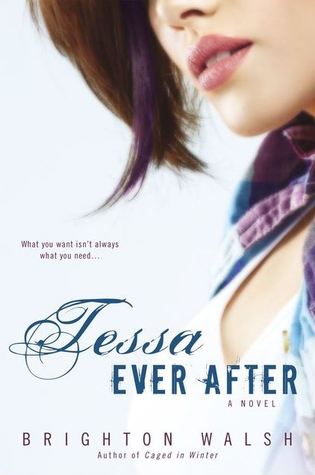 In this grippingly emotional New Adult novel from the author of Caged in Winter, what you want isn't always what you need…

Jason's been living (and loving) the rich playboy lifestyle for five years, but now his parents are pressuring him to get involved in the family business. The last thing he wants is another obligation, but when his best friend moves out of state and asks Jason to look after his sister, he can't just say no.

Tessa had to grow up way too soon. After dealing with the aftermath of her parents' deaths, then becoming a teenage mom, she knows the meaning of responsibility. Which is why, at twenty-two, she's looking for so much more than a party boy. She's looking for someone who can stand by her and her daughter…forever.

A relationship between them is doomed from the start, but who says they can't have a little fun? But as Jason gets closer to Tessa—and her daughter—fun starts to turn into something else… Something Jason's not sure he's ready for.
I almost passed on picking up Tessa Ever After because I haven't read Caged in Winter, but after a very gushy email from Jessica at Berkley I couldn't. I had to see for myself and I am so happy I did. Thank you Jessica! Tessa Ever After is an awesome read.
Tessa is Cade's younger sister from Caged in Winter and she's an over-worked single mom. Ever since her brother left, all the responsibility of taking care of her daughter Haley, keeping house, working a full-time job and cosmetology school falls on her shoulders. She feels like she's in over her head, but good thing Jason (her brother's best friend) is around to help out.
Growing up with Cade, Jason had always thought of Tessa as a sister. But lately he had been seeing her differently and feels a strong attraction to her. Unfortunately for Jason, Tessa is reluctant to start anything serious with him. She still sees him a player with a revolving door of women. Thinking about her daughter, she wants someone who is committed in the long run and will stay for the long haul. Jason wants to show her that he just may be the man for her and Haley, but he also has to deal with his parents who wants him to take over the family business.
I thoroughly enjoyed Tessa Ever After. Jason and Tessa were great characters. I love a good friends-to-lovers story so I really liked that they were already friends before the story began. I admired Tessa and how hard she worked and how she juggled motherhood with everything else. I understood why she was so reluctant to start anything with Jason. She doesn't have just herself to think about, but also her 4-year-old daughter. I haven't read a new adult novel where the heroine has a younger daughter so this novel offered a different perspective.
Jason was supposed to be a wild, rich playboy who had a different woman every night and a no-relationship kind of guy, but I never really got that from him. I haven't read Caged in Winter so maybe that's where he showed his playboy partying ways? Except for this one scene early on when he was in a bar with his friends and there was this girl trying to get his attention, I don't recall him ever going out or hanging out with other women. He just seemed like a good guy--he went to class, was a phone call away when Tessa needed him, and he enjoys just hanging out with Tessa and Haley at their house. I really liked Jason and I love his relationship with Haley. They were so cute together and loved all their scenes together.
Since I didn't read Caged in Winter I feel like I'm missing some of the background information early on in the novel, like what happened to Tessa's parents (I know they died since it said that in the synopsis but I wanted to know the how). I wanted to know about Haley's dad and what exactly happened to him and Tessa and why he's not in the picture. I'm thinking that maybe most of that information was in Winter? Maybe. But I am the kind of reader who likes to know the who, what, where, when, and why of characters' background early on. Eventually, things were mentioned here and there and I piece things together and got my answers so it wasn't too big a deal.
Tessa Ever After was an easy, entertaining read. I would read for a chunk of time and when I emerge from my reading haze, I was always surprise at how far I've read. I love reading books where you forget your flipping pages and is just immersed in the story. I like Brighton Walsh's writing--it was easy, clean and very readable. There were no weird turns of phrases or similes that take you out of the story--I've noticed lately, especially in new adult novels, that authors like to make strange comparisons. There were none of that here, though. Tessa Ever After is my first novel by Ms. Walsh but it certainly won't be my last. I'm looking forward to reading more by her and I have added Caged in Winter on my list of books to acquire.
Author Brighton Walsh
Who would you Kiss, Marry or Kill among these men and why
:
Cade (from Caged in Winter), Jason (from Tessa Ever After), Adam (from Winter and Tessa)
I'd marry Cade. He's the perfect mix of swoony, sensitive guy and hot, possessive alpha male. And he's a chef. Kind of a no-brainer. Plus: MUSCLES FOREVER. I'd kiss Jason because let's face it: He's got moves. And by kill, do you mean, kill with kindness? Okay, Adam.
NA Heroes
:
Lucas (from Easy by Tammara Webber), Josh Markley (from Take What You Want by Jeanette Grey), Paul Hudson (from How to Kill a Rock Star by Tiffanie DeBartolo)
I'd marry Lucas. Swoons for life. I'd kiss Paul because he's got that focused intensity. Plus, rock star. That leaves poor Josh. I'm only killing him because you're making me.
Who would you Want to Be (take over their life), Want to Roommates With or Push off a Cliff among these and why
:
Winter (from Caged in Winter), Tessa (from Tessa Ever After), Paige (from Winter and Tessa)
I'd want to be Paige because I just pretty much love everything about her. She's a sassy girl who doesn't take crap and has a lot of fun in life. I'd want to be roommates with Tessa because she's relaxed and doesn't get up tight about stuff. Plus, hair stylist as a roommate = awesome hair for me. As for push off a cliff? All four of us would go off, Thelma and Louise style.
NA Heroines
:
Jacqueline (from Easy by Tammara Webber), Ellen Price (from Take What You Want by Jeanette Grey), Eliza Caelum (from How to Kill a Rock Star by Tiffanie DeBartolo)
I'd want to be Jacqueline because A) she's got Lucas and B) she's strong and she totally knows how to take care of herself. I'd want to be roommates with Ellen because she's a total smarty pants and strikes me as a neat freak. Probably not much to complain about with her. And I wanted to strangle Eliza enough times during HtKaRS that she can go here, though I would strangle her lovingly, then maybe slap her a little and tell her to get her crap together.
*******
Thank you Ms. Walsh for being game in answering my Kiss, Marry, Kill questions. Also, a huge thank you to Jessica and Berkley for including our blog on this fun blog tour.
About the Author
Brighton Walsh spent nearly a decade as a professional photographer before deciding to take her storytelling in a different direction and reconnect with writing. She lives in the Midwest with her husband and two children.

a Rafflecopter giveaway