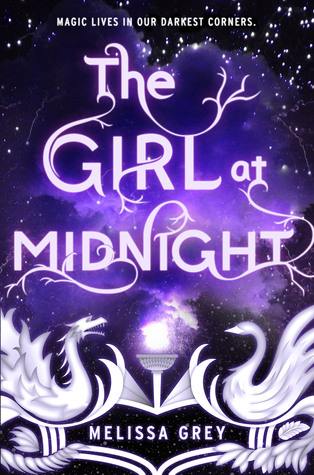 Hardcover: 368 pages
Publisher: Delacorte Press
Release Date: April 28, 2015
Source of my copy: publisher
Series: The Girl at Midnight #1
Synopsis
Beneath the streets of New York City live the Avicen, an ancient race of people with feathers for hair and magic running through their veins. Age-old enchantments keep them hidden from humans. All but one. Echo is a runaway pickpocket who survives by selling stolen treasures on the black market, and the Avicen are the only family she's ever known.

Echo is clever and daring, and at times she can be brash, but above all else she's fiercely loyal. So when a centuries-old war crests on the borders of her home, she decides it's time to act.

Legend has it that there is a way to end the conflict once and for all: find the Firebird, a mythical entity believed to possess power the likes of which the world has never seen. It will be no easy task, though if life as a thief has taught Echo anything, it's how to hunt down what she wants . . . and how to take it.

But some jobs aren't as straightforward as they seem. And this one might just set the world on fire.
To be honest I was a bit nervous going in The Girl at Midnight because of the mixed ratings that I saw beforehand, but I ended up LOVING it--one of the best young adult fantasy book I've read this year!
First, I think it's best to go into this one without knowing much about the plot--I am going to be mentioning some plot points because it's unavoidable but read on at your own risk.
Yes, the synopsis tells you the gist of the story (a human girl must find the mythical Firebird to end the war between two supernatural races), but it doesn't tell you everything. There was sooo much more than that! It doesn't tell you all the fantastic characters and how they ended up coming together despite being at opposite sides of the war, and going on a quest to find the the clues that will (hopefully!) lead them to the Firebird. There's even a bit of a heist kind of feel to it, which I loved! I got a lot more than I was expecting and I was riveted to the pages, wanting to know what will happen next. There was a lot of twists and turns and it was so much fun.
I'm trying to think of my favorite character but it's so hard to pick just one. There were so many that I loved. There's Echo, of course. She ran away from her horrible home life at a young age and was taken in by the Ala, one of the leaders of the Avicen (a magical race of people with feathers for hair). She's kind of a professional thief, because she sometimes gets hired to steal objects for others. She feels more of an affinity towards the Avicen than humans, but she's still an outsider among them because she is human. Then, there's Caius (the Dragon Prince) and Dorian (the captain of the royal guard and Caius's closest friend) who are Drakharin (they're part dragon--where the Avicens have feathers, the Drakharin have scales) and enemy to the Avicen. They're both very interesting, complex characters--I don't want to say more because it will give away too much. You just have to read the book and find out for yourself. And I can't not talk about characters without mentioning Jasper. He was flamboyant and funny, but I question his true intentions. You kind of want to trust him, but you can't quite do so 100%. Oh, and I totally ship him with Dorian! Some of my favorite parts of the novel were their dialogue and scenes together.
The world building was interesting. I'd like to see more, actually, of the Avicen and the Drakharin territories. We kind of had glimpses, but not quite the full picture yet. My favorite though was the underground Avicen marketplace. It reminded me a lot of Harry Potter's Diagon Alley. I think there's a whole lot more to explore in the upcoming books and I'm so excited. We got to learn a bit of the magic also. Echo was able to cast spells and she's able to travel through the in-between to go to different parts of the world (similar to teleporting) with the help of shadow dust and some sort of doorway or portal, but she can't do magic as easily as an Avicen. The Drakharin have similar magic, but they don't need to use shadow dust to travel. I'm not quite clear of the magic and its rules yet, and I'm looking forward to learning more in the next books.
I very, very much enjoyed and loved The Girl at Midnight. It's an excellent start to a very promising series and I am very much invested on the characters and what will happen next. I enjoyed Ms. Grey's writing and voice. I didn't detect any debut author awkwardness, which is great. I just had a great time reading The Girl at Midnight. Even before I got to the halfway point, I was already recommending it to Leslie. I've heard The Girl at Midnight compared to Lainey Taylor's Daughter of Smoke and Bone series and to Cassandra Clare's Mortal Instruments series, but I wouldn't know since I haven't read either series. I did get flashes of Harry Potter, though, especially when it came to the Avicen's underground marketplace. If anything, I'd say it's a mix of Harry Potter (where instead of wizards we have people who are part bird and people who are part dragon, but there were hints that other supernatural creatures may be introduced later) and Ally Carter's Heist Society series. The Girl at Midnight is awesome with interesting, multi-dimensional characters, is action-packed with unexpected twists and turns, and I basically devoured it. Book 2 cannot come soon enough!