Hello everyone,
Ever since reading
Wicked
years ago I've been intrigued by novels that take the villain of a classic novel and gives an alternative telling. I'm not really a big fan of
Peter Pan
to be honest (well, the Disney version since I haven't read the novel) because Peter, Tinkerbell and the Lost Boys annoyed me. Hook was actually my favorite character in the movie--I always thought he was a misunderstood character. So, when I was emailed about
Alias Hook
by Lisa Jensen (
the paperback edition is out tomorrow!
) I immediately jump at the chance to read it.
Unfortunately, because it takes about a million years for books to arrive to Hawaii, I don't have my copy yet. But I did do a fun Kiss, Marry, Kill Q&A with author Lisa Jensen so I'm going to post that today and post my thoughts about
Alias Hook
on a different date.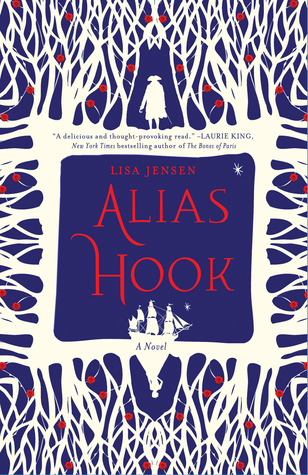 "Every child knows how the story ends. The wicked pirate captain is flung overboard, caught in the jaws of the monster crocodile who drags him down to a watery grave. But it was not yet my time to die. It's my fate to be trapped here forever, in a nightmare of childhood fancy, with that infernal, eternal boy."

Meet Captain James Benjamin Hook, a witty, educated Restoration-era privateer cursed to play villain to a pack of malicious little boys in a pointless war that never ends. But everything changes when Stella Parrish, a forbidden grown woman, dreams her way to the Neverland in defiance of Pan's rules. From the glamour of the Fairy Revels, to the secret ceremonies of the First Tribes, to the mysterious underwater temple beneath the Mermaid Lagoon, the magical forces of the Neverland open up for Stella as they never have for Hook. And in the pirate captain himself, she begins to see someone far more complex than the storybook villain.

With Stella's knowledge of folk and fairy tales, she might be Hook's last chance for redemption and release if they can break his curse before Pan and his warrior boys hunt her down and drag Hook back to their neverending game. Alias Hook by Lisa Jensen is a beautifully and romantically written adult fairy tale.
Doesn't that sound amazing? Isn't that cover gorgeous? I am so excited to get my copy of
Alias Hook
and start reading. I think I'm really going to like it.
The Beast (from Beauty and the Beast)
Kiss. Who doesn't love Beast more than the Prince?
Prince Charming (from Cinderella)
Oh, please. I prefer a man with a personality.
Aladdin (from Aladdin)
Wait, what about the Genie???
Who would you Kiss, Marry, or Kill among these Jane Austen heroes?
Mr. Darcy (from Pride and Prejudice)
Kiss. Sexy, but moody, so marriage might be challenging.
Mr. Knightley (from Emma)
Kiss. At least he's more sensible than Emma.
Mr. Wentworth (from Persuasion)
Marry. If I wasn't married already, I'd love to be a part of his world, including his intrepid sister and her nautical husband! With their example, Mr. Wentworth would be a great husband. And what a fun group to hang out with!
Who would you Want to Be (take over their life), Want to Roommates With or Push off a Cliff among these ladies from Peter Pan?
Tiger Lily
Roommates. I'd love to be invited to Indian tribal events.
Tinker Bell
Hmmm... I wouldn't mind they flying part, but I wouldn't want her bratty personality.
Wendy
Wendy Darling? (There are multiples "Wendys" in my story.) She's way too bossy for a roommate!
What about the Lost Boys from Peter Pan?
Nibs
Slightly
Tootles
I don't know enough about the individual Lost Boys to make a choice. They don't appear in my story. But don't I get the chance to push Peter Pan off a cliff? (It would just be symbolic; you know he can fly!)
*******
Alias Hook comes out on paperback tomorrow. Have you read it already? Let me know your thoughts if you had. I'm really looking forward to reading it.
Happy reading,
Michelle
[Thank you to author Lisa Jensen for being game to answer our silly Kiss, Marry, Kill questions. And also a big thank you to St. Martin's Press and Brittani.]