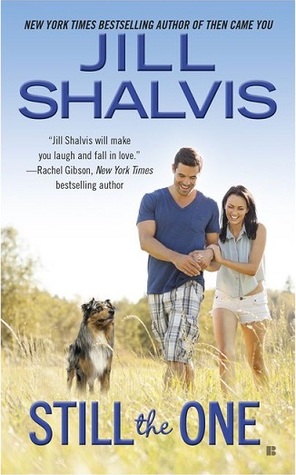 Mass Market: 320 pages
Publisher: Berkley
Release Date: April 7, 2015
Source of my copy: publisher
Series: Animal Magnetism #6
Synopsis
Darcy Stone is game for anything — except sexy Navy veteran and physical therapist A.J. Colten, the guy who'd rejected her when she'd needed him most. Now the shoe is on the other foot and he needs her to play nice and help him secure grants for his patients. Unfortunately, Darcy can't refuse. She needs the money to fund her passion project: rescuing S&R dogs and placing them with emotionally wounded soldiers.

A.J. admits it — Darcy is irresistible. But he's already been battle-scarred by a strong-willed, vivacious, adventurous woman like Darcy, and he's not making the same mistake twice—until he and Darcy are forced to fake a relationship. Growing closer than they'd ever imagined possible, Darcy and AJ have to ask themselves: how much between them is pretend? What's the real thing? And where does it go from here?
Reading a Jill Shalvis romance is always such a treat and Still the One is no different.
While Still the One is not my favorite in the series (Rescue my Heart is) it is still very, very good. Of course we get Jill's signature humor and a fun, sweet, swoony and ultimately heart-warming romance. I read it in a weekend and what a fun weekend it was, spending it with Darcy and A.J.
Darcy was a free-spirit and went on crazy adventures until a terrible car accident nearly took her life. She needed a lot of physical therapy and spent her recovery and rehabilitation period in Sunshine, Idaho. Enter Navy veteran and physical therapist A.J. Colten. He pushed Darcy during her recovery and was with her every step of the way and saw her get up from her wheelchair and take her first steps again. But A.J. also rejected her when she needed him the most.
A.J. had an undeniable attraction to Darcy and feelings for her, but he's been burned by another woman before and he was not willing to risk his heart again. But he needed her help to convince a wealthy investor to give a grant to his patients who still need physical therapy to finish their rehab but are cut off by their insurance. Forced to spend time together, they grow closer and get to know each other better. Their mutual attraction also grows, but both have trust issues that keeps them from fully embracing a relationship beyond a sexual one.
I really enjoyed Darcy and A.J.'s characters. Darcy was prickly, snarky and stubborn, and she doesn't really let anyone get close to her, but I loved her anyway. I felt for her and I get where she was coming from. A.J. was a brooding alpha, but he had his caring, passionate side--he was very swoon-worthy. They were perfectly matched and I rooted for them to get their happily ever after.
Still the One was a very satisfying romance. I enjoyed everything about it! I love Darcy and A.J.'s romance as well as the friendship among them and the other Sunshine residents from the previous books. There were a lot of funny moments and witty banter that I just ate up. Don't let the fact that Still the One is the sixth book in the series. Each book in the series is a standalone and you can read the Animal Magnetism book in any order that you want, but, trust me, you don't want to miss any of them. I highly recommend Still the One (as well as all the other books in the series), especially if you're in the mood for a fun, sweet romance that will make you smile and laugh and leave you in a happy, swoon-y mood after you turn the last page.
a Rafflecopter giveaway