Hello everyone,
Happy book birthday to
Twist
, the sequel to
Loop
! To celebrate, we have author
Karen Akins
on this here blog.
Twist
is Karen's newest book and came out earlier this week. You all know how much I enjoyed
Loop
, which was a fantastic time travel adventure YA novel with lots of action and introduced us to Finn, one of the best book boyfriends ever. If you missed my review of
Loop
, read it
here
.
Anywho, here's the for synopsis of
Twist
.
The unbelievably thrilling sequel to the time-travel YA novel Loop.

Bree Bennis finally has it all—a non-comatose mother, an uber-hot (albeit anachronistic) boyfriend named Finn, and a new-found mission to protect the timeline from those who would skew it for their own gain. But when she leans over one day to smooch said boyfriend, her lips meet those of her arch-nemesis Wyck instead. The timeline has been altered, and Bree is caught in the crosshairs. But when she goes back to repair the damage, she is stopped by none other than her Future Self, who delivers an urgent message: Someone is kidnapping Shifters from the distant past. It's up to Bree to stop them. But first, she has to figure out who... and why.

To follow the trail of chronocrumbs, Bree reluctantly accepts her new undercover gig as Wyck's girlfriend. Everything goes spiffy until Finn shows up in the 23rd century on the eager arm of a gorgeous fellow Shifter, Blark. Even as Bree struggles with jealousy, she battles the nagging dread that Finn might be better off with someone less chronologically complicated. Her worst fear is confirmed when Finn becomes the kidnapper's next victim. As Bree zeroes in on the culprit, they unravel her life one timeline-change at a time. She realizes that she alone has the power to save herself and everyone she loves. But to do that, she may lose Finn forever.
Author Karen Akins
Hi Karen! Thank you for stopping by our blog. I enjoyed
Loop
and I'm excited to see what Bree and Finn are up to after all the things happened. Are we going to meet any new characters in
Twist
? What are some new things to expect?
Thank you so much for having me!
And, YES! There are a few new characters in
Twist
, my favorite being the mysterious and man-snatching Jafney. Jafney actually had a tiny cameo in
Loop
. She was mentioned in passing as the only other Institute student Bree knew of who had been force-faded back from a Shift. You find out exactly what she did to make that happen in the first several chapters of
Twist
. Let's just say that Jafney gives Bree a run for her money when it comes to complex family situations.
In
Twist
, Bree explores a lot more of her world outside of the Institute. We get to know her mom more, which was a relief for me to write because that was a relationship that I really developed behind the scenes in
Loop
, so I knew a lot of things about Bree and her mother that didn't make it to the page.
How was writing Twist different from writing Loop? Did you come across challenges in Twist that you didn't have in Loop?
The main difference in writing
Twist
was that I knew it was going to be published. While writing
Loop
, I had this feeling the whole time that it might be "the one," but I didn't know for sure. There's a lot of freedom in that. I could experiment with voice and humor and dialogue without my internal editor saying, "But what about reviews? What about reader expectations?"
The biggest challenge in writing
Twist
was that I had to make sure that it fit together with
Loop
as one continuous story arc. I was drafting
Twist
at the same time that I was doing editorial revisions for
Loop
, so when I changed something in
Loop's
worldbuilding, it had a huge impact on
Twist's
plot. And then, once
Loop
went into print, I was bound by those worldbuilding rules.
I love Finn's character! He's such a sweet, good guy with a great sense of humor.
Aww, thanks. I kind of love him, too.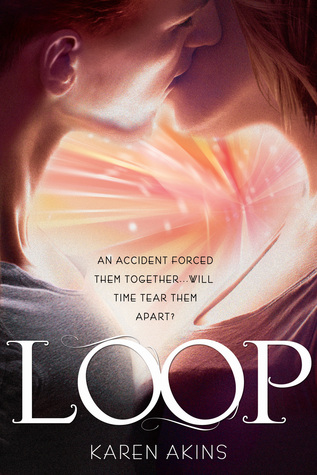 Loop cover
Where in history would you want to travel to with Finn? How would he make the experience better?
Ooh. This is a good question. I think it would be fun to go back to a time/place where get-togethers involved a lot of obscure etiquette rules and complicated dance steps. Maybe a ball in Elizabethan court, something like that. I think everyone who has read
Loop
would agree that watching Finn attempt to navigate that situation would be EPIC.
With all the time traveling and jumping around going on, how did you keep the plot and everything straight?
Lots of graphs, timelines, post-its, margin notes, and coffee. A
lot
of coffee.
What was your favorite scene to write in Loop and why? What about in Twist?
I loved writing the scene in
Loop
where Bree and Finn sneak off to the greenhouse and talk. Not a lot happens in the scene. It was a late addition to the story. I think the reason I enjoyed writing it, though, was that it was such a late addition. By that point, I knew the characters well, and it really did feel like just sitting down and having a conversation with them.
In
Twist
, I had two favorite scenes to write. The first is early on, when there's a major change to Bree's timeline and she finds herself in her worst nightmare—kissing her arch-enemy. She's a character who was a lot of fun to write in a panic-inducing situation because through much of both books, she works so hard to keep everything together. It's interesting to see her when she isn't in even a semblance of control.
The second scene is the final scene in
Twist
. I won't give anything away other than to just say that when I finished it and typed
The End
, I sat back and said, "Well. That's exactly how it was supposed to end."
Thanks so much for having me! I hope you and yours readers love both
Loop
and
Twist
.
*****
A big thank you to Karen for answering our questions, and for St. Martin's Press and Michelle for the opportunity to interview Karen. Bookish friends, Twist is already out in your favorite bookstore and public library.


For more info about Karen and her novels, stop by her
website
,
Twitter
and
Facebook
. For more interview fun, I also did a really fun
Kiss, Marry, Kill post
with Karen.
Happy reading,
Michelle
**We are not affiliated with any of the retailers listed and will not earn any referral fees if you click on the links.