Hello everyone,
It's been so long since I did a post that is not a review and I miss doing posts like this, but I've just been so busy with work (I'm a second grade teacher). Even when I'm not working I'm thinking about work and during the weekends all I want to do is read and nothing else. BUT summer vacation is 5 and a half weeks away so I can see the bright light at the end of the tunnel.
Anyway, I'm experiencing a two-book hangover, you guys. I read
The Deal
by Elle Kennedy
and
The Hook Up
by Kristen Callihan
about two weeks ago and I'm still thinking about both of them. Both were the perfect mix of swoony romance, humor, witty banter, and drama. I just ate them up one right after the other and now I don't know what to do with myself. I've read a few books since I read them, but everything I've read couldn't quite satisfy me because I'm still thinking about
The Deal
and
The Hook Up
and wanting more of the same kind of read.
Just in case, you have not heard of
The Deal
and
The Hook Up
, they are new adult contemporary novels. You guys might be familiar with Elle Kennedy and Kristen Callihan--Elle writes the extra smexy series called Out of Uniform (which revolves a group of hot Navy SEALs) as well as a few Blaze novels and Kristen writes the fantastic historical/paranormal series called Darkest London (which I love and obsessed with--read my review of book 7
Soulbound
here
). Instead of me trying to explain the synopsis of each, I'll instead just include the cover and the description.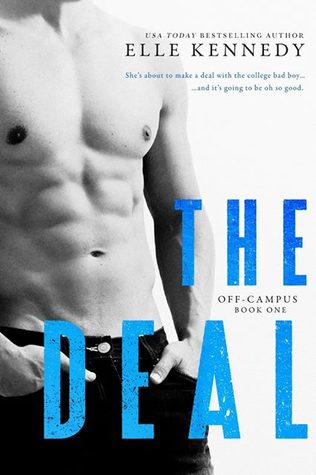 She's about to make a deal with the college bad boy...

Hannah Wells has finally found someone who turns her on. But while she might be confident in every other area of her life, she's carting around a full set of baggage when it comes to sex and seduction. If she wants to get her crush's attention, she'll have to step out of her comfort zone and make him take notice... even if it means tutoring the annoying, childish, cocky captain of the hockey team in exchange for a pretend date.

...and it's going to be oh so good.

All Garrett Graham has ever wanted is to play professional hockey after graduation, but his plummeting GPA is threatening everything he's worked so hard for. If helping a sarcastic brunette make another guy jealous will help him secure his position on the team, he's all for it. But when one unexpected kiss leads to the wildest sex of both their lives, it doesn't take long for Garrett to realize that pretend isn't going to cut it. Now he just has to convince Hannah that the man she wants looks a lot like him.
The rules: no kissing on the mouth, no staying the night, no telling anyone, and above all… No falling in love.

Anna Jones just wants to finish college and figure out her life. Falling for star quarterback Drew Baylor is certainly not on her to do list. Confident and charming, he lives in the limelight and is way too gorgeous for his own good. If only she could ignore his heated stares and stop thinking about doing hot and dirty things with him. Easy right?

Too bad he's committed to making her break every rule…

Football has been good to Drew. It's given him recognition, two National Championships, and the Heisman. But what he really craves is sexy yet prickly Anna Jones. Her cutting humor and blatant disregard for his fame turns him on like nothing else. But there's one problem: she's shut him down. Completely.

That is until a chance encounter leads to the hottest sex of their lives, along with the possibility of something great. Unfortunately, Anna wants it to remain a hook up. Now it's up to Drew to tempt her with more: more sex, more satisfaction, more time with him. Until she's truly hooked. It's a good thing Drew knows all about winning.

All's fair in love and football… Game on.
If you're not a big new adult reader, don't let the man flesh on the covers deter you from picking it up. Both are
not
all sex, sex, sex (though there are a few hot smexy scenes in both books) and angst, angst, angst. Both are well-plotted with strong characters and the sex scenes were not just stuck in there for the sake of having a sex scene. They were there for a reason, which that builds the main plot or was a natural progression of the main plot. The writing in both is fantastic--yes, the plot lines are familiar and they've been done before, but Elle and Kristen wrote them in a way that felt fresh and engaging and so entertaining. The main male characters, Garrett and Drew, are the die for and I fell in love with both of them. Both are book boyfriend,
no
, book
husband
material, and Hannah and Anna are girls I'd want to be friends with.
Five more days until Logan!!!!
You guys, I am obsessed with these two books. I already pre-ordered
The Mistake
, which is the next book after
The Deal
and it features Garrett's best friend John Logan. It's out next week Tuesday! I'm soooo friggin' excited!!! I would've pre-ordered
The Friend Zone
(the book after
The Hook Up
) as well but it's not available to pre-order yet. Kristen just recently announced that it's coming out on May 5th so **YAAY!!!** not too long of a wait.
Yeah, so this post is basically a
looooonngg
gush about
The Deal
and
The Hook Up
, but, you guys, I friggin' LOOOVVEEE these books. I need to get my feelings out and fangirl about both books in a post that is
not
a review post because those tend to be more formal. I'll stop now, but not before
urging
you (if you haven't already) to pick up
The Deal
and
The Hook Up
in that order, which was the order I read them in. For me,
The Deal
is a
smidge
better (but just a teeny
tiny
smidge) than
The Hook Up
so start with
The Deal
because it's going to make you
so very
hungry for more sports-playing hotties and
The Hook Up
will be there to stave off that hunger until you can read
The Mistake
(which is coming out in 5 days!!). And then when you're done with
The Mistake
,
The Friend Zone
will be there to fill whatever hole
The Mistake
left you with... [but, then, it's probably going to be a while until book 3 for both series will be out, but let's not think too far into the future]
I hope if you haven't picked up either books this post convinced you to do so. I do have to mention though that if you're younger than 17
The Deal
and
The Hook Up
do have mature sexual content, so read at your own discretion. I don't want to say don't read it, because I started reading adult romance novel when I was was 15... so, yeah.
Happy reading,
Michelle