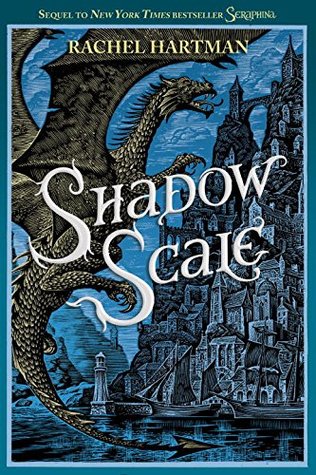 ARC: 599 pages
Publisher: Random House
Release Date: March 10, 2015
Source of my copy: publisher
Series: Seraphina #2
Synopsis
The kingdom of Goredd: a world where humans and dragons share life with an uneasy balance, and those few who are both human and dragon must hide the truth. Seraphina is one of these, part girl, part dragon, who is reluctantly drawn into the politics of her world. When war breaks out between the dragons and humans, she must travel the lands to find those like herself—for she has an inexplicable connection to all of them, and together they will be able to fight the dragons in powerful, magical ways.

As Seraphina gathers this motley crew, she is pursued by humans who want to stop her. But the most terrifying is another half dragon, who can creep into people's minds and take them over. Until now, Seraphina has kept her mind safe from intruders, but that also means she's held back her own gift. It is time to make a choice: Cling to the safety of her old life, or embrace a powerful new destiny?
Shadow Scale
was another one of my
most anticipated reads of 2015
because it is the sequel to
Seraphina
, which I loved when I read it two years ago (it was actually one of
my favorite reads of 2012
). It didn't quite live to my expectations but, nevertheless, I still enjoyed
Shadow Scale
a lot.
I love Rachel Hartman's writing style and voice. I still found her writing to be excellent--it was very readable and the words just paint a very clear picture in my mind of the scenes and details of the world without it being wordy or verbose.
I also loved that we finally got a map and good thing too, because we do a lot of traveling in this book. Most of the novel was all about Seraphina's journey to find the other half-dragons.
I really enjoyed learning more about Seraphina's mind garden as well as the different grotesques and the real half-dragons they represent. The first half of the novel, Seraphina went on a quest to find the other half-dragons so that they can thread their minds together to make a sort of barrier to defeat the dragon rebels. The half-dragons the grotesques represented were all very interesting and sometimes scary, like Jannoula.
Jannoula was mentioned briefly in Seraphina as the grotesque Seraphina feared. We learn why here and she was scary. I read that part late into the night and I knew I had to keep reading until I get to a happy part so that that part won't be the last thing I read and then dream about.
One of the things I really, really enjoyed in the first book was the romance between Seraphina and Kiggs. The reason why Shadow Scale was one of my anticipated reads of 2015 was because I really, really wanted to see what will happen to their romance and how they'll work things out. In Seraphina they fell in love but Kiggs was betrothed to his cousin Glisselda, the future queen and someone both Kiggs and Seraphina were fond of. Then, a bunch of things went down and they felt it was the wrong time to reveal their true feelings. I was hoping some time in Shadow Scale was the right time. I mean, I wasn't expecting the romance to be a big focus in this novel, but I was expecting more than I got. At least, as much as we got in Seraphina. I was expecting that they'll work out whatever needed to be worked out and they'll be together in the end. Sigh. NOPE. And this is why I took one star off.
The other .5 I took off had to do with Seraphina's character towards the end of the novel. Other readers also mentioned this in their review and I agree. Seraphina had a personality change and it wasn't for the better. She did some things and made some choices that did not go with her character's spirit and personality. Her character was missing that drive and missing that energy that I loved most about Seraphina.
Shadow Scale didn't quite meet my expectations but there was still a lot to like. The writing was excellent and the world building was phenomenal and because of this I was sucked into the story right away. I was just expecting more than what I got, especially with the whole Seraphina/Kiggs situation. I also kind of disappointed with Seraphina's character towards the end. I know this series is only a duology and this is the end, but I kind of wish it's a trilogy so we get a better resolution. I do want to know what will happen to the people and dragons in Goredd now that the conflict was over. Maybe the author will write a spin-off series set in the same world? I hope so. If not, I am looking forward to more by Rachel Hartman.