Hello everyone,
I've been sucking on the blogging front despite plans to posts a lot this week. It's Spring Break for us and I find that all I want to do is read, watch
Outlander
, play the Kim Kardashian app (yes, I know, I know but it's strangely addicting) and read some more.
But I have come out of my reading/Jamie Fraser/Kardashian haze to do a book I covet post, which I haven't done since last year. I came across this book with the best cover and I just had to feature it. Also, Holly Schindler (one of nicest authors I've ever worked with) is coming out with the
cutest
sounding NA adult title soon and I had to give a shout out.
Okay, here's the one with the best cover ever.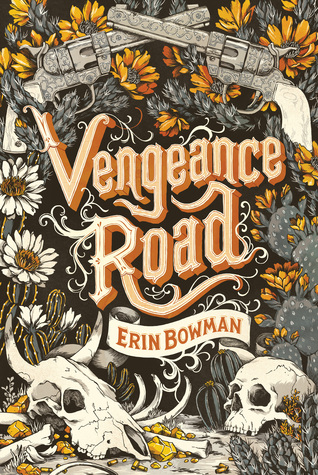 When Kate Thompson's father is killed by the notorious Red Rose Gang for a mysterious journal that reveals the secret location of a gold mine, the eighteen-year-old disguises herself as a boy and takes to the gritty plains looking for answers and justice. What she finds are devious strangers, dust storms, and a pair of brothers who refuse to quit riding in her shadow. But as Kate gets closer to the secrets about her family, she gets closer to the truth about herself and must decide if there's room for love in a heart so full of hate.

In the spirit of True Grit, the cutthroat days of the Wild West come to life for a new generation.
Can I get a poster-size copy of this cover?! Because it's perfection. As for the synopsis,
Vengeance Road
sounds... okay. I like that it's set in the Wild West--I've never read a book set during that time so that could be interesting. But the whole "pair of brothers" bit screams potential love triangle and I just
can't
.
Vengeance Road
is the type of book where I'll wait for reviews before maybe picking it up if I like what the reviews are saying. But that cover, though.
Love
!
Vengeance Road
will be released on September 1, 2015. Click on the cover to go to the book's Goodreads page.
New Adult readers who are also dog lovers,
Fifth Avenue Fidos
by Holly Schindler might appeal to you.
When a mutt from Queens meets a purebred New Yorker, it takes man's—and woman's—best friend to convince them what they feel is more than puppy love.

Mable Barker, a hilarious, good-natured sweetheart who is always the pal but never the girlfriend, endures nine horrendous months of bouncing between lackluster New York City jobs (and suffering unrequited love) in her unsuccessful attempt to find her one true talent. So when she meets Innis, the ill-tempered Upper East Side Pekingese, she assumes her dog-walking days are numbered, too; soon, she'll be heading back to Queens brokenhearted, tail tucked between her legs. But Innis belongs to the adorable yet painfully shy young veterinarian, Jason Mead, a man whose awkward ways around women have him dreaming not of finding love for himself but of playing canine matchmaker—breeding Westminster champions.

When Mable and Jason meet, romance is officially unleashed: they find an instant connection and shared goal, as it appears that Mable could very well have what it takes to be a professional handler, soon to be seen holding Innis under a banner labeled, "Best in Show." As Jason and Mable get closer to putting a new twist on the term "dog lovers," outside forces—Mable's overprotective brothers, a successful wedding planner with her eye on Jason, even the theft of purebred pups from Jason's Fifth Avenue apartment building—all threaten to come between them. Will Mable and Jason simply let their burgeoning love roll over and play dead? Or will they rally to make sure Innis emerges as the leader of the pack?

Brimming with humor and endearing characters, Holly Schindler's Fifth Avenue Fidos offers a sweet romance and modern-day fairy tale in which dogs, not dragons, rule the land…a story about the loves that help us realize our dreams.
I love the sound of it. It sounds like such a cute read!
Fifth Avenue Fidos
comes out this coming Friday, March 20th from your favorite e-book retailer.
What book(s) do you "covet" this week?
Leave us a comment with a link so we can check your WoW of the week too.
Happy reading,
Michelle
"
Books I Covet
" is a weekly or bi-weekly blog post series we do here on Wednesdays.
It will feature books we are very excited about reading and plan on buying/borrowing in the near future.
It is basically the "Waiting On" meme hosted by

Jill of Breaking the Spine, but we just like the title "books we covet" better.

We
will include the books' blurb, cover art, and/or release date if they're available.