Hello everyone,
I am so excited to have
Chelsea Fine
here on the blog today, not only because I absolutely LOVED
Best Kind of Broken
(read
my review
) and she's my new favorite NA author, but because I got to play
Kiss, Marry, Kill
with her.
But, before we get to kissin', marryin' and killin' let's talk about
Perfect Kind of Trouble
first.
Perfect Kind of Trouble
is the follow up to
Best Kind of Broken
.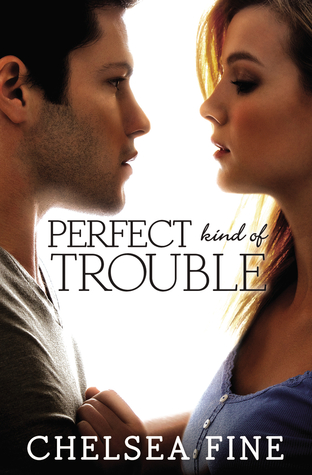 Sometimes when perfect falls apart, a little trouble fixes everything...

Twenty-one-year-old Kayla Turner has lost everything. After spending most of her life taking care of her ailing mother, she just wants to spot a glimmer of light at the end of the tunnel. So when her late father-a man she barely knew-leaves her an inheritance, she finally breathes a sigh of relief . . . until she learns the inheritance comes with strings. Strings in the form of handsome playboy Daren Ackwood, her father's protégé. To see any of her inheritance, she's forced to team up with him. From his expensive car to those sexy dimples, Kayla's seen his type before. But Daren isn't who he seems to be...

Struggling to make amends for his family's mistakes, Daren has a life more Oliver Twist than Richie Rich these days. He's beyond grateful that James Turner included him in his will, but working with Turner's princess of a daughter to fulfill his cryptic last wish is making Daren wonder if being broke is really so bad. Still, she's just as beautiful as she is stubborn, and the more time he spends with Kayla, the less it feels right being without her. Soon Daren and Kayla begin to wonder if maybe the best gift Kayla's dad could have left them... was each other.
I asked Chelsea who she would Kiss, Marry, Kill among the following
:
Superman, Batman, Spiderman
:
So fun! Okay…I would kiss Batman because he's a bad boy and would be no good in a relationship anyway. I'd marry Superman because, come on. He's like the perfect guy and has that adorable small-town farm boy thing going on. And I'd kill Spiderman. I wouldn't want to kill Spiderman, but let's be honest here, he can't hold a candle to Batman and Superman. Sorry Spidy.
Author Chelsea Fine
Francis (from Reign), Wade (from Hart of Dixie), Vincent (from Beauty and the Beast)
:
Ooooh, this one is hard! Um…I think I would kiss Wade because he's fun, cute, and probably a really good kisser. I'd marry Vincent because he's HOT and, you know, a nice guy with a broken past, which is my favorite kind of man. And I guess I'd kill Francis—for no reason other than he's just not my type. Sebastian on the other hand…yum! ;)
Edward Cullen (from Twilight), Damon Salvatore (from Vampire Diaries), Bill Compton (from True Blood)
:
Easy! I'd kiss Damon. Like a LOT. I'd probably kiss him so much I'd never get around to marrying or killing the other two. But if I managed to pull my mouth away from Damon, then I'd marry Edward, because he's reliable and fawns over the girls he loves, and kill Bill, because he annoys the crap out of me. Haha. But seriously. He does.
This was so much fun! :)
A huge thank you to Chelsea for playing Kiss, Marry, Kill with me. It was fun reading your answers and I agree with everything you said except for the Francis bit. I'm Team Francis all the way!
About the Author
Chelsea lives in Phoenix, Arizona, where she spends most of her time writing stories, painting murals, and avoiding housework at all costs. She's ridiculously bad at doing dishes and claims to be allergic to laundry. Her obsessions include: superheroes, coffee, sleeping-in, and crazy socks. She lives with her husband and two children, who graciously tolerate her inability to resist teenage drama on TV and her complete lack of skill in the kitchen.
Bookish peeps, I'll be posting my thoughts about
Perfect Kind of Trouble
later this week (spoiler alert: I
loved
it!). But for now enter this awesome giveaway Forever is hosting.
a Rafflecopter giveaway
Happy reading,
Michelle