Hello everyone,
I am so excited to be part of the What's Your Winner's Curse? blog tour to count down the release of The Winner's Crime (the sequel to The Winner's Curse), which will be out on March 3rd.
All of the participants of the blog tour was asked to answer this question.
The 'Winner's Curse' is an economics term that means you've gotten what you wanted – but at too high a price. What would you pay too much for?
It's a hard question to answer. Kestrel (one of my all-time favorite characters) sacrificed a lot of things to save Arin, the people and the country of Herran from being destroyed. Did she pay too high a price? If I am in her place, am I willing to pay as much as she did? I want to say yes. But since I'm not clever like Kestrel, chances are I'll probably end up paying even more.
But what am
I
willing to pay too much for in my life, in my current situation? I am definitely going to pay or sacrifice whatever is necessary when it comes to my family and their safety and/or health. I'm also willing to pay a lot to be able to build a career doing something I love. I'm currently a second grade teacher and while it's a good job and I'm satisfied at where I am right now, it's not something I want to do for the next 30 or 40 years. I like teaching, but I don't
love
it.
When it comes to material things, I don't really have to think too hard--my answer is BOOKS. I have a job now that pays a decent amount so it's not too bad, but when I was a poor undergrad and grad student there were more than a few times I spent what little money I had on YA or romance novels (my genres of choice). Then, for the rest of the week I'd just eat ramen noodles. Books make me happy so I'm willing to pay for books that I really, really want.
I am also willing to pay to travel to the mainland to attend a large bookish event. I attended the ALA annual conference last year and I am planning to pay the big bucks and go again this year because I had such a great time. I have a library degree (albeit unused) so I feel legit going to an event for librarians to catch up on the latest and greatest in the library world. It's also really fun to attend the different events and signings to meet authors (which I do not get to do at all on Maui--we have
zero
YA or romance author events) and other readers as well as catch up with my library school friends.
Some of my Vera stuff
Besides books and bookish events, I have a fondness for Vera Bradley stuff. Ever since I bought my first Vera bag back in 2010, my collection of bags and accessories have grown. I love their products--the colors and patterns are really fun, I love their trademark quilted cotton design and everything I've gotten from them were all well-made and they last a long time. The bags usually run between $50-100 so it's not
too
expensive and I usually just buy the stuff on sale, which are half the original price. But I still make about one or two orders a year, especially because they keep having really awesome online sales and they are very generous with coupons. I also wouldn't mind paying a little extra for a certain colors that I really like.
If we're talking in a magical realism kind of situation, I'd definitely pay a lot for a device that will take ideas from my brain and produce it with very minimal work for me--I basically think it and, voila, it's there. It'll save me so much time and I'll never write another lesson plan again! I'll also finally be able to "write" that novel I've been thinking about writing for years!
I'd also pay a lot for the ability to time travel. There are so many time periods and different places I'd want to visit. At the top of my list are the Regency Era and the Victorian Era in England, 1900s New York, Ancient Greece and Rome, Ancient Egypt, the Renaissance, etc.
What would
you
pay too much for?
Follow the rest of the blog tour
here
.
If you have not heard of
The Winner's Curse
or
The Winner's Crime
, here ya go.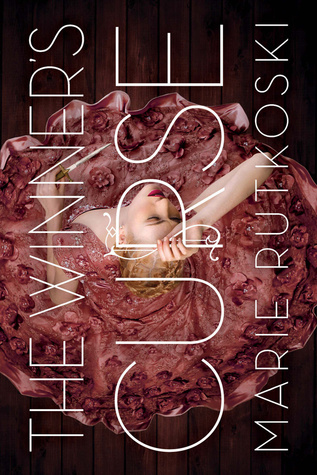 Winning what you want may cost you everything you love

As a general's daughter in a vast empire that revels in war and enslaves those it conquers, seventeen-year-old Kestrel has two choices: she can join the military or get married. But Kestrel has other intentions.

One day, she is startled to find a kindred spirit in a young slave up for auction. Arin's eyes seem to defy everything and everyone. Following her instinct, Kestrel buys him—with unexpected consequences. It's not long before she has to hide her growing love for Arin.

But he, too, has a secret, and Kestrel quickly learns that the price she paid for a fellow human is much higher than she ever could have imagined.

Set in a richly imagined new world, The Winner's Curse by Marie Rutkoski is a story of deadly games where everything is at stake, and the gamble is whether you will keep your head or lose your heart.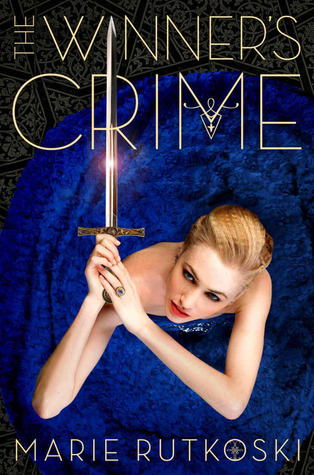 Book two of the dazzling Winner's Trilogy is a fight to the death as Kestrel risks betrayal of country for love.

The engagement of Lady Kestrel to Valoria's crown prince means one celebration after another. But to Kestrel it means living in a cage of her own making. As the wedding approaches, she aches to tell Arin the truth about her engagement…if she could only trust him. Yet can she even trust herself? For—unknown to Arin—Kestrel is becoming a skilled practitioner of deceit: an anonymous spy passing information to Herran, and close to uncovering a shocking secret.

As Arin enlists dangerous allies in the struggle to keep his country's freedom, he can't fight the suspicion that Kestrel knows more than she shows. In the end, it might not be a dagger in the dark that cuts him open, but the truth. And when that happens, Kestrel and Arin learn just how much their crimes will cost them.
For more info about the Winner's Trilogy, visit
the website dedicated to the trilogy
. You can also play the
Bite & Sting game
from the book. You can also visit author
Marie Rutkoski's website
and chat with her on
Twitter
.
a Rafflecopter giveaway
Happy reading,
Michelle