Hello everyone,
This post is looong over due. I read all three books over winter break and I've been meaning to talk about them on this here blog, but, well, you know how that goes. If you read any of the Woodfalls Girls books, let me know your thoughts. Here are mine.
Publisher: Berkley Trade
Pages: 304 pages
Release Date: August 5, 2014
Source of my copy: bought
Summary
Ashton Garrison walked away from her current life to escape the one thing she's unwilling to face. She knows her decision may be selfish, but in the end, leaving will be far less painful for everyone. Now she has one goal: live life to the fullest with no regrets and no attachments. What Ashton doesn't count on is how fate always seems to find a way to screw up any good plan. Nathan Lockton specializes in locating a mark. He's done it over and over again-no attachments and no emotion necessary. What he thought was a routine lost-and-found job has forced Nathan to deal with something he has always ignored-his feelings. He's never fallen for a target, yet he's never met anyone like Ashton. Now deep in a dilemma, Nathan must decide to follow his heart, or complete the job he was hired to do. Love can come when you least expect it. The question is: If the odds are stacked against you, how far are you willing to go for the one you love?
Michelle's Thoughts

:
No Attachments is on the lighter, fluffier side of NA. It's a akin to Sophie Jordan's NA series Ivy Chronicles, but not as well-written as the Ivy Chronicles books. I wasn't terribly impressed with the writing in this one to be honest. I did appreciate the fact that the chapters alternated between their first person perspective--I like knowing what both were thinking. But their voices weren't distinctive enough. There were a few times when I was confused as to whose perspective I was reading.

I liked both Ashton and Nathan's characters but I didn't particularly connect with either of their characters. I didn't swoon when Nathan did all the sweet things he did for Ashton. And when Ashton was going through her awful, sad ordeal I didn't feel for her as much as I should.

However, No Attachments surprised me because I thought it was going to be a typical spoiled rich girl story where she's running away because of a scandal, so I didn't see the twist coming. I do wish there was more of her dad early on because he seemed like a cool guy. I would have liked more scenes between Ashton's dad and Nathan because the ones we did get were great. I don't think we get enough positive interactions between a female protagonist's dad and a male protagonist in NA novels so it was nice getting that here.

All in all, No Attachments was a good read. I enjoyed it, but I didn't love it.
Publisher: Berkley Trade
Pages: 304 pages
Release Date: May 6, 2014
Source of my copy: bought
Summary
Two years after a devastating breakup, Brittni Mitchell has moved on from Justin Avery--or so she tells herself. But when she returns to Seattle for her best friend's engagement party, Brittni finds herself the victim of a disastrously timed elevator breakdown. She's trapped with the last person she wants to face, and forced to recount the past she desperately wants to forget. She's going to have to look back . . . When Brittni left her podunk hometown for a big-city college experience at the University of Washington, hooking up with a guy like Justin Avery was not part of her plan. Between Justin's attention-grabbing tattoos, cigarette smoking, and bad-boy attitude, Brittni quickly chalked him up as "Mr. Wrong." But his charm was unrelenting, and Brittni's decision to give Justin a chance quickly turned into the worst choice she ever made. So that she might be able to move forward.
Michelle's Thoughts

:
I enjoyed Misunderstandings a lot more than No Attachments--I'm a sucker for second-chance romance stories so of course I ate this one up. But besides that, the writing was much more solid and the character development was better. I connected with Brittni and Justin so much more.

Unlike No Attachments, Misunderstandings was told entirely in Britti's POV. But the chapters switch back in forth between the present time (when Britti and Justin were stuck in the elevator) and the past (when they were at university and first started going out). In the "past" chapters we see how they meet and why they eventually broke up. I was interested more in the "present" chapters because the tension between them was so palpable in the elevator. Justin was sooo angry at Brittni that I was scared he was going to hit her.

At the same time I wanted to know what happened to them. But when the reason why Brittni and Justin broke up was finally revealed it was a bit of a let down. I mean, I already suspected what had happened WAY before so I wasn't surprised at all. Regardless, that wasn't my main issue with this book. The reason I took away a star was the fact that as soon as Justin learned about what really happened, everything was resolved too quickly. These two people hated each other for two years over this misunderstanding--seriously, the first time Justin saw Brittni again, he was so vicious. You'd think there'd be more of a fall out or a bit more drama even after he found out the truth. The ending was anti-climatic for me.

But other than that Misunderstandings was a solid NA read. I really, really enjoyed it.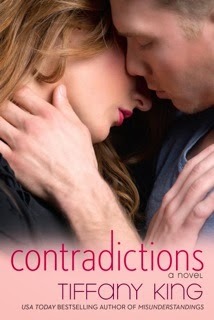 Publisher: Berkley Trade
Pages: 304 pages
Release Date: January 6, 2015
Source of my copy: publisher
Summary
Three years into college, Tressa Oliver's life is a nonstop party. She's skating by in her classes, and there's no shortage of drinking, dancing, and general hell-raising. The only aspect that hasn't been much fun: She can't shake the toxic jerks that always seem to gravitate toward her. Trent Lawson is the classic anti-bad boy: smart, boring, and way too serious. To a wild girl like Tressa, there's no way in hell they're compatible--especially since Trent seems to see straight through her defenses. To set her right. When a college prank goes terribly wrong, Tressa starts to suspect that her partying ways are leading nowhere fast. Now she has to turn to the last person she ever thought she'd ask for help--and quickly discovers that there's more to Trent than meets the eye
Michelle's Thoughts

:
Contradictions is my favorite so far in the Woodfalls Girls series. I have no complaints or issues in this one--well, except maybe that it was told in a dual perspective so that we see things through Trent's POV too. But it's no big since I liked Tressa so much. I already love Tressa in No Attachments and Misunderstandings because she's the wild child party girl in the trio that was Ashton, Brittni and Tressa and her outgoing personality was really fun to read about. I loved reading about all the college antics she got into because it reminded me of my college experiece (although it was a lot tamer than Tressa's). I also liked seeing the growth in her character as she became a more mature Tressa (which came about because of a tragic incident that Tressa was indirectly involved in) but she still retained her outgoing personality and I really appreciated that.

And Trent! I LOVED Trent. I finally got my wish for a true nerd hero in Trent. Yes, he's a true nerd--a glasses-wearing, socially awkward, very book smart, collector of superhero action figures nerd. Okay, so he's also a nerd who works out, lifts weights and has washboard abs (really?!) but I'll forgive that because that bit adds to the hot nerd fantasy. Tressa called him Clark Trent and I approve.

Contradictions was soooo good! I love everything about it, especially the romance between Tressa and Trent. If you're looking for a fun, engaging opposites attract romance, you cannot go wrong with Contradictions. Tiffany King's books just keeps get better and better with each book. I cannot wait to read more by her!
Michelle
P.S. All three books can be read as a standalone.