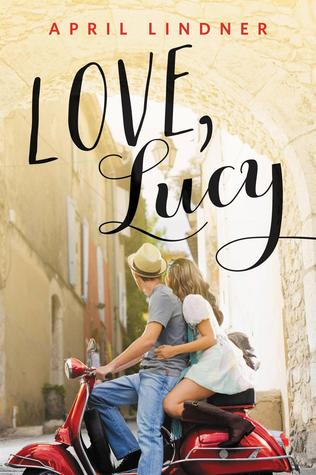 ARC: 304 pages
Publisher: Poppy
Release Date: January 27, 2015
Source of my copy: publisher
Series: standalone
Synopsis
While backpacking through Florence, Italy, during the summer before she heads off to college, Lucy Sommersworth finds herself falling in love with the culture, the architecture, the food...and Jesse Palladino, a handsome street musician. After a whirlwind romance, Lucy returns home, determined to move on from her "vacation flirtation." But just because summer is over doesn't mean Lucy and Jesse are over, too.

In this coming-of-age romance, April Lindner perfectly captures the highs and lows of a summer love that might just be meant to last beyond the season.
I really needed Love, Lucy after my last book--it was a light, fluffy, sweet and I'm giving it
I picked up this book just at the perfect time, when I was in the mood for something easy to read and Love, Lucy delivered.
Lucy was a gifted actress in high school, but for college her dad wanted her to attended his alma mater and major in business. She agreed to her dad's plans and he funded her travel to Europe for the summer before she headed off to college. Towards the end of her trip, while she was in Italy, she met a fellow American Jesse. He was a musician and a nomad, working at small jobs here and there and busking to earn money. Lucy and Jesse spent a few days together and fell in love. But Lucy had to go back to the States to start college and she wonders if her romance with Jesse was just a summer fling after all.
I devoured Love, Lucy in two days. I really loved the setting. Florence and Rome weren't really at the top of my list of placed to visit in Europe (the Scottish Highlands and the Irish countryside are--blame all the historical romance novels I read), but they got bumped up after reading this book. It was just really fun "traveling" by book. I felt here the same feeling I felt when I read Anna and the French Kiss. Now, after reading Love, Lucy, I'm on the hunt for more books to travel vicariously in.
To be honest, Jesse didn't really left much of an impression on me in Part One (Love, Lucy is divided into two parts: Part One was set in Italy and Part Two was in Philadelphia). He was a nice guy, but his character did not feel unique to me. But towards the end of the book, I warmed up to him. You know when your friends start dating a new guy, and at first you're not sure what you feel about him? That was me with Jesse. I was just waiting for him to break Lucy's heart and I couldn't fully trust him.
As for Lucy, I liked her right away. She's the kind of girl I'd be friends with in real life. She was a nice girl, a sweetheart. She wasn't really sure what to do with herself after high school, the thing she thought she wanted maybe wasn't something she wanted to do anymore, and her parents were pushing her to major in something she's not really interested in--all of these things I went through after graduating high school. She really gained my respect when, the night before she travels back to Philadelphia, Jesse asked her to stay in Italy with him and she told him no, saying her life was back in the U.S. She spent an exhilarating few days with Jesse and she was caught in the romance of it all, but she was still able to say no. She didn't get caught up in the moment and the romance of it all and I thought that was really mature of her. She did lose some of my respect for her when she did that with Jesse when she was with Sh-- Well, she did a thing (saying more is a spoiler) I couldn't get behind, but she's not a perfect person and she's still growing up. She made mistakes along the way and will keep making mistakes. I know I did when I was her age.
Love, Lucy was one of those books where you pick it up and you just kind of want to read straight through because it's such an easy read and you want to know how the all the drama will unfold and things will turn out--I love reading contemporary YAs like this. It was an easy, light, coming-of-age romantic read in that vein of Lauren Barnholdt's Two-Way Street and Jennifer Echol's Love Story with the added bonus of traveling vicariously to Italy. If you like those books by those authors like I did chances are you'll also enjoy Love, Lucy.