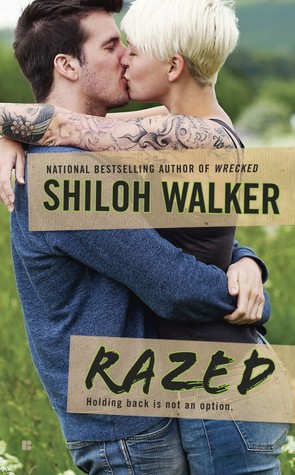 E-ARC: 320 pages
Publisher: Berkley
Release Date: December 2, 2014
Source of my copy: InkSlingerPR
Series: Barnes Brothers #2
Synopsis
Tattoo artist Keelie Jessup can handle that someone else has claimed the man of her dreams. She's just not pleased with her remaining options…

Keelie doesn't believe in the "perfect man." But the men who are worth the trouble are usually taken—like her business partner Zach Barnes. After a string of bad luck and the lost chance with Zach, Keelie decides that maybe flying solo—and living with suppressed desires—is the key to happiness.

As a photographer, Zane Barnes has an eye for the human form, and his eyes can't get enough of Keelie's curves. Unfortunately, Keelie is like most women—always fawning over his little brother, Zach. Zane is about ready to give up, but then a few stolen moments at his brother's wedding have him thinking maybe there's a chance there after all. Now he just has to prove that the perfect man does exist…for her.
I read the first book in the Barnes Brothers series (Zach and Abby's story) Wrecked last year and I quite enjoyed it so I didn't hesitate to pick up Razed, the second** book in the series. I'm giving Razed
Razed is Zane (a freelance photographer) and Keelie's (who co-owns a tattoo parlor with Zach) book. They were introduced in Wrecked, and even though Keelie had a huge crush on Zach, there was tension between her and Zane. That tension made me eager to read their story.
Zane liked Keelie for years and he asked her out every once in a while only to get rejected. Razed opened up at Zach and Abby's wedding, and of course, Zane and Keelie were there. They had a hot encounter and suddenly Keelie couldn't stop thinking about Zane. Sure, Keelie admired Zane's work and found him attractive, but she never took him seriously when he asked her out over the years and her focus was on a different Barnes brother, Zach. But since their encounter at the wedding, she realized that she and Zane had the chemistry she never had with Zach.
It took me a while to really get into Razed. One hundred pages in and I was still unsure about Zane and Keelie. Zane had liked Keelie from afar for the passed three years and it's great that he's finally making his moves on her. But I couldn't really get a handle on his character. He had this aloof air about him and he was definitely keeping something back. Keelie was very attracted to Zane, but she ran hot and cold. I dislike wishy washy characters so I couldn't really warm up to her character either.
Both Keelie and Zane were keeping secrets. And when the secrets began to come out, especially about Keelie's past, that's when I finally got more into the story and Zane and Keelie's characters.
I did find Zane's character refreshing. These days it seemed that every hero in romance is an Alpha. Zane was not. He was a quiet, sensible man. He cared for and was supportive of his brothers--he was the responsible, level-headed one. The way he pursued and courted Keelie--he knew when to pull back and he never tried to push her or control her and I really liked how sweet he was.
Keelie's character did grow on me. She had kind of a prickly personality and didn't let anybody come close because of what happened to her. It was great watching her character change as she dealt with her horrible past and how her relationship with Zane let her open up. But leading up to that, I just got annoyed with her when she kept pushing Zane away even though he did nothing to deserve it.
Even though I had a hard time getting into the story for about a third of the book, Razed ended up being a good read in the end. I really like the dynamic between the Barnes brothers and the glimpses we got of the others left me intrigued. I will be keeping my eye on the third book in the series. I did like Wrecked a bit more than Razed but if you read Wrecked and liked it, then Razed is definitely worth picking up.
**You do not need to read Wrecked in order to enjoy Razed, but you'll enjoy Razed more if you do. Zach and Abby return as secondary characters and were mentioned quite a bit.