Hello everyone,
Today is my post date for one of my most anticipated novels of late 2014,
This Shattered World
by by Amie Kaufman and Meagan Spooner. Yup, all these months since I read
These Broken Stars
around this time in 2013 I've been counting down the days and
it's finally here
!
Check out the cover and the synopsis.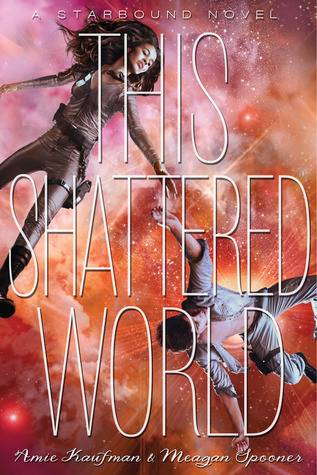 The second installment in the epic Starbound trilogy introduces a new pair of star-crossed lovers on two sides of a bloody war.
Jubilee Chase and Flynn Cormac should never have met.
Lee is captain of the forces sent to Avon to crush the terraformed planet's rebellious colonists, but she has her own reasons for hating the insurgents.
Rebellion is in Flynn's blood. Terraforming corporations make their fortune by recruiting colonists to make the inhospitable planets livable, with the promise of a better life for their children. But they never fulfilled their promise on Avon, and decades later, Flynn is leading the rebellion.
Desperate for any advantage in a bloody and unrelentingly war, Flynn does the only thing that makes sense when he and Lee cross paths: he returns to base with her as prisoner. But as his fellow rebels prepare to execute this tough-talking girl with nerves of steel, Flynn makes another choice that will change him forever. He and Lee escape the rebel base together, caught between two sides of a senseless war.
Unfortunately, with all the craziness around this time of the year I am not able to finish
This Shattered World
before my blog post date.
But, since I already read more than half the book and I'm just so in love with it (almost as much as I was with
These Broken Stars
--read
my review here
), I am going to list reasons why you should pick up the Starbound series.
1.
This Shattered World
is a companion to
These Broken Stars
. So, if you haven't read TBS, you can still read TSW no problem.
2. The world the authors created is just stunning. It's so beautifully imaginative and vast. The authors could do so much with the world they created. I know there's a war going on, but I want to live in Lee and Flynn's world and explore it all.
3. I was going to save this reason last, but heck. The
romance
, you guys. It's kinda Romeo and Juliet-feel to their romance--not the tragic kind but because they are from opposing sides of the same war. Like with Lilac and Tarver, there was initial attraction between Lee and Flynn, but the way their feelings developed was gradual. It all flowed so naturally--the author's really know their stuff when it comes to romance. And O.M.G., if you thought Lilac and Tarver's romance was epic, Lee and Flynn's love was just as beautiful, intense, complicated and
epic
.
4. I want to be Lee! She's fantastic. So kick-ass and sassy, tough and smart. Love her!
5. Flynn is bae. That is all.
6.
This Shattered World
is a page-turner. And I don't use those words lightly. I know, I know I'm not done reading it but if I don't go to sleep each night with the thought that I need to have a good night sleep to deal with 21 second-graders the next day, I'd totally stay up late into the night reading. As it is, I'm counting down the hours to later tonight because I can finally read the rest of the book straight through since tomorrow is Saturday.
7. This has nothing to do with the actual story, but you're going to want that gorgeous cover of
This Shattered World
right next to that other gorgeous cover of
These Broken Stars
on your bookshelf. Whoever's designing these covers know what they are doing. I hope they keep up with the theme.
8. Stop reading this post and go take advange of the special pre-order offer though the Books of Wonder:
If this is the first post you came across of this blog tour, there's more blog tour goodness going on. Stop by
The Midnight Garden blog
for all the links to the participating blogs.
There's a also an awesome giveaway you can enter:
a Rafflecopter giveaway
Alrighty, I hope I have convinced you somewhat to pick up
This Shattered World
--
it's out next week Tuesday, December 23rd
. I will eventually post my real review after I finish reading it so look out for that.
Happy reading,
Michelle