Hello everyone,
I hope you all had a wonderful Thanksgiving holiday and if you did Black Friday got a lot of great deals--I had a wonderful Thanksgiving, I did my Black Friday shopping online, at the comfort of my own home, and I am quite happy with everything.
Anywho, I took a week off blogging but now I am back with something very, very exciting.
Our blog is part of the Blogger Caravan #ExquisiteRelay Giveaway for Exquisite Captive. Here's more info about it via author Heather Demetrios and Misty from The Book Rat.
Just in case you have not heard of Exquisite Captive, here's the synopsis.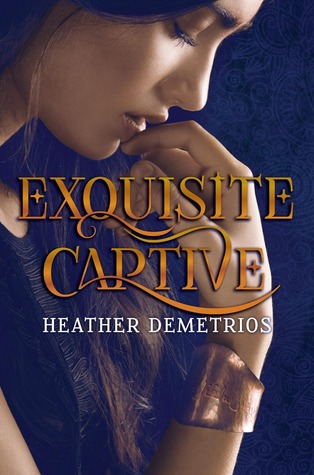 Forced to obey her master.
Compelled to help her enemy.
Determined to free herself.

Nalia is a jinni of tremendous ancient power, the only survivor of a coup that killed nearly everyone she loved. Stuffed into a bottle and sold by a slave trader, she's now in hiding on the dark caravan, the lucrative jinni slave trade between Arjinna and Earth, where jinn are forced to grant wishes and obey their human masters' every command. She'd give almost anything to be free of the golden shackles that bind her to Malek, her handsome, cruel master, and his lavish Hollywood lifestyle.

Enter Raif, the enigmatic leader of Arjinna's revolution and Nalia's sworn enemy. He promises to free Nalia from her master so that she can return to her ravaged homeland and free her imprisoned brother—all for an unbearably high price. Nalia's not sure she can trust him, but Raif's her only hope of escape. With her enemies on the hunt, Earth has become more perilous than ever for Nalia. There's just one catch: for Raif's unbinding magic to work, Nalia must gain possession of her bottle…and convince the dangerously persuasive Malek that she truly loves him. Battling a dark past and harboring a terrible secret, Nalia soon realizes her freedom may come at a price too terrible to pay: but how far is she willing to go for it?

Inspired by Arabian Nights, Exquistie Captive brings to life a deliciously seductive world where a wish can be a curse and shadows are sometimes safer than the light.
You want it, right? Just fill out the form below.
Just remember, the giveaway is open for less that 24 hours. Enter now!
About the Author
When she's not traipsing around the world or spending time in imaginary places, Heather Demetrios lives with her husband in New York City. Originally from Los Angeles, she now calls the East Coast home. Heather will receive her MFA in Writing for Children and Young Adults from Vermont College of Fine Arts this July and is a recipient of the PEN New England Susan P. Bloom Discovery Award for her debut novel,
Something Real
. She is the Founder of Live Your What, an organization dedicated to fostering passion and creating writing opportunities for underserved youth. She's never met a jinni she didn't like. For more on Heather and her other books check out her website,
www.heatherdemetrios.com
, or find her in these hangouts:
We are at the last leg of the Blogger Caravan #ExquisiteRelay Giveaway. Here are the few stops.
Be sure to stop by the official
Exquisite Captive website
for more info about the novel and for fun extras. Good luck!
Happy reading,
Michelle
The winner from A Reading Nurse (Nov. 28th) is...