Hello everyone,
Sorry for the lack of posts with more, for lack of better word,
substance
. I planned on writing a couple of reviews but that went out the window after I got one of my wisdoms extracted on Monday. It was a more complicated than usual surgery because according to the doctor I had an "usual morphology." Guys, there was so much drilling and yanking and tooth breaking! After that horrific experience I'm left with a swollen cheek and in pain--I just wanted to stay in bed (preferably in a drug-induced stupor) and not do anything besides sleep.
I will be posting a couple of reviews in the next couple of days though.
As for my pick,
The Girl at Midnight
, I'm really into fantasy right now and this sound right up my alley.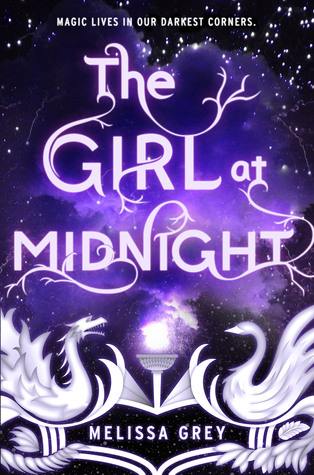 For readers of Cassandra Clare's City of Bones and Leigh Bardugo's Shadow and Bone, The Girl at Midnight is the story of a modern girl caught in an ancient war.

Beneath the streets of New York City live the Avicen, an ancient race of people with feathers for hair and magic running through their veins. Age-old enchantments keep them hidden from humans. All but one. Echo is a runaway pickpocket who survives by selling stolen treasures on the black market, and the Avicen are the only family she's ever known.

Echo is clever and daring, and at times she can be brash, but above all else she's fiercely loyal. So when a centuries-old war crests on the borders of her home, she decides it's time to act.

Legend has it that there is a way to end the conflict once and for all: find the Firebird, a mythical entity believed to possess power the likes of which the world has never seen. It will be no easy task, but if life as a thief has taught Echo anything, it's how to hunt down what she wants . . . and how to take it.

But some jobs aren't as straightforward as they seem. And this one might just set the world on fire.
The Girl at Midnight
will be released on April 28, 2015. Click on the cover to go to the book's Goodreads page.
What book(s) do you "covet" this week?
Leave us a comment with a link so we can check your WoW of the week too.
"
Books I Covet
" is a weekly or bi-weekly blog post series we do here on Wednesdays.
It will feature books we are very excited about reading and plan on buying/borrowing in the near future.
It is basically the "Waiting On" meme hosted by

Jill of Breaking the Spine, but we just like the title "books we covet" better.

We
will include the books' blurb, cover art, and/or release date if they're available.