Hello everyone,
I was going to separate my posts for
Bound by Night
and
Chained by Night
but since the books are one and two in a series, it'd be better to have my reviews on a single post. It'll save you the clicks. That being said, here are my thoughts about the first two books in Larissa Ione's
MoonBound Clan Vampire series
.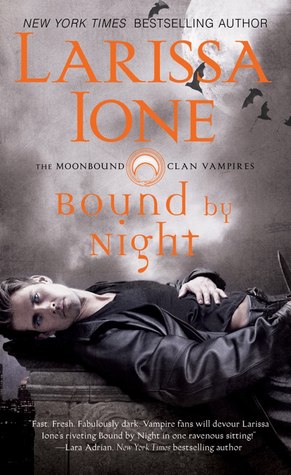 Format: Mass Market Paperback
Publisher: Pocket Books
Pages: 392 pages
Release Date: 9/24/2013
Source of my copy: publisher
Series: MoonBound Clan Vampire #1
Synopsis
A WOMAN OUT FOR BLOOD
Nicole Martin was only eight years old when the vampire slaves rose up in rebellion and killed her family. Now she devotes her life to finding a vaccine against vampirism, hoping to wipe out her memories—along with every bloodsucker on the planet. But there's one thing she cannot destroy: her searing, undeniable attraction for the one man she should hate and fear the most . . .

A VAMPIRE OUT FOR REVENGE
A member of the renegade vampire MoonBound Clan, Riker is haunted by demons of his own. When he recognizes Nicole and remembers how her family enslaved his loved ones, his heart burns for vengeance. But when he kidnaps Nicole and holds her in a secret lair, his mortal enemy becomes his soul obsession, his greatest temptation, and, perhaps, his only salvation—a hot-blooded lover who could heal him with her touch . . . or bury him forever.
Format: Mass Market Paperback
Publisher: Pocket Books
Pages: 400 pages
Release Date: 9/30/2014
Source of my copy: publisher
Series: MoonBound Clan Vampire #2
Synopsis
THE FUTURE OF HIS TRIBE
Leader of the vampire clan MoonBound, Hunter will do what he must to save his people from extinction - or worse, a torturous eternity as vampire slaves and subjects of human experimentation. To keep his enemies at bay, he has agreed to mate a rival clan leader's daughter in return for peace between the clans and an ally in the looming war with the humans.
THE LOVER OF HIS SOUL
But survival comes at a price. First, Hunter must break an ancient curse by successfully negotiating three deadly tests. Then he must resist the searing passions of the gorgeous vampire warrior he despises but is bound to mate. Will Hunter stay true to his word? Or will he risk everything for the woman he really loves: the vampire seductress's identical twin sister?
I read the first four books in Larissa Ione's Demonica series years back and I remembered really, really enjoying all of them. I don't know why I didn't continue on with the series. I think I was getting over my paranormal romance craze by then. When I was contacted to review the first two books in Ione's new MoonBound Clan series, I was admittedly hesitant. The only paranormal books I pick up nowadays are Nalini Singh's books and I'm kind of anti-vamps.
But, you guys, I'm in love with the MoonBound Clan Vampire series! This series is so good! I love the world and vampire mythology Ione created, I love the characters--the strong heroines, the alpha male heroes and the secondary characters **Myne seriously needs his own book!** dying to for their own book--and I love all of the conflict among the vampire clans as well as between the vampires and the humans.
Bound by Night
In the world Ione created, vampires are seen as less than animals. They are slaves for rich humans, experimented on and poached because some of their parts can be harvested for human medicines and enhancements. That is, until some vampire slaves rebelled against their human masters. Eight-year-old Nicole Martin, whose family owns the biggest vampire scientific facility, got caught in the middle of it. She lost her family that night but the most traumatizing event for her was witnessing her beloved nanny (who was vampire) killed by her own mate, Riker.
The thing that most intrigued me about Bound by Night was that the author paired up Nicole and Riker. They are from the opposite side of the spectrum--she hates vampires (for very good reasons) and he's a vampire and hates humans (also for very good reasons). I knew the road to HEA for these two was going to be bumpy and I was very interested to see if they can come together in an organically. And they did!
I especially enjoyed Nicole's journey and how she worked through the issues from her past. She's intelligent and open-minded (despite what happened to her when she was little) and she continually surprised Riker of her hidden strength and capability. Riker was great as well. He's rough around the edges and not very likable at first, but the more I got to know him the more I warmed up to him and liked him by the end. The chemistry between the two of them was fantastic and there were some very steamy moments.
The author did a great job keeping the action and at the same time building the world. While were were some slow moments, there were never any parts that I felt dragged. I was entertained the whole time.
Chained by Night
I read books one and two novels right after the other and that was very unusual for me. Usually, I need a different book in between series books because I get bored and I don't want to spend too long in the same world. But with the MoonBound Clan Vampire series I wanted to keep going and I was so thankful that I have both books on hand.
Chained by Night was even better than Bound by Night! While Bound by Night focused on the vampire and human relationship, Chained by Night delved more into the the origin story of how vampires came to be and how the distinctive Native American flavor to the series came to play into the mythology.
Bound by Night ended with Hunter agreeing to mate a rival clan leader's daughter to save Nicole and Chained by Night picks up from there. Hunter's future mate Rasha and her entourage, including her twin sister Aylin, were on their way to MoonBound when they were attacked by human poachers. Hunter and his soldiers arrived to rescue them, but he and Aylin ended up being separated form the rest and escaped together. After an awkward case of mistaken identity, Hunter and Aylin formed a sort of friendship, which of course grew to attraction. Rasha was a real piece of work--I wanted to hit her upside the head with all her antics! But Hunter knew for the sake of his clan that he needed to follow through on his promise and even though Aylin does not always have an easy relationship with her twin (Rasha and Aylin have an interesting sibling dynamic), she does not want to betray her sister.
There was a lot of pent up attraction, inner turmoil and lust between Hunter and Aylin and that was fun to read about--how they have to keep their feelings and hands off each other. The chemistry between the two of them was hot and the build up to the sex scene was wonderfully done. I love Hunter. He's an easy going, video game playing guy on the surface but underneath he had his issues and hidden pain and he made for an interesting character. But it was Aylin who shined in this book. Even though her father was clan leader, she was born second and has a leg deformity so she had no standing in her clan--she was treated no better than a mangy dog. But living with the MoonBound Clan, she comes into her own and proves to herself that she is a strong woman capable of great strength and heroism. I loved watching her change and come to herself.
A sizable chunk of the novel took place in an alternate demon world where Hunter and Aylin had to complete three dangerous tasks. That was my favorite part of the novel. It was very video game-y the images those scenes evoked. I really liked where Chained by Night took us and added to the over-arching plot. We learned new things about the vampire world, as well as new information about certain characters.
Overall Thoughts
Bound by Night and Chained by Night were a fantastic start to a very entertaining series. The world building was excellent--it was intriguing how the author added a Native American element to her vampires. I'm officially hooked after reading Chained by Night. I am definitely going to be following this series and I am so excited to read the next book in the series--I hope it's Myne's book. After reading the first two books, I'm giving this series
Happy reading,
Michelle