Hello everyone,
I am excited to be part of the Nalini Singh's Rock Courtship blog tour. It's no secret that I love Nalini Singh's Guild Hunter and the Psy-Changeling series. I cannot get enough of those books and I often re-read my favorite parts a few times a year.
Here's my thoughts about Rock Courtship, which is the follow-up to Nalini's Rock Addiction--book 1 in her new contemporary series.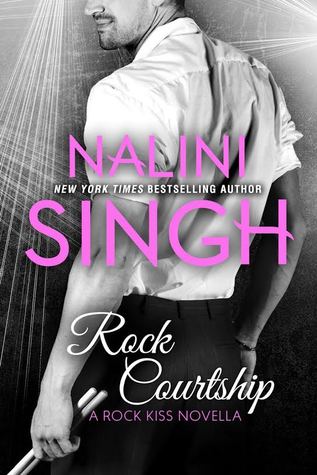 Format: E-ARC
Pages: n/a
Release Date: September 30, 2014
Source of my copy: TRSOR
Series: Rock Kiss #1.5
Synopsis (from
Goodreads
)
What happens when the Gentleman of Rock decides to play dirty?

A drummer for the hottest rock band on the planet, David has a single, powerful weakness: Thea, the band's publicist and the woman who steals his breath away with her every move.

Only problem is, Thea doesn't date clients--or musicians. Emotionally scarred by a cheating ex, she's not about to risk her heart with a man who has groupies buzzing around him like flies. Even if his sexy smile ties her up in knots.

What she doesn't know is that David is a one-woman man...and he's madly in love with her. David's determined to prove he's worth the risk, and willing to court her, step by exquisite step. Thea's about to discover just how long and hard this handsome drummer can play.
Before I reading my review of
Rock Courtship
, you might want to read
my review of Rock Addiction
, the first book in the series, first because I'll be doing a lot of comparisons between the two books. I'm giving
Rock Courtship
When I reviewed Rock Addiction, I said I wasn't a big fan of rock star heroes but I think I'll revise that to I'm a big fan of rock star heroes if they're like David Rivera.
David Rivera. Swoon-y sigh. There's a lot to like about his guy. He's clean cut, built, sexy and wears Armani suits. He has a great relationship with his family, especially his parents. He tries not to bring attention to himself and avoids the cameras when he can. He's a bit shy and awkward around women, but he is a sweet romantic. Basically, he's my kind of guy--he's dubbed as the Gentleman of Rock and he is yummy!
Thea is wonderful too. She's a successful, independent and intelligent. She's the kind of woman I want to be when I "grow up." And like David, she has a great relationship with her parents and sisters. It was just so refreshing to read about two people who didn't have any family drama!
I loved how David courted Thea with his memos. Reading David and Thea's back and forth memos was really fun. I laughed, awwwwed and swoon-y sighed some more. One of my biggest complaints in Rock Addiction was that it was very insta-love between Molly and Fox--there was no build up. That was not a problem in Rock Courtship. I love the build up between David and Thea. When they finally made it to the bedroom, it was all the more sweeter and meaningful.
Another complaint I had in RA was that the sex scenes were repetitive, boring and dragged the story. Not so in Rock Courtship! There was just the right amount of bedroom scenes in proportion to the length of the story and they flowed seamlessly into it.
We also learned a bit more about the history of the School Boy Choir and how the men got together. And with that, we also learned more about the other two members of the band, which got me really excited to read Abe and Noah's books. I really like the relationship David, Fox, Abe and Noah have. They all have each other's backs and it's just so wonderful reading about their friendship. I love the scenes between the band members as much as I did the ones with David and Thea.
I enjoyed Rock Courtship so much more than I did Rock Addiction. It's a novella, but it's written just right so that I was fully engaged and I was satisfied by the ending. I'm so excited for the upcoming books in this series!
FYI, you can enjoy Rock Courtship even if you have not read Rock Addiction. But, of course, reading Rock Addiction will make your reading experience a tad better having the background on the characters already.
*******
Here's a teaser for ya.
From Thea's memo in response to David's
About the Author
New York Times
AND
USA Today
bestselling author of the Psy-Changeling and Guild Hunter series Nalini Singh usually writes about hot shapeshifters and dangerous angels. This time around, she decided to write about a hot and wickedly tempting rock star. If you're seeing a theme here, you're not wrong. Nalini lives and works in beautiful New Zealand, and is passionate about writing. If you'd like to explore her other books, you can find lots of excerpts on
her website
.
Slave to Sensation
is the first book in the Psy-Changeling series, while
Angels' Blood
is the first book in the Guild Hunter series. Once Rock Addiction is out, swing by the site to check out the special behind-
the-scenes page, complete with photos of many of the locations used in the book.
This blog tour does have an awesome giveaway. Enter on the Rafflecopter below.
a Rafflecopter giveaway
Happy reading,
Michelle