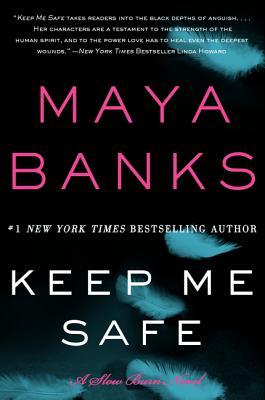 Format: Paperback
Publisher: William Morrow Paperback
Pages: 256 pages
Release Date: October 7, 2014
Source of my copy: Sullivan & Partners/publisher
Series: Slow Burn #1
Synopsis
A sizzling story of a woman who risks her life and her heart to find a wealthy man's missing sister—the first novel in a sexy new romantic suspense series from #1
New York Times
bestselling author Maya Banks
When Caleb Devereaux's younger sister is kidnapped, this scion of a powerful and wealthy family turns to an unlikely source for help: a beautiful and sensitive woman with a gift for finding answers others cannot.
While Ramie can connect to victims and locate them by feeling their pain, her ability comes with a price. Every time she uses it, it costs her a piece of herself. Helping the infuriatingly attractive and impatient Caleb successfully find his sister nearly destroys her. Even though his sexual intensity draws her like a magnet, she needs to get as far away from him as she can.
Deeply remorseful for the pain he's caused, Caleb is determined to make things right. But just when he thinks Ramie's vanished forever, she reappears. She's in trouble and she needs his help. Now, Caleb will risk everything to protect her—including his heart. . .
Keep Me Safe is the first book in Maya Banks' new Slow Burn series. The series is a romantic suspense and it revolves around characters with special psychic abilities. I was really excited after I first heard of Keep Me Safe--I was all Maya Banks and psychics?! Sign me up!
After I read it, I vacillated about my star rating. Keep Me Safe is one of those novels that kept my interest and I read it in a relatively short period of time. At the same time, I also had a lot of issues with it. In the end, Keep Me Safe was just an okay read more me. I'm giving it
Okay, first the good. I thought the suspense/thriller aspect of it was well-done--it was what kept me reading. The killer was pure evil and I wanted to see how they'll catch him and get his comeuppance. The killer had all the advantages it seemed. The suspense/thriller part of the novel saved Keep Me Safe from being a total dud for me.
The characters were uninspired, especially the hero. We've seen Caleb's character before in other Maya Banks heroes. He's rich and successful, he's protective of his woman, he's a born leader, he's great in bed and he's willing to go at any lengths to protect his woman. His character feels like a cutout of other heroes in the other series. As for Ramie, except for her psychic abilities, I also didn't find anything special about her. She's one of those martyr-like heroines and she kind of annoyed me. I did not feel any connections to any of the characters in this book.
The romance also felt very insta-love, especially in Caleb's part. Caleb picked her up after she escaped the killer and they've only hung out with each other for like a day and he's already saying "I love you" to her--it was very premature. Ramie held off longer saying "I love you," but I thought she jumped into bed with Caleb too soon. With all the trauma (in order to find victims, she has to touch something that belongs to them and her psychic ability allows her to do a sort of mind meld with them and she experiences everything along with them) she'd been through you'd think she'd hold off for a bit. And what was creepy was that the killer had a psychic connection with her that allows him to see everything she's seeing. So, when she and Caleb have sex wouldn't the killer also see that...? That issue was never addressed.
Another thing (and I've had this problem in previous novels I've read by Maya Banks) was that the thoughts and dialogue were at times repetitive and cheesy. Ramie and Caleb would have the same conversation over and over again and it just goes in circles. And Caleb's inner dialogue (for example how he had to keep Ramie safe) in one chapter would repeat in another chapter and he'd have the same exact thoughts again. His inner dialogue paragraphs ramble on and on about the same thing and okay, I get it.
Ramie and Caleb's story had a lot of potential. Unfortunately, no deep emotions were ever explored. I felt like I was reading about paper-cut-out main characters and it was hardly fulfilling. The plot was interesting but I had too many issues with the main characters this book and that prevented me from enjoying it as much as I could have.